The articles below appeared in A History of Texas and Texans, by Frank W. Johnson (Edited and brought to date by Eugene C. Barker with the assistance of Ernest William Winkler. To which are added historical, statistical and descriptive matter pertaining to the important local divisions of the State, and biographical accounts of the leaders and representative men of the state.), Chicago and New York: The American Historical Society, 1916.


JAMES F. CARD. Of old American families that have been identified with the material development of Texas since it was a Spanish or Mexican province, none deserve more particular mention than that represented by James F. Card, who represents pioneer Texas stock on both sides of the house. Mr. Card is a well known farmer and stock man on the Cuero and Westhoff Road.
Though most of his active career has been spent in the vicinity of Cuero, Mr. Card was born at Flatonia, in Fayette County, Texas, January 27, 1872. The Cards were of Scotch and Irish ancestry, and early in the last century lived in Tennessee. Grandfather James Card, who was born in 1804 and died in 1870, joined almost the original American emigration to Texas. Coming from Tennessee, he reached Texas soil about 1832, four years before the winning of independence, and was identified with the little settlement at LaGrange. His old home was on Buckner's Creek on the west side of Colorado River, and he lived and died in that one community. In those excursions and expeditions which began in the early '30s as part of a general conflict between the Texas Americans and the Mexicans, and which continued with little interruption for fully ten years, James Card had his part as a member of the famous Dawson Company, the slaughter of whose members has resulted in one of the most familiar events of Texas history, the "Dawson Massacre." Fortunately a lame horse caused James Card to escape from that slaughter. He was a farmer and stock man, and never held any slaves. Grandfather James Card was the only one of his particular family to come to Texas. He married Jane Anderson. Her brother, William Anderson, was also a pioneer in Fayette County, Texas, and reared a family there. To the marriage of James and Jane Card were born: Sarah, who married Henry Redfield and spent her life about LaGrange; Joseph, who lived around Flatonia and left a family there; Samuel, who died in Fayette County; William, who also died in Fayette County with a family; Ann, who married John Moore and spent her life in Coryell County; James Neal; and Mary, who became the wife of J. Mahan of Leesville, Texas.
James Neal Card was born at LaGrange, Texas, November 27, 1841, and is one of the oldest native sons of that locality. He grew up and acquired a very limited education and during the war between the states served in Colonel Breckenridge 's regiment of Texas troops. Most of his service was at Saluria Island and along the East Texas coast. After the war he took up the active life of a farmer and stock man and in 1880 moved his family to Dewitt County, locating on the Breeding Survey, where he still has his home. He has not been identified with local offices, is a republican in politics in spite of the fact that he was a Confederate soldier, and was reared in the Baptist faith. James Neal Card married Mary Merken. Her father, Ferdinand Merken, came to Texas from Germany prior to the war. Mrs. Card was born in Fayette County March 10, 1851, being one of a large family of children. To her marriage to James N. Card were born the following children: James F.; William, who was a farmer and died unmarried; Milton, who is a farmer, also in Dewitt County; Joseph, a stock man in the same locality who married Annie Howell; Samuel, a farmer around Cuero; Mary, wife of Henry Hillman of Bloomington, Texas.
Since he was eight years of age James F. Card has been identified with Dewitt County as his residence. He acquired his early training in the country schools and also attended the Nash School or Guadaloupe Academy at Cuero. Having remained at home and assisted his father in the management of the farm until past his majority, he then took up farming and stockraising on his own account, his first home being in the Breeding survey. In 1903 he moved to his present place, which had been settled before by a member of the pioneer Lane family. The previous owner, however, was James Robinson, also one of the old settlers of Dewitt County. Mr. Card's estate is situated in the Wentworth League, and he has been unusually successful in the breeding and raising of cattle, sheep, goats and hogs, and at different times has figured on the market as a shipper and dealer in live stock.
Many citizens of Dewitt County know him best for his work as a public official. He first began voting in 1892, and his first presidential ballot was given to Grover Cleveland, while in a year made famous in Texas politics by the battle between Hogg and Clark he supported James S. Hogg for governor. For twenty years or more he has exercised considerable influence in local democratic politics. In 1910 Mr. Card was elected county commissioner as the successor of A. W. Eatman. He represented Precinct No. 1 for one term, and his associates on the board were Judge Kleberg and commissioners George P. Willis, M. F. Mueller and K. C. Brown.
May 17, 1893, Mr. Card married Miss Claudia Wallace. Her father, Elias M. Wallace, was one of the early settlers of Dewitt County, having come to Texas from Mississippi prior to the Civil war, and served in the Confederate army from this state. Mr. Wallace married Saloma Stubbs. Mrs. Card is the third in a family of seven children, the others being named as follows: Ida, now Mrs. J. D. Hardy; Mrs. Abbie Hodge; Winnie, wife of S. D. Thomason of Wilson County, Texas; Elias, a farmer in Dewitt County; Bula, who died young; Martha, who married Bruce Roan of San Antonio; and William, a farmer of Dewitt County. The little family of Mr. and Mrs. Card contains the following children: Salome, Claudia, Victor, Buna and Bruce. In fraternal matters Mr. Card is only identified with the Woodmen of the World. — pp. 1336-1337.
JOHN CHUPICK. The late John Chupick, of Ellinger, was for many years a factor in the agricultural life of Texas, in which state he resided from the time he was seven years of age, in 1856, until his death, December 5, 1905, As is indicated by the name, the family is of Bohemian origin, and John Chupick was born May 8, 1849, at Hostalkov, Moravia. His father was Thomas Chupick, a peasant, who brought little with him to the United States save his family, an honorable name, an eager ambition and an, indomitable determination. The family crossed the Atlantic and the Gulf of Mexico, landing at Galveston and crossing Buffalo Bayou to Houston, from which city they went to old Ulm by ox-team, the only means of transit during that day. There the little party settled, bought some land and engaged in farming on the American plan. There the father passed his remaining years as an agriculturist, being buried at Wesley, Washington County, where he had finally removed during the declining years of his life. There were the following children in the family: John, of this notice; Jane, who became the wife of Rev. Adolph Chulumsky and some years ago returned to Moravia, but is now a resident of Svartcuch, Bohemia. The mother of these children prior to her marriage with Mr. Chupick had been united with Mr. Elsik, who died leaving her one son, Steve Elsik, who is now a resident of Cistern, Texas.
John Chupick acquired a fairly good education and among his teachers was the late Judge Teichmueller, of LaGrange. He was a farmer until grown and then moved to Brenham, Texas, and was connected with a mercantile business for a time. When he severed his connection with that concern he moved to Ellinger and purchased the farm which his widow and children now own. This was in 1884, when he had been married but a short time, and the purchase was made from Axel Meerschridt, of San Antonio, in company with his half-brother, Steve Elsik. Some eight years later he purchased the latter's interest and conducted the property actively and successfully until his death. The farm comprises 800 acres, and when he secured it it was largely covered with timber, but Mr. Chupick, with industry and energy, cleared all but about 250 acres, erected one of the best country homes to be found in Fayette County, and made other improvements of a modern and valuable character. He was a man who employed much labor in the clearing and cultivation of his farm, and among those who worked in his employ, as well as among his associates, he was always known as a man of the strictest integrity and business honor. He was a man of few words and lived rather excluively [sic.], save among his family, had little concern about political matters, save as they affected him in his capacity of a good and public-spirited citizen of. his community. He was something of a traveler, making a trip to Europe after he had attained years of maturity, and often going to various parts of Texas for both business and pleasure. He was a member of the Lutheran Church and his children were reared in that faith.
Mr. Chupick was married in Washington County, Texas, in 1876, to Miss Frances Sebesta, who was born March 19, 1859, daughter of Paul Sebesta, a farmer of Moravia, who came to the United States prior to the Civil war and settled at Wesley, Texas, where Mrs. Chupick was born. The following children were born to John and Frances Chupick: Mary, who is the wife of J. H. Novosad, of East Bernard, Texas; Frances, who married T. S. Hruska, of West, Texas; Alvina, who married Jo J. Settlemeyer, of Flatonia, this state; Annie, who married Emil J. Sulik, of LaGrange, Texas; John F.; Jo S., born December 19, 1892, and now manager of the Chupick estate and farm; and Rosa and Vlasta, twin sisters, who reside with their mother and brother on the home place.
John F. Chupick, son of John and Frances Chupick, was born March 26, 1889, and received his education in the Ellinger and La Grange schools. After completing his education he was connected for a few years with the Ellinger Mercantile Company, and when he disposed of his interests therein became one of the organizers of the First State Bank of Ellinger and was elected its cashier. He resigned from the bank August 1, 1915, and is engaged in general farming and the live stock business with his brother, J. S. Chupick. In their live stock business they raise thoroughbred Duroc Jersey hogs.
Mr. Chupick is one of the progressive, enterprising young business men of Ellinger, and is also one of his community's boosters and is found connected with every movement for the general welfare of his city and its people. Mr. Chupick is unmarried. — pp. 1589-1590.
THOMAS E. COCKRILL. The family of which the subject of this review is a prominent and popular representative is a numerous one in Fayette County, with whose history the name has been identified for more than half a century, and he whose name introduces this paragraph is a scion of the third generation of the family in Texas. Through devisement by the will of his uncle, the late Bush Cockrill, who died in 1914, at the age of seventy-five years, Thomas E. Cockrill inherited a substantial competency, and he is now the owner of a well improved farm near the Village of Cistern, Fayette County, and is successfully engaged in business as a trader and dealer in live stock, his modern and attractive residence property in the Village of Cistern being one of the best in this part of the county.
In the village that is now his place of abode Thomas Edward Cockrill was born on the llth of March, 1869, and here he acquired his early education in the public schools. He began his independent career as a day laborer and continued his activities along this line until about 1905. Then he began trading in cattle and branching out into broader fields of endeavor, in which his success vouches for his ability in the handling of business affairs of important order.
Edward H. Cockrill, father of Thomas E., was born near the City of St. Louis, Missouri, and, the youngest child, he was a lad of six years at the time of the family removal to Texasr his death having occurred at Jeddo, Bastrop County, this state, on the 26th of June, 1913. His father, Starks S. Cockrill, came with his family to this state about the year 1852 and first settled at Milton, Fayette County, the place later becoming known as Cockrill's Hill and finally the name of Cistern being applied to the village, which has since borne this title. Starks S. Cockrill was a farmer and also conducted a modest mercantile business for a number of years, his death having occurred when he was virtually in the prime of life. His wife died just before moving to Texas. Concerning their children the following data are available: Milton, familiarly known as "Chig," devoted the major portion of his active career to mercantile pursuits, at Flatonia and Cistern, and during the Civil war he served as a soldier of the Confederacy. He married Sallie Chunn and was survived by several children. . Arthur A., commonly known by the nickname of "Pod," made the trip from Missouri to California on horseback when a young man, and after remaining a few years in that state he made the return trip to Texas by the same means of locomotion, his vocation in Fayette County having been that of a teamster and stock-raiser. He married Riddie Bishop and upon his death was survived by one daughter. Newton was a successful stockman in Fayette County, was influential and useful as a citizen and was called upon to serve as county commissioner, besides which he was a loyal soldier of the Confederacy in the Civil war. He was.survived by a large family of children. Bluford, who likewise accumulated a nickname by which he was familiarly known, that of "Bush," was one of the extensive and successful representatives of the cattle industry in this section of Texas and in the early days drove many cattle overland to Kansas. He married Mattie Chunn and they were survived by no children. The only daughter married a Mr. Williams of whom she had one child. After the death of Mr. Williams, she married James Crozier and died in Gonzales County, leaving a large family of children. Edward H., father of the subject of this sketch, was the youngest of the children, as previously stated. By his first marriage Starks S. Cockrill became the father cf three children, William, Starks S. and Susie, and they passed their active lives as representatives of the live-stock industry in Fayette County, all having married and all having passed the closing years of their lives in the vicinity of Cistern, Starks S., Jr., having served as a Confederate soldier. The daughter, Susie, married Ezra Brown.
Edward H. Cockrill received in his youth very limited educational advantages but he became a man of broad information and mature judgment, his active life was devoted principally to agricultural pursuits and he was highly respected in both Fayette and Bastrop counties, in each of which he was well known. He married Miss Sarah Wier, who still resides at Jeddo, Bastrop County, and who celebrated her sixty-seventh birthday anniversary in 1915. She is a daughter of the late John Wier, who came to Texas from Mississippi and who established his residence in the southern part of Fayette County. In the following paragraph is given brief record concerning the children of Edward H. and Sarah (Wier) Cockrill:
Etta first wedded Wiley Obar, who was survived by two children, and she later became the wife of Thomas Terrell, to whom she bore four children, who survive her, her death having occurred in Fayette County. William, who is a resident of Hays County, where he is a prosperous farmer, married Della Robbins and they have no children. Thomas Edward, of this article, was the next in order of birth. James Oliver, who is a locomotive engineer, with residence in Denver, Colorado, married Della Lang. Margaret married Joseph Hallmark and died at Jeddo, Bastrop County, leaving three children. Lulu is the wife of Shook Galloway, of [Lockart], Caldwell County, and they have two children. Bluford, a farmer and operator of a cotton gin at Jeddo, married Rhoda Fike and they have three children. Lizzie is the wife of George Bartlett, of Jeddo, and they have two children. Ulysses Owen, the maiden name of whose wife was Nora Crenshaw, resides in Hays County; Arthur A., who is a progressive farmer of Fayette County, married Jennie Davis and they have two children.
Thomas E. Cockrill was reared in the faith of the democratic party and in his mature years he has not departed or swerved therefrom, though the only public office of which he has been the incumbent was that of deputy sheriff of his precinct, under the regime of Sheriff Loessin. He takes loyal interest in the civic and material welfare of his native county and as a citizen is liberal and progressive.
On the 28th of January, 1906, was solemnized the marriage of Mr. Cockrill to Miss Cora Davis, a daughter of Tip and Sarah (Hodges) Davis, who became the parents of several children. Mr. and Mrs. Cockrill have no children, but in their pleasant home is being reared Roy Alexander, a son of one of Mrs. Cockrill's sisters, this boy having been given into their care but not having been formally adopted. — pp. 1457-1458.
N. M. Cockrill's 1882 Certificate of Election courtesy of Kathryn Cooper.
DIETRICH A. CORDES. In the year 1873 there came from Oldenburg, Germany, to the United States an ambitious young man of sterling character, well equipped for assimilation into the civic body of the land of his adoption and for the achieving of success through his own well directed efforts. This sturdy son of the German Fatherland was Dietrich Andreas Cordes, who made Texas his objective point and who has here found an inviting field for the exercise of his mental and physical powers in such a way as to achieve distinctive independence and prosperity, the while he has gained the good will and confidence of those with whom he has come in contact in the various relations of life and stands exponent of loyal and progressive citizenship. For nearly a quarter of a century he was a successful representative of the agricultural industry in the Lone Star State and he is now one of the leading business men of the village of Paige, Bastrop county, where he controls a prosperous and substantial enterprise as a dealer in lumber and other building material.
Mr. Cordes was born in the village of Bardenfleth, Oldenburg, Germany, on the 3d of January, 1849, and in the same locality was born his father, Andreas Cordes, who there followed the blacksmith trade for many years and who was a member of the one military regiment maintained in Oldenburg. His wife, whose maiden name was Eliza Holtz, was likewise born and reared in Oldenburg, where her father, Klaus Holtz, followed the trade of shoemaker, both families having long been identified .worthily with the industrial and civic affairs of that section of Germany. Upon coming to America, in 1873, Dietrich A. Cordes, subject of this review, prevailed upon his venerable parents and his only sister to accompany him, and thus the entire immediate family embarked on a vessel that sailed from the port of Bremen and bore them across the Atlantic. This vessel, the ''Frankfort," made its way to the city of New Orleans, where the little family disembarked but whence its members soon afterward continued their voyage across the Gulf of Mexico to Galveston, Texas. From that city they made their way to the fine German settlement at Schulenburg, in the eastern part of Fayette County, and at High Hill, that county, the parents passed the remainder of their lives, though they were not long permitted to enjoy the advantages and attractions of the new home, for they died within a week of each, other, in the closing month of the year 1878, so that their residence in the United States compassed a period of only five years. Andreas Cordes was sixty-two years of age when he came to America and thereafter lived retired from active business until his death, both he and his wife having been zealous communicants of the Lutheran Church and having exemplified their abiding Christian faith in their kindly and gracious lives. Of their two children the subject of this review is the elder, and Eliza is the wife of Albert Horstmann, of Buckholts, Milam County.
Dietrich A. Cordes duly availed himself of the advantages of the common schools of his native land and as a youth he there served a thorough apprenticeship to the trade of baker, in which he became a skilled workman. He also gained the usual quota of experience and discipline in the local military-organization, in 1869, and when, in the following year, the Franco-Prussian war was initiated he went to the front as a member of the Ninety-first Regiment, which became a part of the army commanded by Prince Friederich Karl. He took part in a vigorous battle on the 16th of August of that year and in several minor engagements in the district around the city of Metz. Thereafter was with his regiment in engagement at Ladon, in the battle of Bonarolando, on the 28th of November, 1870, and in the engagement at Orleans, besides having been a participant in the less important engagements at Mezeres and Lemanc, early in January, 1871, and in the battle of Congly, on the 18th of that month. Though he was thus in the thick of the fray in numerous spirited engagements it was his good fortune to go through all without wounds, and finally he proceeded with his command to the French frontier, his regiment having been stationed at Luneville for a period of six months, at the expiration of which he received his honorable discharge, after having made an admirable record as an efficient and loyal soldier.
After the close of this noteworthy military service Mr. Cordes continued in the work of his trade until he came with the other members of the family to the United States, as already noted. After the home had been established in Texas he became the virtual head of the family, as his father had already attained to venerable age, and he continued his operations as a farmer near Schulenburg, Fayette County, for seven years, at the expiration of which he removed to Lee County and purchased a farm about five miles east of Paige, where he continued his operations as a farmer for the ensuing sixteen years, within which he developed and improved one of the excellent farms of that county. In 1898 he sold this property in an advantageous way and then removed to the Village of Paige, Bastrop County, where he has since continued to be actively engaged in the retail lumber trade. He became associated with Christian Fishback in establishing the second lumber yard in the village, and the enterprise continued to be conducted under the firm name of D. A. Cordes & Company until the autumn of 1914, when Mr. Fishback sold his interest in the business to Richard C. Hertle, who is proving a valued and able coadjutor in the firm, the original title of which is still retained. Mr. Cordes has gained authoritative knowledge of all details of the business and gives to the enterprise his undivided time and attention, this being the only lumber yard in the village at the present time and its trade being of extensive and representative order.
In 1878 Mr. Cordes took out his final papers of naturalization and his name was duly entered on record as that of a full-fledged citizen of .the United States. He forthwith became affiliated with the republican party, and his first presidential vote was cast for James A. Garfield. Thereafter he voted for each successive presidential candidate of the party until the election of 1912, when he gave his support to the democratic candidate, Woodrow Wilson. He has never consented personally to appear as a candidate for public office of any description, but is liberal and progressive in his civic attitude and has done much to aid in the upbuilding of the Village of Paige, where he has erected a number of excellent business buildings, some of which were destroyed by fire in 1915, but promptly were replaced by even better structures. He is affiliated with the local lodge of Ancient Free and Accepted Masons and both he and his wife are members of the Lutheran Church, as communicants of which they are influential factors in the various activities of the church of this denomination in their home village.
On the 26th of November, 1874, in Fayette County, was solemnized the marriage of Mr. Cordes to Miss Dorothea Grote. Mrs. Cordes was born in Lippe-Detmoldt, Germany, in 1849, and was a small child at the time of her parents' immigration to America. She was reared and educated in Fayette County, Texas, but had not yet attained to years of maturity at the time of the death of her parents, who had established their home in the vicinity of the Town of Industry. She is one of two surviving children and was the youngest in a family of four. Her brother Frederick, the firstborn, is in the Soldiers' Home in Indiana; Maria became the wife of August Mischer and was a resident of Fayette County at the time of her death; and in the same county occurred the death of Emalia, who was the wife of Herman Ahrens.
Mr. and Mrs. Cordes have a pleasant home in Paige and there delight to extend hospitality to their wide circle of friends. Mr. Cordes has never failed in appreciation of the advantages which have been afforded him in the state and nation of his adoption and is one of the loyal citizens who believes in the still greater precedence of Texas as one of the foremost of the commonwealths of the Union. — pp. 1741–1743.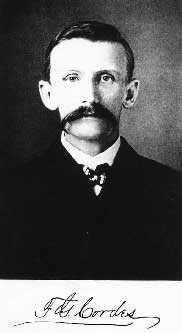 FREDERICK G. CORDES. At the time of his death, on the 27th of February, 1916, Frederick G. Cordes was the oldest merchant at Warrenton, and a citizen of this locality since 1869. He was a native of Oldenburg, Germany, where he was born May 8, 1858, a son of Henry Cordes, a native of the same place, and a grandson of Gerhardt Cordes. Gerhardt Cordes was a farmer in Germany and came to the United States after his son, Henry, spending his final years in Texas, where he died at Rutersville, his last years being passed in retirement. He never became a citizen of the United States, and his wife died in the Fatherland. They were the parents of several children, a daughter and several sons remaining in Germany, while Henry and Bernhard came to America.
Heinrich, or Henry, Cordes was born November 26,1833, and acquired a fair education in his native land, where he was not called upon for military service. He married Anna Ott, who died in 1870, at the age of thirty-four years, and their children were: Frederick G., of this notice; Bernhard, who is engaged in farming near Warrenton; Eilert, who is also a farmer near this place; Helena, who married John Koepke, of Fayetteville; and Hermann, who was adopted by Doctor Shaw, of Nacogdoches, Texas, and renamed Horace Shaw. Henry Cordes was married a second time to Annie Mueller (now Miller), and they became the parents of two children: Henry, who is a farmer southeast of Warrenton, and one of the commissioners of Fayette County; and Antone, a farmer engaged in operations at Oldenburg, Fayette County. The family was induced to emigrate to America by the presence here of friends from the Fatherland, and sailed from the City of Bremen on the maiden voyage of the steamship Hanover, eventually landing without untoward incident at New Orleans. At that city they took the train to Brazier, Louisiana, and there took passage on a steamer to Galveston and went on to Houston by boat. From there they went by the Houston & Texas Central Railway to Brenham, the end of the line, from whence they made their way to Fayette County by ox-team.
In his native country Mr. Cordes, Sr., had been a farmer, raising rye, oats and potatoes, but in his new location he readily adapted himself to conditions and became a grower of cotton and corn, in which he made an excellent success. After a few years he bought a farm just south of Warrenton, and there the remaining years of his life were passed in agricultural pursuits. Although he had not acquired a mastery of the English language, his' business and executive ability made him a valuable official, and he served his community efficiently in the capacity of school trustee. When he became a citizen, he identified himself with the republican party on national matters, and always supported its policies and candidates. His religious affiliation was with the Lutheran Church; he died July 9, 1897.
The education of Frederick G. Cordes was acquired first in his native land and later in Fayette County, although he hardly could be said to have secured a common school training, for he went to school but three months in Texas during two years. He learned English readily, however, and at the age of twenty-one years began his business career as a clerk in the store of Asa Lenert, of Warrenton. During the ten years that he was associated with Mr. Lenert his wages were raised from $20 a month and board to $45 a month and board, so faithful and efficient were his services.
In 1880 Mr. Cordes opened his own business, general merchandise, in a small store, as F. G. Cordes. During his period of clerkship he had formed a wide acquaintance in Fayette County and his success was almost assured from the start. He gradually expanded his business as his patronage demanded and reached a prominence hitherto unexcelled by any other merchant of the village, continuing actively until failing health compelled him to dispose of his interests, when his stock was sold to G. Ahlrichs. For a time after this, Mr. Cordes merely purchased farm implements in a small way to occupy his mind, without having complete idleness forced upon him, but in September, 1910, he resumed business operations when he associated himself with his son-in-law, M. A. Tiemann, in the implement, harness, saddlery and furniture trade, with the active operation of the store under the latter's direction.
As a builder of Warrenton, Mr. Cordes held the record, nearly all of the important houses, both business and residence, having come into existence from his hand. His late home, the conspicuous residence of Warrenton, is the old Neese (Naze) stone house, which he really finished, and in addition to which he erected three store or business houses. He began buying land some years after he engaged in business for himself, and cultivated some 400 acres of his 750-acre tract in this locality, in addition to which he owned land in the Shaw League, where his homestead lies, in the Williamson League, in the Vanderworth League, in the Colton League and in the J. Phillips League. In addition he owned 100 acres in Runnells County, Texas, in the Jacob Schiwitz League; 100 acres in the George H. Paul Subdivision, "farm tract No. 14," Nueces County; 80 acres in section 64, of the same county, and 126 1/2 acres in the Willis Stanley League, in Austin County.
Mr. Cordes' large mercantile matters prevented his becoming immersed in politics, and as he believed that a man can do but one thing well at a time he refrained from being associated with active politics. He was a democrat and cast his first presidential vote for Gen. W. S. Hancock, in 1880, and never failed to vote for a president since. Mr. Cordes served a few times as a trustee of his school district; his religious affiliation was with the Lutheran Church.
On December 7, 1887, Mr. Cordes was married to Miss Lucy Lenert, a daughter of Ernst A. Lenert, who came to America from Hanover, Germany, previous to the Civil war and was a Confederate soldier of Texas. Mr. Lenert married Miss Sophie Werbach, who bore him a family of ten children: Mrs. Cordes, born April 8, 1868; Julia, who married Henry Oltmann; John; Fannie, the wife of Gus Ahlrichs; Robert, of Brenham; Annie; who married August Oltmann; Andrew, of New Braunfels, Texas; and Antoinette, who married Jesse E. Tiemann. Two children were born to Mr. and Mrs. Cordes: Annie, who is the wife of Milton A. Tiemann, of Warrenton, and they have three children, Cordes Frederick, Annie Louise Carrie, and an infant, Gerhardine, who was born April 5, 1916; and Norma, who married Fred Hueske, Jr., and has four children—Emanuel, Gerhardt, Frederick Robert, and Edmond Carl.
Milton A. Tiemann belongs to one of the oldest German families of Fayette County, and was born at Warrenton, January 16, 1883, a son of Louis F. Tiemann, and a grandson of Conrad Tiemann. He was educated at Walhalla and at [Blinn] Memorial College, Brenham, and completed his schooling at Tyler Commercial College. He began teaching at the age of eighteen years and spent twelve years in the schoolroom in Fayette County, following which he associated himself with Mr. Cordes in the firm of Cordes & Tiemann, merchants at Warrenton. He is postmaster of the village and a notary public.
Mr. Cordes, while somewhat retired from active participation in business affairs at the time of his death, still took a keen and active interest in the welfare of the community in which he lived for so many years. His chief pleasure was found in visiting, as he said, with friends of his locality who remembered the olden time here, as well as with persons also who brought a new message to his ear. His life was a full and helpful one, and no citizen of his community was more deserving of the esteem and regard of his fellowmen. — pp. 1850-1852.
HENRY CORDES. Of the native sons of Fayette County who have passed their entire lives in this community and have assissted in the development of its varied interests, Henry Cordes, of the Warrenton community, is deserving of more than passing mention. He is the owner of a handsome far, developed under his direction, and while his private interests have been numerous and important, he has found time to devote to the material welfare of his locality, and since 1910 has served as commissioner for Precinct No. 2, of Fayette County.
Mr. Cordes was born April 6, 1872, and is a brother of Frederick G. Cordes, in whose sketch in another part of this work will he found a history of this old and prominent Texas family. His childhood was passed on the old Cordes home of his father, about two miles south of Warrenton, and his education was secured in the old Speckels public schoolhouse during the winter terms, the summer mouths being passed in the work of the home farm, on which he remained until he attained his majority. At the age of twenty-one years Mr. Cordes left the parental roof and embarked in business on his own account as a driller of wells for water in Fayette and Colorado counties, an enterprise which had been a prominent part of his business until his election to the commissionership. His record of getting water for the people of these counties covers a period of eighteen years when he was following the work up closely, and during that time he drilled approximately 150 wells. In all this experience he found but one spot, on Cummings Creek, that indicated an ore deposit, but not having followed this up it is only an opinion. The petroleum indications have been noticed, but the only other substance found of geological or zoological interest was a human bone at a depth of seventy feet, being, as it appeared, the forearm of a person. This yielded to the power of the sun after some exposure and crumbled.
Mr. Cordes' farm is in the Benjamin Greenville League, and comprises 376 acres, together with a small tract in the Colton League. Of his holdings, sixty-five acres are in cultivation and the balance is devoted to cattle, he having bred up the Durham stock. His reputation in business circles is an excellent one, and his entire career has been one characterized by the strictest integrity and fidelity to engagements. Mr. Cordes began his political life as a democrat, casting his first vote for Mr. Bryan in 1896 and supporting him in all his subsequent political campaigns, and in 1912 was a Wilson supporter in the presidential primary. He has served in county conventions as a delegate and his first office elected to was commissioner in 1910, succeeding Kossuth Zapp, of Walhalla. He was a candidate against two competitors for the nomination and defeated Mr. Zapp, who ran as a republican and who had held the office for ten years previously. Mr. Cordes served first on the board with Frank Lidiah, J. H. Allen and J. J. Fietsam. The present board, organized in November, 1914, consists of Mr. Cordes, William Johnson, H. Williams and J. H. Allen. The work going on since Mr. Cordes became a commissioner has been the building by him of a steel bridge over Bear Creek, and the grading and graveling of roads in his precinct, he having graveled and made good, with his limited funds, roads over some four or five miles. Also, in his precinct, six steel bridges have been erected and much bridge work has been going on in the other precincts of the county as well. In fraternal work Mr. Cordes is a Woodman of the World and a Hermann Son at Warrenton. He is a Lutheran in his religious belief and was confirmed at Warrenton by the Reverend Hermes.
On December 28, 1894, Mr. Cordes was united in marriage with Miss Annie Moellenberg, whose father passed away in Oldenburg, Germany. Mrs. Moellenberg brought her family to America in 1890, settling near Warrenton, Texas, where she engaged in agricultural pursuits. In her family there were the following children: Minnie, who is the wife of H. Hackebeil; William; Mrs. Cordes; Helena; and Gerhard. Seven children have been born to Mr. and Mrs. Cordes: Alfred, Harry, Leonora, Nellie, Lorenz, Weldon and Henry. — pp. 2522-2523
EDWARD GODDARD COWDIN. It has been in the building up and extending of the Cowdin Grocery Company of Flatonia and its affiliated interests that Mr. Cowdin has expended the best efforts of his years and through which his success as a business man would be best measured. It is all a worthy achievement, and it is not surprising that it represents many years of consecutive endeavor.
Edwin Goddard Cowdin, who has lived at Flatonia since 1878, came to the state from the vicinity of Liberty, Mississippi, where he was born October 25, 1857. That part of his life when he gained his schooling fell in reconstruction days, and for the most part he attended private schools. His first regular enlistment in the army of self-support came at the age of eleven, when he entered the printing shop of the Southern Herald at Liberty, and spent about four years in learning and working at the printer's craft. There followed other employment as bookkeeper with a local store and work in various parts of the state.
It was in company with his mother and family that he came to Flatonia in 1878. His very first work here was as compositor on the Flatonia Argus, after which he did common labor and then began buying hides and wool. As a day laborer he was employed on almost all the brick buildings still standing as the old landmarks of the village. For a few years he was a farm renter near Flatonia, and while he pursued success earnestly he was far from being satisfied.
Finally the New Orleans wholesale grocery house of Zuberbier & Behan sent him on the road as their traveling representative in South Texas. He covered the territory well and built up a good trade during the thirteen years he sold goods for this house. In the same capacity and over the same country he next represented Wallis, Landes & Company of Galveston. When they first established a branch house in Flatonia in 1900 Mr. Cowdin was made manager, and some years later he bought the business and organized the Cowdin Grocery Company, of which he has since been president and manager. This is a wholesale grocery and coffee roasting concern, one of the chief business houses of Flatonia, and with a large connection with the retail trade in that section of the state. In 1914 a branch was established at Giddings, and five men are now employed on the road. Thus as a result of steadily pursued ambition, Mr. Cowdin has pulled himself from the position of day laborer to the head of a business employing a number of men and large assets of capital.
A few years ago he erected the present home of the company, a one-story brick store 50 by 125 feet. In an effort to stimulate local growing of cabbages he established a kraut factory in Flatonia, and this plant has the reputation of making the best kraut in the country, and the output is distributed through the Cowdin Grocery Company. The raw material consumed in this plant is the chief product of the experimental farm which Mr. Cowdin owns near Flatonia. He undertook its operation largely for the purpose of demonstrating to local farmers what amount of produce an acre of ground would yield under intensive cultivation. In one case he sold $54 worth of potatoes from one acre and $68 of cotton from the same ground in the same season. Both crops were growing at the same time. The potatoes were planted first, and in the water furrow he later planted the cotton. Another acre produced 20,000 pounds of cabbage, which was sold for $100, and when these were removed from the ground he planted cotton and secured a pick of half a bale the same year.
As to politics Mr. Cowdin does not even vote. He was reared in a home of Union sentiments so far as his father was concerned, although the family furnished five sons for the Confederacy. His father was born in County Tipperary, Ireland, and was married at Liberty, Mississippi, to Miss Virginia Poindexter. He died there but his wife died in Flatonia. Their children were: Thomas, who became a physician and died at Tangipahoa, Louisiana, leaving a family; Frank, who died at Liberty, Mississippi; Eugene, a Government specialist in agriculture at Bozier Parish, Louisiana, and the head of a family; Herbert, who married and died at Liberty, Mississippi; Louisa, who died unmarried; Carter, who died at Liberty; and Edwin G.
Mr. Cowdin was married at Moulton, Texas, in August, 1889, to Miss Bettie Thomasson, whose father was Buck Thomasson, a farmer and native of Fayette County, Texas. The three children of Mr. and Mrs. Cowdin are: Miss Lucile, who was educated in the Flatonia High School and graduated from the Denton School of Industrial Arts, now a teacher in the Flatonia schools; Miss Virginia, whose education came from,the same sources as her sister's and is also a teacher in the local schools; and Edwin, now five years of age. Mr. Cowdin is a lodge and chapter Mason, a past master of Flatonia lodge, is affiliated with the Knights of Pythias and is a member of the Sons of Hermann. — pp. 1416-1417.
WILLIAM DIETRICH.While the well-directed labors of William Dietrich are a part of the past rather than the present history of Fayette County, he is still remembered by members of the older generation as a steady, reliable and industrious man of business, a citizen who while unobtrusive and unassuming was earnest and even zealous in his support of good men and measures, and a true and helpful friend in time of need. Mr. Dietrich, who passed away at Fayetteville, in January, 1891, at the age of sixty-four years, was an early settler of Fayette County, whence he came about the year 1855.
Born in Prussia, William Dietrich received only a fair education in his native land, and there as a youth served an apprenticeship to the saddler's trade. He sailed from Bremen, Germany, for Galveston, Texas, in a sailing vessel, crossing the waters alone, save perhaps for a few friends making the journey for settlement as he did. later, Mr. Dietrich was followed by a sister, Mrs. Amberg, who has posterity in Fayette County. Having friends in this locality who had come some years before, Mr. Dietrich took up his residence here and carried on his trade from the time of his arrival until the outbreak of the war between the North and the South, when he gave his services to the army of the Confederacy in the capacities which his knowledge of harnessmaking and saddlery allowed him to assume. When his military service was completed he returned to his trade, located at Fayetteville where he opened an establishment of his own, and continued to be engaged in saddle and harness making during the remaining years of his life. When he came to this country Mr. Dietrich had determined to make himself a part of American affairs in his community, and he accordingly proceeded to learn the English language. On taking out his citizenship papers, he allied himself with the dominant political party in Texas, and while he never held office, he always endeavored to perform in every way the duties of good citizenship. He mingled little with people and had but little to say, but was a kind and loving husband and father, and a man of large heart and generous spirit. From the time of his boyhood he belonged to the Lutheran Church, and while a resident of Texas assisted in the affairs of the congregation as church secretary.
In 1856, Mr. Dietrich was married in Fayette County to Miss Caroline Neumann, a daughter of Ferdinand Neumann, an Austrian settler of a date somewhat later than Mr. Dietrich. Mr. Neumann was a cabinet maker by trade, and for a number of years followed that vocation at Fayetteville, although his death occurred at Columbus, Texas. Mrs. Dietrich still survives and lives in Dallas, Texas. Her children were as follows : Ida, who is the widow of W. F. Zwiener, of Columbus, Texas; Lena, who is the wife of J. D. Meyer, of Dallas; Mrs. Isolda Zapp, who resides at Fayetteville; Emma, who died unmarried in young womanhood; and William F., a resident of Cleburne, Texas.
Isolda Dietrich was born at Fayetteville, Texas, January 9,1864, was here reared and educated, and married here, November 19, 1885, Hermann William H. Zapp, a son of Hugo Zapp, who impressed his personality forcibly upon Fayetteville and the County of Fayette during a long period of years as a merchant and prominent citizen. Hermann W. H. Zapp was born May 9, 1857, and passed his life as a merchant at Fayetteville, where he died December 20,1910. He was a man of affairs here and besides his store, he was an extensive land dealer and stockman, and for a quarter of a century was agent for the Lone Star Brewery at Fayetteville. Politically a democrat, he took some active interest in the affairs of his party, as well as in public matters, and served two terms in the capacity of postmaster.
The children born to Mr. and Mrs. Zapp were as follows: Edna, who died July 10, 1915; Robert, of Fayetteville, who married Matilda John; Arthur, of Fayetteville; Hugo, who married Glendora Otto, and lives at LaGrange, Texas; and Nola, Herbert, Lillie, Leona and Ervin, who live with their mother. Mr. and Mrs. Zapp manifested a liberal spirit and tendency in the education of their children, giving several of them the advantages of training at the Agricultural and Mechanical College of Texas. — pp. 1725-1726.
Mr. Duncan represents two of the old American families in Texas, and the Duncan family, of Scotch descent, was founded in Virginia before the war of the American Revolution. The greatgrandfather of John T. Duncan, Coleman Duncan, moved from London County, Virginia, to Nelson County, Kentucky, in 1792, and was the ancestor of the branch of the family now found in Texas. John T. Duncan was born in Washington County, Texas, one of the oldest seats of American colonization, in 1854. His parents were George J. and Elizabeth (Dallas) Duncan. The father, who was born in 1810 near Louisville, Kentucky, came to Texas in 1839, during the era of the republic, settling in Washington County, where he was a farmer. In 1851 he was married and continued to make his home in Washington County until 1880, when he moved to Milam County and lived there until his death in 1893. Soon after coming to Texas he enlisted for service in one of the campaigns against Mexico following the winning of independence in 1836, and in 1840 was a member of the Summervelle expedition and went as far as Laredo, suffering many hardships in that campaign. Elizabeth Dallas, mother of Mr. Duncan, was born in Kentucky in 1829 and died in 1906. Her parents were natives of Pennsylvania, moved from that state to Kentucky, and came to Texas in 1833, three years before the winning of independence from Mexico. They settled near, the old Town of Independence, in Washington County, and her father died in 1834, leaving the children to the care of the widowed mother, and a short time later the entire family had to flee before the advance of Santa Anna in the famous "Runaway Scrape" preceding the battle of San Jacinto.
John T. Duncan was educated at the Baylor University when that institution was, located at Independence, graduating in 1877. Immediately following his graduation he moved to LaGrange and entered the law office of Timmons & Brown, completed his law studies with that well-known firm of lawyers, and was admitted to the bar in June, 1878. His first practice was in partnership with R. J. Andrews, which continued until the death of Mr. Andrews in 1881. In about 1882 he formed a partnership with Paul Meerscheidt, and the firm was then known as Duncan & Meerscheidt. On January 1, 1885, L. W. Moore became a member of the firm, the name then becoming Moore, Duncan & Meerscheidt, but the latter withdrew in 1889, after which the firm continued as Moore & Duncan until June, 1897, when it was succeeded by the firm of Robson & Duncan, his partner being W. S. Robson. In 1903 their relations were dissolved, and on June 1st of that year Jake Wolters became his partner under the name Duncan & Wolters. Since June 1, 1905, Mr. Duncan has continued his practice alone. While he has looked after the interests of a large number of individual clients, and has practiced in all the courts, a considerable share of his business for a number of years has come as local attorney for the San Antonio & Aransas Pass Railroad Company.
Mr. Duncan in 1878 was appointed mayor of LaGrange, later elected to the office, and since the conclusion of his last term in 1882 has never sought any other public honor. He became one of the charter members of the Intercoastal Canal Company, organized at Victoria, Texas, in 1906, with the object of completing the Coastal Canal which has long been a project and a successful completion of which will undoubtedly bring about a great benefit to all the commercial interests of the state. At the Galveston meeting in July, 1912, Mr. Duncan was elected president of the Texas State Bar Association, and held that important honor one year, and until July 1, 1913.
On January 11, 1881, Mr. Duncan married Miss Genelle Harris, daughter of Ben P. Harris, of Belleville, Texas. Her father was a lawyer by profession, came from Mississippi to Texas during the early '50s, was a member of a Texas regiment during the war, and died in 1882 in his fifty-second year. Mr. Duncan and wife have three children: Josephine, who married Leonard H. Dyer, a lawyer of New York City; Frankie, who lives at home, and Douglas Duncan, a lawyer at Belleville, and married. Mr. Duncan and family reside in a fine residence in LaGrange. Whether as a lawyer or a private gentleman, Mr. Duncan has long been esteemed for his broadmindedness, his affability, and a kindly and helpful intercourse with his fellow-men which has enabled him to perform much service not classified as professional work, but none the less useful in any community. — pp. 2283–2285

CHARLES W. EHLINGER. The thriving little town of Ellinger in Fayette County was named for the notable Ehlinger family, and the difference in spelling is due to the fact that the railway company used the other form as the name for its station, and from that the spelling was transferred to the Government records in the name of the postoffice and has so continued. The leading merchant of the village is Charles W. Ehlinger, whose grandfather was one of the earliest German emigrants into Texas, and who helped to establish Texan independence as a soldier under Houston in 1836.
Charles W. Ehlinger was born at the old Town of Ehlinger, now Live Oak Hill, in Fayette County, October 8, 1866. His grandfather, Joseph Ehlinger, was a native of Alsace, France, now a part of the German Empire. He served under the great Napoleon in the European wars during the early part of the nineteenth century and acquired both a practical and theoretical knowledge of military tactics. He brought his family to America and arrived in Texas just before the war for independence, locating in the vicinity of Houston, which had not yet been laid as a town. In the War of 1836 he joined Houston's army on the Colorado River at about the site of the present City of Columbus, and owing to his previous military experience as a French soldier was appointed drill master for the Texas Cavalry. He proved a valuable man to the cause, and went with Houston's army in its retreat across Texas, and participated in the battle of San Jacinto, and was present when the Texans captured the Mexican president, Santa Ana. With the success of the Texans in their struggle for independence, Mr. Ehlinger, after performing his own important share in that conflict, settled in the vicinity of Houston and became a farmer and stock man. His name is identified, with the City of Houston because of the fact that he platted Ehlinger's Addition, which is now in the heart of the city, but which, during his lifetime, was of little importance. His later years were spent quietly, and he died in 1853 and is buried at Houston. He was a member of the Catholic Church. His wife, Mary, is buried in the little cemetery on the Joseph Ehlinger League in Colorado County. This league was a tract of land which came to the old soldier as a reward for his services in the revolution. All of it has long since passed out of the ownership of the Ehlinger family. The children of Joseph Ehlinger and wife were: Charles; Henry, who died unmarried at Fayetteville; and Elizabeth, who married Jacob Hahn and is buried at Live Oak Hill.
Charles Ehlinger, father of Charles W., was born in Alsace, France, July 2, 1823, and was about ten or twelve years of age when he came with the rest of the family to Texas. He was a man of considerable education considering his opportunities, and in the early development of Texas made himself useful both in business and official life. He was a practical surveyor and did a great amount of work in that profession, surveying leagues and smaller subdivisions, and is credited with laying out the old Town of Ehlinger, now Live Oak Hill. He was the first merchant of that place and he conducted the postoffice there at a time when the stage coach carried all the passengers and mail through the country. As a merchant he carried a very extensive equipment, and all his goods were hauled by ox team from Houston. Other improvements which he introduced to the community were cotton gins, grist mill, and flour mill, and much of the wheat ground in his mill was raised on the Ehlinger League, which he put in cultivation. He owned a number of slaves, and many of these after getting their freedom as a result of the war continued to linger about the old plantation for some years.
During the war Charles Ehlinger, who was a loyal supporter of the Southern cause, organized a company for the Confederate army. Before leaving for the front he was advised to sell fifty bales of cotton he had on hand, but declined, saying that his negroes would kill every Yankee who offered to touch it. Nevertheless, before he had been away a month the Federal soldiers came through and took away the cotton. He was elected captain of his company, and during the greater part of the war was engaged in scouting duty. He was a man of strong prejudices, was a democrat, though not very active politically, and his loyalty to the cause which he espoused as a soldier is indicated by the fact that during the war he paid $1,800 in gold for a negro, which was perhaps the strongest proof of his faith in the ultimate success of the Confederacy. In the years immediately following the war he served as a justice of the peace. With the close of the war he continued merchandising, and was as successful then as he had been before. His death occurred in 1872, and he is buried at Live Oak Hill, where he gave thirty-five acres of land towards the church and school, and also erected the original church and school and gave them to the community.
Charles Ehlinger married Wilhelmina Miller, whose father came from Oldenburg, Germany. [Mrs.] Ehlinger died in May, 1883. Her children were: Joseph Ehlinger, Jr.; Elizabeth, who married C. J. H. Meyer of Ellinger; Elo F., county and district clerk of Calhoun County, Texas; John P., who is in the office of the comptroller of state at Austin; Lena, who married D. F. Meyer of Ellinger; Minna, wife of C. C. Girndt of Ellinger; Charles W.; Dr. Otto, who is state physician to the Agricultural and Mechanical College at College Station. The oldest of these children, the late Joseph Ehlinger, Jr., died in January, 1913, for six years conducted a cotton gin near Ellinger, was elected a county commissioner, though not a candidate for the office, and after six years in that office became county clerk and gave sixteen years in continuous attention to that office. He subsequently engaged in the general merchandising business at La Grange two years, and on selling out was elected county judge, an office he filled with distinction four years. He then retired to his farm near Ledbetter, where he died, leaving a family.
Charles W. Ehlinger, the fortunes of whose family have thus been briefly traced, spent his boyhood at the old Town of Ehlinger up to the age of sixteen, getting his education chiefly at home and afterwards taking a course in the Capital Business College at Austin. His business career began at the age of nineteen, at which time he had the disabilities of his minority removed. He sold his first goods in the present Town of Ehlinger in 1895. His original stock was worth perhaps $2,000, and his store was in the same block in which he is still doing business. His present business house, the chief one of the town, was erected in 1910, to accommodate a business which has seen many years of gradual expansion and development. The building is 32 by 135 feet, and the stock includes everything in general merchandise and implements. The postoffice is also in the building, and Mr. Ehlinger has served as postmaster altogether eleven years. Another service has been as notary public, for which office he has held a commission twenty-two years.
While a merchant Mr. Ehlinger has also been actively identified with farming for many years, and has done much to develop the land in this section by the introduction of better methods and improved facilities. He is one of the directors of the First State Bank of Ellinger, and for twelve years has been a trustee of his school district. Several years ago he discovered the existence of an unliquidated obligation in the shape of a donation of $1,000 from Mr. Pierce, the noted railway man who built the Southern Pacific line west of San Antonio, and Mr. Ehlinger promptly took measures to make collection of this amount. His activity as the leading merchant and business man of the Ellinger locality has prompted him to avoid party politics, though he is a democratic voter, and though a man of unusual influence has never attended a political convention as a delegate.
On April 9, 1891, in his home locality, Mr. Ehlinger married Miss Nannie Birkmann, daughter of Henry and Nannie (Elerbush [Ellerbusch]) Birkmann, both of substantial German stock. The Birkmann children were: John; Mary, who married Eugene Koehl; Amelia, who married Emil Koehl; Henry, of Weimar; William, of Shiner; Mrs. Ehlinger; and Louisa, who married Theodore Beyer of Ellinger. Mr. and Mrs. Ehlinger have the following children: Norma, who married Charles Meyer and has a son named Charles Henry; Leona, who married John Meyer and has a daughter named Jonnie May; Clara; Isabel; and Lottie Lee.
Mr. Ehlinger's family have been brought up as Lutherans, his wife being an active member of that church. While he comes of purely German family, and acquired that language while growing up, in the course of his business career Mr. Ehlinger has mastered the Bohemian tongue, and both reads and writes it, a feat that is not an easy one of accomplishment. He has thus been able to serve in many ways the community where he resides, made up of residents who speak German, Bohemian and English. He is frequently called upon to write contracts, translating from both the German and the Bohemian into the English. He has served as secretary and is a former president of the local lodge of Sons of Hermann. — pp. 1577-1579.
PROF. WILLIAM EILERS. The county superintendent of Lavaca County, now serving his third term of two years in this position. Prof. William Eilers belongs to one of the pioneer German families of Texas, and was born in Fayette County, October 5, 1863. His birth occurred under the "Stars and Bars" and he was one of a trio of neighbors born within six miles of one another and all born under a different flag, one under the emblem of the "Lone Star," in 1843, and the other under the flag of the Union, in 1849.
The father of William Eilers was Henry Eilers, who passed the latter part of his life as a planter and died on the plantation he settled in 1848. He came to Texas in 1845. His native place was Rodenkirchen, Oldenburg, Germany, and his birth occurred in 1823, he being one of two brothers and the only one to come to America. His brother, Gerhard Eilers, remained in Germany and died there, leaving a family, and one of his grandsons in now a prisoner on the isle of Man, having been captured by the English while he was en route home to join his regiment for participation in the great European war which is now raging. The school education of Henry Eilers was somewhat limited, but he was a great reader and became unusually well informed in history and current events. He grew up in the home of his widowed mother, who had been reduced to modest circumstances. He was twenty-three years of age when he emigrated to America, landing at Galveston, Texas, aboard one of the last immigration vessels to that port. He went on to Houston and finally to Fayette County, and for a few years was a farmer, in 1848 adding freighting and immigrant transportation from Houston to Fayetteville, Austin, San Antonio and Victoria. He and his partner did this with box wagons and it was he who hauled, in 1853, the first Bohemian settler to Cat Spring, Austin County, and placed the first Wendish family into the interior and settled them at Serbin, Lee County, now Northrup, in 1854. Mr. Eilers and his partner brought most of the German and Bohemian settlers in to Fayette, Austin and Colorado counties, and they followed the business until the outbreak of the Civil war.
Notwithstanding the frontier character of the country, there was honesty prevailing, and the partners doing this immigration business were never molested in their persons or property, although they frequently had from $1,000 to $2,000 in silver with them in shot sacks. Henry Eilers did not enter the army on either side. His objection to joining the Confederate forces was respected and he was asked by the authorities to care for several families of the neighborhood and this he did, being thus exempt from military duty. He had a brother-in-law in the Confederate service and another in the ranks of the Union. Mr. Eilers believed that the Government should pay for the slaves and emancipate them gradually, although he owned none of them himself. Upon naturalization, he cast his lot with the democratic party and his last vote was cast for William Jennings Bryan for President. He requested his son, William, to do likewise, arguing that the poor man's interests would be best subserved by Mr. Bryan's election, and he left that as a standing admonition for his sons to vote always in favor of the poor man. He never held an office. The editor of the Schulenburg Sticker stated in his obituary that the name of Henry Eilers was a synonym for honesty and veracity. Both Mr. and Mrs. Eilers were devout members of the Lutheran church.
Henry Eilers married Augusta Frels, a daughter of John Hinrich Frels and his wife Sophie Agnete, nee Ruge. John Hinrich Frels was born at Langwarden, grand duchy of Oldenburg, April 17, 18007. Sophie Agnete Ruge was a member of the noted Wellman family and was born January 6, 1810. They married April 17, 1834, and emigrated to Texas in 1849, settling in La Grange. Henry Eilers died in 1899 and his wife in 1896. Their married life was spent on his farm on Ross Prairie, three miles from Fayetteville, and when he died Mr. Eilers had lived there fifty-one years and had brought about two-fifths of his farm of 600 acres under cultivation. There were eight children in the family, as follows: Gerhard, of Falfurrias, Texas; Henry, city marshal, of Schulenburg, Texas; William, of this review; August, county commissioner and farmer, and a resident of Hallettsville, Texas; Frederick, of Fayetteville; Ernest who died at Yoakum, Texas in 1902, unmarried; Miss Augusta, of Fayetteville; and Anna, who is the wife of Dr. Charles Kaderka, of Fayetteville.
When William Eilers was a boy he worked on the farm, but enjoyed hunting and reading above everything else. He read many trapper stories and stories of pioneer life and until he was sixteen years of age, it was his intention to become a hunter and trapper. Owing to financial losses which his father sustained, he commenced to support himself when he was sixteen years of age although his father offered to continue him at school. Mr. Eilers, Sr., urged all of his children to secure a good education and offered them the means to do this, but William had determined to support himself. He received his father's permission to represent a monthly paper published in Maine and canvassed the rural districts with it. The paper cost only one dollar and the subscriber received six large and six small chromos as premiums. The chromos were worth the money at that time, and he secured ten subscribers a day making thirty cents on each. Board and lodging did not cost him anything among the country people. After canvassing for several months, he went to school again for twelve months and eight days without intermission After going seven months, he took the teachers' examination at LaGrange, Fayette County, and received a second grade certificate; five months later he took the examination at Hallettsville, Lavaca County, and received a first grade. During his last year at school he paid all of his expenses except board, which he received at home. When he left home to teach he owed a Mr. Henry Forrest $10 for a copy of McCabe's Pictorial History of the World and a watch. He requested Mr. Forrest not to mention this to his father for, in that case, he would pay for them, and he didn't want him to do so. The volume referred to has been much used and is much worn, but it occupies a conspicuous place in his library and is kept as a memento.
William Eilers grew up on the old Eilers homestead, near Fayetteville, and acquired his education in the public schools of Fayetteville. When he was past eighteen years of age, he engaged in teaching in the old Kinkler school of Lavaca County, with a first-grade certificate. He opened his first school in 1882 with thirty-eight children, and at the end of his second year a new schoolhouse was erected and an assistant teacher provided him. At the end of his sixth year, when he resigned from the school, he had eighty-six children under his charge. The fact that the board increased his salary each year, caused him to continue teaching, whereas he had originally intended to do so only for a year or so and then attend the normal school and complete his education. Some of his pupils could not speak English when they entered and four of the same became teachers, one has entered the law, and two have devoted themselves to the medical profession.
On leaving that school, Mr. Eilers entered the Sam Houston Normal School, at Huntsville, and there was graduated in 1891. He was elected superintendent of the Schulenburg schools, was next made principal of the LaGrange High School, then principal of the Burton High School, subsequently teacher at Wardo [Warda], Fayette County, and was then appointed to a position in the Department of Education at Austin, by Supt. R. B. Cousins, and stayed there from 1905 until 1909, just four years to a day.
Leaving the state house June 15, 1909, Mr. Eilers matriculated in the summer school of the University of Texas, June 17th, and took three course, education, history and school supervision, and just before the completion of his term he was appointed a member of the State Summer Normal Board of Examiners by Superintendent Cousins. He spent a year as superintendent of the Sam and Will Moore Institute at Moulton and was elected from there to the county superintendency of Lavaca County, in 1910. The announcement of his candidacy brought his old pupils who had no become voters into line for him and he was nominated over a strong man for the office. He succeeded E. P. Guenther in the office and has been twice re-elected. He has had experience in all phases of school work. He taught in the rural schools and in urban high schools. He was a member of the county board of examiners for many years and twice a member of the state board of summer normal examiners. He taught in two summer normals, conducting one of them. He was always an active participant in teachers' institutes and for many years a member of the South Texas and State Teachers' associations.
As county superintendent, Mr. Eilers has caused twenty-six new districts to vote a local tax for the support of their schools and some fifteen districts have increased their taxes, there being now fifty-three districts levying tax for public education. Many new buildings have been erected and others improved since his advent in office and there has been much new equipment for school work added. The state course of study for rural schools has been substituted for the county course by all the schools of the county, forty-five schools of the county have libraries, totalling 3,114 volumes; fourteen districts own cottages which the teachers occupy free of charge, physical culture was taught in fifty-five schools last year; singing in sixty schools; drawing in fifty-two, and current events find a place in the curriculum of most of the schools of the county. Manners and morals are taught in sixty-three schools, a flag ritual for teaching civic patriotism is used in forty-eight schools, a; fifty-eight schools have opening exercises; twelve of them have school gardens; seven have organized Audubon societies for the protection of singing and insect-eating birds, and nearly all the teachers of the county are teaching bird protection. One rural school has joined the Boy Scout movement. The teachers all attend the county and local institute, held in six different places in the county, and teachers are expected to attend at least five of them. All teachers take one or more professional papers and read one or more professional books from the county library of 180 professional books during the year.
Mr. Eilers has introduced industrial work into the negro schools of the county, this innovation coming in September, 1914. Upon application to the Anne T. Jeanes Foundation he received $350 for this work. He appointed a colored female of twenty years of experience for the work at the Prairie View Normal School. She is required to stay a week at each school and to teach cooking, sewing, rafia and other hand work, and sanitation, and at the end of each week she reports the result of her work to the county superintendent. She also lectures to the colored people of the community and is urged by the superintendent to impress upon their minds the importance of greater care of their school buildings and paraphernalia and the improvement of sanitation at their homes.
Mr. Eilers was married in Fayette county, Texas, October 14, 1906, to Miss Martha Buchschacher, a daughter of Rev. Godfrey Buchschacher, who came to Texas from Berne, Switzerland, and is a Lutheran minister at Warda, Texas. The father of Rev. Godfrey Buchschacher was Dan Buchschacher, who emigrated to New York from Switzerland in the later fifties. He joined a cavalry regiment when the Civil war broke out and participated in eighteen battles. He was in the first battle at Bull Run and the last one which was fought at Brazos Santiago on the coast of Texas after Gen. R. E. Lee had surrendered. Dan Buchschacher was wounded three different times and was blinded in his right eye as the result of a shrapnel striking a cup of boiling coffee which he was holding in his hand. He died at Warda at the age of eighty-two and was laid to rest there in 1913. Mrs. Buchschacher was formerly Amanda Thoensen, and Mrs. Eilers is the second of four children the others being: Rev. Ernest, Emanuel and Miss Irene. Three children have been born to Mr. and Mrs. Eilers: Willie, Ernest, and Erwin. Mr. Eilers is a member of the Lutheran Church, is secretary of the congregation at Hallettsville, a teacher in the Sunday school, and one of the trustees of the church. Mr. Eilers is a Royal Arch Mason and belongs to the Chapter. He also holds membership in the sons of Hermann, and in both orders has numerous friends. — pp. 1261 -1265.
FRANK L. ERMIS. A retired business man of Engel, Frank L. Ermis is one of the early Bohemian settlers of Fayette County, having lived in the State of Texas almost half a century. He has risen from the discouraging conditions which confronted most men of foreign birth and training who arrived in Texas at that time, to a position such as only comparatively few reach in a business and civic way.
He was born at Frankstad in the Province of Moravia, Bohemia, April 11, 1848, and was eighteen years of age when he came to America. His father, Frank Ermis, a farmer and quarryman by occupation, embarked his family upon board the sailing ship Irish at Bremen in 1866, and after a voyage of twelve weeks, during which a storm drove the vessel four hundred miles out of its course, landed in Galveston. At that time, only a year after the close of the Civil war, the railroad mileage of Texas was very limited, and the family rode over the rails as far as the then terminus of the Southern Pacific, to Alleyton, on the Colorado river and thence a wagon and nine oxen conveyed them to High Hill, where they had friends living. Thence they continued on to Osso [Oso] in Fayette county, their first point of settlement. Frank Ermis in the second year of his residence in Texas bought land at Praha, and spent the rest of his active career there as a farmer. He died in February, 1873, when a little past fifty-three years of age. He married Mary Hermis, who died in 1911 at Praha when eighty-four years of age. They were both active members of the Praha church, which they helped to build and in which they reared their children in religious instruction. These children were: Johanna, widow of Frank Jureka, of Praha; Mary, who married in Bohemia Cyrill Matula and remained in that country; Frank L.; Joseph, an extensive farmer at Shiner, Texas; Bertha, who married John Bucek and lives in El Campo; Annie, who married Nick Brod, of Shiner; and Agnes, now deceased, who married Charles Gallia.
Frank L. Ermis received his early education in the Village of Kozlovic in Moravia, and after coming to Texas acquired considerable instruction from local teachers. The beginning of his career was one of hard manual labor. For some time he was employed in a stone quarry and as a mason at wages of "four bits" per day with board. During two winters he clerked in a store at old Flatonia for $12 to $15 a month and board. From these occupations he returned to the farm, married, spent the first year in operating the old homestead for his mother, and then bought a place at Vellehrad [sic.] on the Lavaca County line, which was his home for ten years. The land when it came into his ownership was absolutely unimproved, but he left it as a valuable farm, and was the owner of 300 acres when he sold out. His steady industry and good management gave him the foundation for his subsequent prosperity.
In 1880, having sold his farm, Mr. Ermis removed to Hallettsville and became a merchant. For five years he sold goods as a general merchant, and also was an extensive buyer of cotton. He had some business reverses and finally sold his interests in Hallettsville, and with three partners bought 9.000 acres of school land in Lavaca, Dewitt and Gonzales counties. He at once removed to this land and undertook its improvement. He put up several tenant houses, built a gin, established a postoffice under the name Hermis, of which he was the first postmaster, and was succeeded by his son. After a few years he sold all his land, and concentrated his attention for seven years upon the management of the store and cotton gin. Eventually he sold this property, returned to Velehrad, bought another farm of the 425 acres he still owns 208 acres. In 1912 Mr. Ermis removed to Engel and bought the various business interests of I. J. Gallia, consisting of houses, stock, land and other properties in the village. Here he again became identified with merchandising, but is only a silent partner in the firm of Engel Hardware & Furniture Company, handling a large stock of furniture, hardware, implements, wagons and buggies. Mr. Ermis owns a small farm of eighteen acres adjoining the village limits and his home is one of the best in that community. He has given extensive repairs to all his own business houses and has built several structures for the accommodation of his own and other enterprises.
Since reaching his majority Mr. Ermis has acted and voted as an American citizen and has manifested an intelligent interest in affairs around him. From association with neighbors and friends he naturally inclined to the democratic party and has served many times as school trustee while living at Hallettsville, Vellehrad [sic.] and Shiner. His only other official service was a postmaster at Hermis as already mentioned.
On September 2, 1870, Mr. Ermis married Miss Clara Michni, daughter of Vancil Michni, who died at Refugio County, Texas, at the wonderful age of ninety-eight years. Vancil Michni was born in the same village where Mr. Ermis first saw the light of day. He married Mary Holub. The six Michni children were: Mary, who died as the wife of James Gahanak; Johanna, now deceased, who married Antone Gahanak; Mrs. Ermis, who was born June 5, 1852; Joseph, of Kennedy [sic.], Texas; Rudolph, of Wichita Falls, Texas; and James, of Refugio County.
The children of Mr. and Mrs. Ermis are mentioned briefly as follows: James, who died in Seymour, Texas, married Louisa Pacha; Frank, a farmer at Moulton; Joseph, who is a large farmer near Shiner, married Frances Malena; Charles, who married Annie Kosack and lives at Vellehrad; Louis, a farmer at Mouton, married Louisa Palica; Willie, a farmer at Vellehrad, married Miss Lelia Gahanak; Clara, wife of Lebo Jarosek, of Engel; Emma, who married Hendre Orsak, and Engel merchant; Lucy, wife of John Farek, of Engel; and Julia, a twin sister of Lucy, who is the wife of Joseph Farek. The son, Frank, mentioned among the above children, married Lillie Pecha. — pp. 1383-1384.