The articles below appeared in A History of Texas and Texans, by Frank W. Johnson (Edited and brought to date by Eugene C. Barker with the assistance of Ernest William Winkler. To which are added historical, statistical and descriptive matter pertaining to the important local divisions of the State, and biographical accounts of the leaders and representative men of the state.), Chicago and New York: The American Historical Society, 1916.

THE SARRAZIN FAMILY, which belongs to the pioneer element of Fayette County, is still worthily represented at Fayetteville by Edward and Leopold Sarrazin, sons of the original settler, Joseph Sarrazin, who came into Texas, it is believed, as early as 1834 and was a compeer of the pioneer Henry Scherrer, of Biegel, both being factors in the pioneer affairs of this county.
Joseph Sarrazin was a native of Westphalia, Germany, born near the Town of Paderborn, in 1809, and was there educated. He came to America alone, but soon met his countryman, Scherrer, with whom it is said that he lived at Biegel for several years. He was an aid to the women and children in the "Run-away Scrape" such an historic event in Texas history, and if he was not a participant in the Battle of San Jacinto he was very close by when that struggle occurred. Joseph Sarrazin was granted a third of a league of land in Gonzales County, as a reward for pioneering here, the grant being dated in 1845, under the authority of Pinkney Henderson. However, Mr. Sarrazin settled permanently in Fayette instead of Gonzales County, his home being located three miles west of Fayetteville.
Mr. Sarrazin had come to America somewhat as an early settler, being possessed of no settled trade or profession, and he was mixed up in much of the exciting experiences of the days of the Revolution and for some years following that struggle. He had a slave property, being one of the early Germans in Texas to own such a possession.
Mr. Sarrazin was a native of Germany and he was the only one of his family to reach America as far as there are any records to relate. He arrived in Texas in 1834. That he learned the English language is evidenced by the fact that the records show that he served on a jury here and from reports obtained from people who associated with him and knew him personally. During the early '50s, Mr. Sarrazin erected a cotton gin on his farm, and the property continued to be a live factor in the affairs of the family throughout the period of the war between the North and the South. This was a horse-power gin, operated by the members of Mr. Sarrazin's family, and remained as one of the institutions of the community until early in the '70s. That Mr. Sarrazin's business ability was far beyond the mediocre is shown by the fact that his estate at the time of his death was valued at $13,000. While he made money through his operations in the cattle business and in numerous other legitimate ways, he made it a point and part of his creed throughout his life to give freely and open-handedly of his means to those whom he thought needed it, and his numerous charities, the extent of which will never be fully known, did much to lessen his fortune. The sick, the unfortunate and always the lowly found in him a true and generous friend, whose heart could always be touched, and whose hand and purse could always be opened. If the full history of the life of this man, at once an early settler and pioneer, steady man of business and the head of an honored and respected family, public-spirited citizen and earnest philanthropist, could be written in its entirety, it would make very interesting and instructive reading, but the records have been lost, and he lives only in the memories of a few old-time friends, and in the hearts of the members of his immediate family.
Joseph Sarrazin was a member of the Catholic Church. His wife, who bore the maiden name of Miss Augusta Ploeger, was also a native of Westphalia, Germany, and a daughter of a judicial official of that country. She was a finely educated lady who came to Texas early in the '40s and was married in 1844, and who died in 1882. She was the mother of the following children: Arnold, Joseph, Edward, who is a member of the firm of E. Sarrazin & Brother, of Fayetteville; Gertrude and Leopold, of Fayetteville, a member of the firm of E. Sarrazin & Brother.
Edward Sarrazin was born in August, 1850, and is about the oldest merchant in active business in Texas, and the oldest of Fayette County. He started in 1874 and has carried on his enterprise without [financial misfortune. For a long period he has been prominent in public affairs of Fayetteville, of which thriving little city he has been mayor for many years. As a citizen he is widely known and highly respected. Politically he is a supporter of democratic principles.
Leopold Sarrazin, youngest son of Joseph Sarrazin, and junior member of the firm of E. Sarrazin & Brother, was born on the farm near Fayetteville, March 30, 1854, and his education was secured in the country schools. Following this, his business experience added much to his practical knowledge. Mr. Sarrazin entered business in 1888, having passed his life prior to this time on the farm, but in the year mentioned associated himself with his brother, Edward, and the firm of E. Sarrazin & Brother has been doing a constantly increasing business ever since.
Mr. Sarrazin is a democrat in his political views, and has long taken an active part in local politics. He has served Fayetteville as its mayor, and served as a member of the executive democratic committee of Fayette County. Mr. Sarrazin is unmarried.—pp. 1453-1454.
JOHN D. SAUNDERS. In the Winchester community of Fayette County Mr. Saunders has maintained his residence from the time of his nativity, and not only is he a representative of one of the sterling pioneer families of this county but he also holds precedence as one of the substantial and progressive agriculturists and stock-growers of this section of the Lone Star State, his home being near the Village of Winchester and his unqualified popularity setting at naught in his case any application of the scriptural aphorism that "a prophet is not without honor save in his own country."
Mr. Saunders was born on the homestead that is now his place of abode and the date of his nativity was September 26, 1857. He is a son of Robert D. and Missouri (Carter) Saunders, both of whom were born and reared in the historic State of Virginia, where their marriage was solemnized. From the Old Dominion State Robert D. Saunders and his wife immigrated to Texas in the early '50s, the voyage across the Gulf of Mexico having been terminated when they landed at Galveston, which city was then a mere frontier village. From Galveston they made their way by the old-time overland freighting system to the interior of the state, and after remaining for a time on the Colorado River, in Bastrop County, they came on to Fayette County and numbered themselves among the early settlers on the land or'survey on which their sons are now living, this tract being a part of the Whiteside League. Here Robert D. Saunders engaged in farming and in the raising of horses and cattle on modest scale, and with the passing years his earnest efforts were rewarded with definite success and prosperity. He was an unassuming, steadfast citizen who was honored for his uprightness and civic loyalty, and he continued his residence in Fayette County until his death, about the year 1905, when he was of venerable age, his devoted wife having preceded him to eternal rest by many years. Mr. Saunders was not actively concerned with military operations during the Civil war, but his sympathies and support were naturally given to the Confederate cause. Of the children the eldest was Shields, who became the wife of John Z. Walker; Payne married Richard McKinney and was a resident of Bertram, Burnett County, at the time of her death; Robert met his death while serving as a loyal soldier of the Confederacy in the Civil war; Jennie, who became the wife of Thomas Young, died near Winchester, Fayette County; Lou is the wife of James Hill, of Cleburne, this state; Carter died a bachelor; John D., of this sketch, was the next in order of birth; Rodney, a traveling commercial salesman, resides at San Marcos, Hays County; William died at Smithville, Texas, where a number of his children still reside; and Edward resides on the old homestead of his parents, near Winchester.
John D. Saunders was reared to adult age on the farm which is still his place of abode, and he availed himself of the somewhat limited educational advantages afforded in the schools of the locality and period. Upon attaining to his legal majority he engaged in farming and cattle raising in an independent way, and for many years his operations were conducted on rented land on the line between Fayette and Bastrop counties, where he farmed in turn the Stribling, the Roensch and the Zilss places. Finally he returned to the portion of land which he had inherited from his father's estate, and this property, adjoining the old homestead of his father, he has improved and brought under most effective cultivation. He owns about 140 acres, representing practically all of the old home place of his parents, and he has eighty acres under cultivation. On the farm he erected his substantial and commodious residence, a good barn and other buildings that are utilized for the accommodation of his live stock and farm products, and from his early manhood he has been actively identified with the raising of and dealing in cattle, his brand being the figure 7.
Mr. Saunders has passed his days as an energetic and productive worker, with naught of desire for public office or active association with political affairs, but he takes loyal interest in all that touches the welfare and progress of the community and is arrayed as a staunch supporter of the cause of the democratic party.
Just antecedent to Christmas day of the year 1881 was solemnized, in Bastrop County, the marriage of Mr. Saunders to Miss Mattie Taylor, a daughter of James Taylor, who was a prosperous farmer of that county and who came to Texas from the State of Georgia. In Georgia Mr. Taylor had served as sheriff of his county and after his removal to Texas he continued to be actively concerned with political affairs of a local order. He and his wife, Amanda, became the parents of seven children: Mary became the wife of Richard Smith; Fannie wedded Newton Wilson; Ella became the wife of Charles Clark; Mattie, the wife of the subject' of this review, was called to eternal rest in 1913; Thomas, the eldest of the children, was a soldier of the Confederacy during the Civil war and still resides in Bastrop County; James died a bachelor; and Frank, the youngest son, is a resident of Weimar, Colorado County. Mrs. Saunders is survived by one daughter, Eva, who is the wife of Charles Bohannan, a prosperous farmer near Winchester, their children being Ruth Saunders and Walter Edward.—pp. 1455-1457.
RUDOLPH SCHMIDT. Through persistent determination and unceasing labor Rudolph Schmidt has won his way to a position among the substantial agriculturists of Fayette County, and his entire career has been devoted to the pursuits of the soil, he being at this time the owner of 170 acres of the Shepherd League, located on Fayetteville R. F. D. No. 3. He is a native of Fayette County, born near Shelby, on the Fayette and Austin County line, September 9, 1861, a son of Fred and Elise (Wunderlich) Schmidt.
Fred Schmidt was born at Witchenstein, Prussia, was there reared and aducated, and in young manhood took up the family vocation of farming. Although industrious and ambitious, he made but unsatisfactory progress in his native land and in 1852 emigrated to the United States, a married man in very moderate circumstances. Sailing from Bremen, he landed at Galveston, from whence he went by wagon and on foot to-Shelby, Austin County, where he joined relatives who had preceded him, and for a time was a renter of land, but soon became able to purchase a property of his own near Shelby, on which he continued to carry on operations until 1869, when he located on the farm now owned by Rudolph Schmidt, which at that time was a new tract of land in the W. W. Shepherd League. There he began the improvement of a farm, and at the time of his death, in 1879, at the age of sixty-five years, was the owner of 158 acres. He led a strictly agricultural life, being content to devote himself to his own affairs, learned to speak English but poorly, became a citizen after several years of residence here, and voted the democratic ticket in elections. He was a consistent member of the Lutheran Church. Mr. Schmidt was married in his native land to Miss Elise Wunderlieh, who survived her husband several years, and they became the parents of the following children: Catherine, who died unmarried; Lena, who married Fred Spies, and died in Fayette County; Louisa, who became the wife of Ernst Schulze, of the Fayetteville locality; Gustine, deceased, who was the wife of Fritz Menking, of Lavaca County, Texas; Caroline, who married Louis Ilse, of LaGrange; Henry, who died in this locality with a family; William, who died unmarried; August, who is engaged in farming near the home of his brother Rudolph; Rudolph; Fred, who is also a farmer in this locality; and Alvina, who died as Mrs. Fritz Scheu.
Rudolph Schmidt was eight years of age when his parents moved to his present locality and his education was secured in the Haw Creek country school, after leaving which he began to devote himself to farming. He remained under the parental roof until his marriage, December 21, 1886, to Miss Gesine Kerlers, who was born at Oldenburg, Germany, a daughter of Fred Kerlers. She died May 22, 1911, having been the mother of the following children: Alma, who is the wife of Rudolph Cordes, a farmer near Warrenton, and has a son, Jesse; Erwin, a farmer near his father, who married Emma Gerdes and has an infant daughter; Otto; Herbert; Elda, who is the wife of Lupold Steenken, of Wilson County, Texas; Emma; Louis; Wallie; Milton and Lydia. On June 21, 1913. Mr. Schmidt was again married, being united with Mrs. Rosa Schilling, who was born near LaGrange, Texas, and died December 7, 1914.
Mr. Schmidt is the owner of 170 acres of the Shepherd League, some fifty acres being cleared up and brought under the plow out of the heavy timber. He produces corn and cotton, which are the popular crops of this section, and also carries the stock that his pasture will support. In religious belief he is a Lutheran and his fraternal connection is with the Woodmen of the World.—pp. 1486-1487.
REV. JOSEPH SCHWELLER. Now serving as pastor of St. Mary's Church at High Hill, Rev. Joseph Schweller has been identified with the religious work of the Catholic Church since 1901, when he commenced as a new pastor at Red Rock and Smithville. He had charge of the Sacred Heart Church, with interests divided between the two communities of Red Rock and Smithville. He was the successor in that post of Rev. C. X. Neisens, and during the 3 1/2 years of his stay in addition to the ordinary duties of the pastorate, built a new church at Spring Prairie or Rosanky Station. His next place was at Seguin as pastor of St. James Church, and his labors in that parish continued for nine years. His ability as a financier had successful play, and he was able to lift the church debt, and left the parish preparing for the erection of a new building. The school in connection was maintained in a prosperous condition, and his pastorate was marked by a harmonious development of both religion and education. He was assigned to High Hill Church in August, 1913, succeeding Reverend Father Gerlach who left the parish in a flourishing state.
Father Schweller came to Texas from Maria Stein, Mercer County, Ohio, where he spent most of his boyhood from the age of ten years. He was born near Heidelberg, Baden, Germany, November 22, 1869, a son of Julius Schweller. His father was a merchant in the old country, but in Ohio spent his years as a small farmer, dying in 1887 at the age of fifty-one. Julius Schweller married Angeline Schleicher, who died at the Ohio home in 1898 at the age of sixty-three. Her children were: Michael, who died in Burkettsville, Ohio; Jacob, who died at Maria, Stein November 26, 1895; Rev. Joseph; and Miss Elizabeth, of Maria Stein.
Rev. Fr. Schweller while in Germany attended the parochial schools, spent two years in the St. Francis School at Cincinnati, was in the parochial school at Maria Stein, and pursued his seminary work in St: Charles Seminary at Carthagena in Mercer County. Father Schweller received his minor orders in the Carthagena Seminary from Most Rev. Archbishop Henry Elder of Cincinnati, and was ordained a priest at San Antonio by Rt. Rev. John J. Forest, bishop of San Antonio, on January 10, 1901. He was almost immediately placed in charge of his first assignment at Red Rock.
Father Schweller comes of a family which has given ministers, some teachers, farmers and business men to the world. His personal fitness, like his professional equipment, for this high calling is such as to mark his official tenures somewhat as epochs in the life of such congregations as he has attended as pastor.—pp. 1378-1379.
WILLIAM STEINMANN. One of the oldest residents of Fayette County is William Steinmann, whose home for nearly ten years has been in Schulenburg. He belonged to one of the German families that located about Central Texas in the decade before the war, and his own career comprises service as a Confederate soldier, with many years of prosperous and steady activities as a farmer and rancher in Fayette County.
William Steinmann was born at Kreitzburg, Saxe-Weimar, Germany, August 13, 1836. His father, Andreas Steinmann, born in the same locality, where many generations of the family had lived, was a saddler by trade, and was the son of a forester or overseer of the hunting grounds belonging to the crown. Andreas Steinmann married Caroline Yeager, and both brought their children to the United States in 1846. They took ship at Bremen, on board the Diermond, and after being on the Atlantic Ocean six weeks landed in Galveston. The first two years were spent in the City of Houston. Andreas Steinmann, like his father, was a great hunter, and indulged his inclinations to that pursuit in the woods and on the prairies of Southern Texas. He also had a garden, and from these two sources supplied most of the living for his family. In 1848 came an epidemic of yellow fever in Houston, and while both parents passed through the plague, two of their children died. In 1858 the family removed to Fayette County, settling near the place of Doctor Tell, an old countryman of the Steinmanns, his farm being between LaGrange and Schulenburg. Andreas Steinmann bought some land there, but spent most of his time in hunting. He not only supplied the larder of his home with the deer and turkey which fell before his trusty rifle, but also marketed some of the game. Finally, when his sons bought land on the East Navidad and settled there, he moved to the same locality and both he and his wife are buried in the old Philadelphia Cemetery. Andreas Steinmann died in February, 1885, and his wife passed away in 1870. The two children who survived to reach Fayette County were Chris Steinmann, a farmer near Schulenburg, and William.
William Steinmann had no opportunities for schooling after coming to Texas, and what he knows of the common branches was acquired in the schools of his native land. As a boy he learned the value of honest industry, and not long after coming to Fayette County he and his brother bought the 200 acres of raw land on the East Navidad, at $1.50 an acre, and devoted all their energies to improvement, farming and stock raising. They subsequently bought other land, and when the partnership was dissolved William Steinmann purchased all the available land adjoining his own share of the estate, and eventually acquired almost 400 acres in a single body. Many years ago he attempted to introduce the Durham cattle into his community, but after the Texas fever had swept away the entire drove with the exception of two heifers, he was satisfied to improve and raise the native stock.
With the outbreak of the war between the states Mr. Steinmann enlisted as a Confederate soldier. His company was at first an independent one under Captain Breckenridge, but was afterwards added to Colonel Duff's Thirty-third Texas Cavalry Regiment. This regiment operated on the coast of Texas, and at one time met the Yankees at Powder Horn, captured fourteen Federal cattle drivers, and took them into camp. The regiment was subsequently ordered north to Bonham, Texas, remained there several months and also did some service in the Indian Territory. Captain Breckenridge's company was later ordered to Dallas to look after some bushwhackers who were operating in that vicinity, and captured some of these while at a dance and placed them in the guardhouse at Dallas. There were many interesting and exciting incidents of his service, but Mr. Steinmann never participated in any important battle, and when the war closed he was with his comrades in the vicinity of Brenham, and left the army without any wounds and with only such marks as come through the hardships of military life. His chief privation as a soldier was from trials of hunger. For several days the only diet supplied the command was pumpkins, and Mr. Steinmann relates that he ate pumpkin so long that he has never liked this article of food since.
On October 5, 1876, in Fayette County, Mr. Steinmann married Miss Olinda Boling, who was born in Fayette County during the '50s, daughter of Dietrich and Augusta (Scherenbach) Boling, who came to America from Lippe Detmold, Germany, and settled in Texas. Her father died in this state in 1899 and her mother in 1902. Besides Mrs. Steinmann the Boling children were: Wilhelmina, wife of William Plaxka, of Lee County, Texas; Elizabeth, who married Albert Jochan, of Freiburg, Texas; Augusta, who married Henry Foerster, of Fayette County; Sophia, wife of Charles Briggeman, of Fayette County; Emma, now Mrs. Fritz Schumacher, of El Campo, Texas; Theodore, of [Swiss Alp], Texas; Lavina, who married Frank Keder, of the same town; Mary and Caroline, twins, the first the wife of Julius Nolkeinper, and the second the wife of Hermann Jocher; Louie, of Swisalp [sic.}; Olga, wife of Richard Otto, of Swisalp; and Henry, who died unmarried in 1907.
The children born to Mr. and Mrs. Steinmann are mentioned briefly as follows: William, of Schulenburg, who married Minna Knappa, and has three children, Edwin, Melba and Walter; Caroline, who married William Thiel, of Palo Pinto County, and their children are Hermann, Hobert and Hugo; Edmon, at home; Louie, of Cuero; Augusta, wife of Fred Gresser, of Houston; Adelle, who married Charles Thiel, of Lee County, and has two children, Ruby and Cora; Lavina, who is the wife of Ernst Russek, of Schulenburg; Robert, of Cuero; Olga, Mrs. Fenton Konnelson; Laura, of Cuero; and Alfred. Mr. Steinmann has reason to be proud of his family as well as his own experiences and accumulations in life. He has eleven children and eight grandchildren, and most of them are well established in their respective spheres in the world's work.
Politically Mr. Steinmann has cast his vote as a democrat, but has participated to no extent in politics. He is a church member and has always given his share to the support of church and benevolent causes. In November, 1906, he removed his family to Schulenburg, constructed a large and roomy home for the children, and gave them all the advantages of the public schools. He and Mrs. Steinmann have now lived together and, shared the responsibilities and joys of life for nearly forty years.—pp. 1364-1365.
WESLEY KINGSTON SULLIVAN. One of the oldest residents of Flatonia, having located there soon after the railroad was built, is Wesley K. Sullivan, cotton buyer and broker. Among the cotton planters and growers in Fayette County his is one of the most familiar names and his record as a dealer has been so consistently maintained on the par of truth and fairness that every one of his many customers places implicit faith in his word and his representation. In many ways outside of his business he has identified himself with the community interest and has been an aggressive improver and developer of this section.
Wesley Kingston Sullivan was born in Pontotoc County, Mississippi, March 1, 1862. His grandfather, John Sullivan, was of Irish stock, and was born in March, 1772, just ninety years before the birth of his grandson Wesley K., and died in July, 1871, in his hundredth year. He was of a revolutionary family and had seven brothers who served on the American side in that struggle for independence. John Sullivan's wife lived to be almost ninety years of age, and both are buried at the Bethlehem Church near Moscow, Tennessee. Among their ten children were: John; Caleb; Jesse; Elkanah J.; Mrs. Elizabeth McPhail, who died in Houston County, Texas; Mrs. George Green of Tippah County, Mississippi ; and one daughter who died at Mount Pleasant, Texas.
Elkanah Jasper Sullivan, father of Wesley K., was born in Yallabusha County, Mississippi, and grew up on a plantation worked by slaves. He acquired a liberal education, and was an able business man. When his son Wesley was three years of age he took the family to Moscow. Tennessee, and became a large land owner and practical farmer in that locality. In 1880 he moved to Texas, and a few months later died at Flatonia. During the war he was in the Confederate service, served as a justice of the peace in Tennessee, was an active democrat, and a man of special prominence and influence in the Methodist Church. He filled several of the church offices and frequently was an exhorter. He was affiliated with the Lodge of Masons, and was the first man buried by the Flatonia Lodge of that order. He possessed unusual financial ability, and invested largely in lands and left a considerable estate. Elkanah J, Sullivan married Bettie Howell, whose father was a farmer in Middle Tennessee. She died in 1864, her children being briefly mentioned as follows: Mary, who married Joseph Eose and died in Yazoo, Mississippi; Nannie, who married David McDonald and lives in Texas; Virginia, who became the wife of William Jackson of Tippah County, Mississippi; Frances, wife of Wilson Slaughter, M. D., of Mississippi; Florence, wife of G. W. Perry of Pine Bluff, Arkansas; Samuel S., a farmer near Flatonia; America, who married John Teague and died in Fayette County, Tennessee ; and Wesley K.
Wesley K. Sullivan spent his youth up to the age of eighteen at Moscow, Tennessee, attended the schools in Macon and also the Macon College. He has been a resident of Flatonia since 1880, and on coming to Texas engaged in the cattle business for a short time. C. S. Wigg of Houston then made him cotton buyer at Flatonia, and later on he was associated with Blakely & Brown as buyer, subsequently bought for Inmann & Company, and finally represented Ralli Brothers, cotton factors of Liverpool, with offices in Houston. Mr. Sullivan finally established an independent business as a cotton broker, for one year was a partner of A. B. Slack, and has since conducted business on his own account. He is a "fob" broker, buying and selling cotton according to that commercial principle at Flatonia.
Mr. Sullivan has been a notable influence in this section of Texas for his part in the development of agriculture and in the improvement of good roads. He invested largely in farm lands around Flatonia, and had improved almost a section of land before selling. He still owns an experimental farm, which he employs for the production of cotton and corn under intensive methods and with appropriate use of fertilizer to demonstrate what can be accomplished. In his home community he has built the street adjacent to his home, and confesses to being a "good roads crank." He constructed the first split log road drag and for years at his own expense kept the roads around his farm in fine condition. His own home in Flatonia is one of the show places in the residence district. It is located upon the high point in the heart of the residence section. He is also the owner and has built houses which he rents in the town. The Sullivan home is one that shows an artistic taste in planning and construction both inside and out. It is surrounded by a beautiful landscape of lawn, shrubs and trees, and in this happy setting the lines of the home have a harmonious part. His residence is built in the most modern style and with exceptional comforts and conveniences. Attractive features are the sun parlor, the summer dining room, sleeping porch, and a large sitting room furnished in that simplicity which is the acme of good taste. His ideas of comfort and luxury find their best exemplification in the bath room, furnishings and equipment of which were put in at an expense of $1,000.
In local affairs Mr. Sullivan has concerned himself chiefly with those movements which would bring direct and practical benefit to the community. He is a democrat in politics and has occasionally attended conventions as a delegate and in the primaries of 1912 supported the candidacy of Mr. Wilson, and is one of the thousands of men who have found reason to approve the high-minded course of that scholar statesman. Fraternally he is active in Masonry, is a past master of his lodge, past high priest of his chapter, and it is largely through his influence that the Knights of Pythias Lodge was established at Flatonia, in which he is a past chancellor and for ten years was a member of the grand lodge of the order. His church is the Methodist and he is a steward in the Flatonia congregation.
In September, 1894, Mr. Sullivan married Miss Ella Wheeler, daughter of William H. Wheeler of Flatonia. William Harrison Wheeler has been a resident of Flatonia almost continuously since 1877, was a liveryman for more than thirty years, and is now living retired. He was born in Alabama, a son of Richard and Katie (Church) Wheeler. His father, who died when about fifty years of age, in Jackson County, Alabama, was a farmer and a son of Amos Wheeler, a Georgian, and of the same family as Gen. Joseph Wheeler. Mrs. Richard Wheeler died in 1848, leaving a number of children. William H. Wheeler came to Texas in the fall of 1858, by boat from Memphis to New Orleans and to Galveston, and then went over the only Texas railroad as far as Hempstead. He soon afterward took up a career as freighter with ox teams between Austin and Port Lavaca. He carried goods to and from Bastrop, Gonzales, Lockhart and Austin. It was the custom to load their wagons with cotton from the interior towns to the gulf port, and the two wagons drawn by six yoke of steers brought back various goods and merchandise.
When the war came on Mr. Wheeler left his wagon below Hallettsville and joined Company D under Captain Walker, which went to San Antonio to .enter the State Ranger service. The company was later assigned to the Second Texas Cavalry, Col. John R. Baylor, and later Colonel Byron. The regiment took part in the New Mexico campaign, and at the end of the year returned to San Antonio. The regiment then became a part of the Confederate army which, recaptured Galveston, then went into Louisiana, and participated in the battles of Mansfield, Yellow Bayou, and finally returned to Texas and was operating in the country between Corpus Christi and Brownsville in the last months of the war. His comrade tried to persuade him to leave Texas and join the Maximilian invasion in Mexico, but Mr. Wheeler rejected the proposal and returned to Hallettsville to take up the occupations of peace. He worked as a clerk at Hallettsville, subsequently became a partner in the firm of Walker & Wheeler, spending a part of the time traveling for the firm, and about ten years later became traveling representative for a Galveston wholesale house. He then located in Flatonia, established the Wheeler House and conducted that as a hotel for several years, though the building is now used as his residence, having been remodeled and improved. For many years he conducted both a hotel and livery. He finally purchased the old Leceister Hotel, ran it for eight years, then managed the Cleburne Hotel at Cleburne for a year, since which time he has lived quietly retired in Flatonia. Mr. Wheeler is a democrat but has been strongly adverse to any notoriety, and has not even attended Confederate reunions except the meetings of his old Green brigade.
Mr. Wheeler was married in Lavaca County in 1873 to Emma Arnim, daughter of Albert Arnim, who was for many years a merchant of Hallettsville. Mr. Wheeler's children were: Ella, wife of W. K. Sullivan; Richard A., a cotton buyer of Flatonia; Katie, wife of N. Lyon of Flatonia ; Willie of Flatonia; Dr. Leslie, a dentist at Flatonia; and Margie, wife of R. D. Clancy of Flatonia.—pp. 1511-1513.
REV. JOSEPH SZYMANSKI. On May 26, 1914, the Church of St. Michael at Weimar was dedicated with impressive ceremonies, with the presence of Bishop Shaw from San Antonio and a large concourse of clergy and laity. This splendid church home, representing the religious ideals and activities of the Catholic people of Weimar and vicinity, is also a monument to the devoted and unselfish labors of the parish priest, Father Joseph Szymanski, who has been identified with the State of Texas since 1896 and has been pastor of the parish at Weimar since May, 1906.
Joseph Szymanski was born August 7, 1873, at Tuszewo, Prussia, and was a son of farming people. His father, Albert Szymanski, who was born in the same locality, married Catherine Lamparsky, who died at Bluff, Texas, in 1901. Albert Szymanski is still living in his home near Flatonia. These parents came to Texas when their son. Father Joseph, was a pastor at St. John. Their other children are: Frank, of Detroit, Michigan; John, a farmer in Fayette County; Antone, of Detroit; and Adam, at Flatonia.
Father Szymanski did his college work in his native land, and for nine years attended the higher school. After coming to America he spent two years in study in Sts. Cyril and Methodius Polish Seminary at Detroit, Michigan, then went to St. Meinrads Seminary, Spencer County, Indiana, and in 1896 came to Texas and for a year and a half was a student in the Victoria Seminary at Victoria. After being ordained to the priesthood, he did his first active church work at St. John, where he was pastor of the congregation for three and a half years. From there he went to [Ammannsville] and Bluff, in Fayette County, and continued his pastoral duties in those charges five and a half years.
His forte has been especially noteworthy as a builder and improver of church property. At St. John he improved the church building and had it painted and the same attention was given to the churches at Ammandsville [sic.] and Bluff, and also the school property there. When he arrived at Weimar in May, 1906, he found the parish worshiping in an old frame church erected about twenty-five years before, and without any needed accommodations. He then set himself upon a campaign for the building and equipping of the new edifice, one that might properly accommodate the church interests of the parish and properly represent the dignity of the church in that community. The result of his work continued through eight years was seen in the dedication of St. Michael's Church in May, 1914. He was the pastor of a faithful congregation, ready .and willing to sacrifice time and means, and with this backing he was able to achieve the grand work represented in the dedication of the church.
A brief description of the church edifice as given in a copy of the Southern Messenger is as follows: The new church is built of gray Elgin brick, with stone trimmings, on a reinforced concrete foundation. The body of the church measures 100 feet in length by 60 feet in width, while the sanctuary extends 30 feet further and measures 26 feet in width. On either side of the sanctuary is a sacristy, 16x16 feet. Underneath the sanctuary and sacristies is a fine basement for meetings, but may be used later for the installation of a heating plant. The tower and spire rise to a height of 144 feet to the top of the cross. The roof is of the best Pennsylvania slate, while the ceiling is vaulted gothic, plastered and tinted. Eight large art glass windows on each side afford light and air, while five smaller ones light up the sanctuary. For artificial lights about 200 electric lamps are supplied. The church is furnished throughout in keeping with its exterior beauty, with three beautiful altars, a handsome pulpit and communion railing, two double confessionals, a baptismal font and oak pews. The cost of the building proper was about $37,000, while the price paid for the lots and the cost of the furnishings brings the total investment to about $44,000.
The parish also maintains a parochial school, and its teachers are the Sisters of the Incarnate Word, comprising three teachers with a school enrollment of 120 children. The school was opened before the church was established here, and has been maintained for many years. Attached to St. Michael's is Dubina Mission, patronized by the German and Bohemian parishioners at Dubina, about five miles from Weimar. Father Szymanski serves this church as part of his general pastoral duties. The school there has eighty pupils and is taught by Sisters of the Incarnate Word.
Father Szymanski's literary work aside from his sermons comprises articles for newspapers, chiefly devoted to news of the church and replies to articles pertaining to church matters. He has exercised a wise leadership and benevolent influence in his community as presiding officer of meetings of his people and in his daily intercourse with his neighbors. Soon after coming to America he made his first declaration of citizenship and was fully naturalized in 1907. He has made a study of our political system, formed his conclusions as to the best policies for the promotion of prosperity and contentment, and has participated as a voter in national affairs.—pp. 1355-1356.
LOUIS FRED TIEMANN. At the present time pioneers and pioneer life no longer exist, for in America there is no new country, but at the time when the Tiemann family was founded in Texas conditions were different. In those days the people who ventured into this part of the country were looked upon as going into an unknown region, and their future destiny was believed to be uncertain. The lazy, weak-souled and shiftless remained at home, and thus it is that the new communities formed in the Lone Star State were composed of courageous and resolute characters. In this respect the Tiemann family has been no exception to the rule. Four generations have lived and labored within the boundaries of the commonwealth, and all have given a good account of themselves, as exemplified in the career of Louis Fred Tiemann, a farmer on Rural Free Delivery No. 2, Warrenton, on the Russell league of land, who is a native of Texas and of Fayette County.
Conrad Tiemann, the paternal grandfather of Louis Fred Tiemann, was the founder of the family in America. He came to this country in 1839 from Lippe, Detmoldt, Germany, became an early lime-burner in the vicinity of Rutersville, and later turned his attention exclusively to farming. He lived to a very advanced age and died and was buried near Warrenton. His children were as follows: Conrad; Katie, who married Louis Drove; Mrs. Minna Neese; Mrs. Henrietta Pohl; and Fritz. Of these children, Conrad Tiemann was the father of L. Fred Tiemann. He was born in 1825 at Lippe, Detmoldt, Germany, and was a lad of fourteen years when he came to the United States, having secured a common school education in his native land. He became a member of that old party of teamsters of the early day who did hauling and freighting from Houston into the interior, to Bastrop and to other points of lower Texas, at a time when living was much higher than now, and when the commodities and necessities of life were at a figure which make the "high" prices of 1914-15 seem small, flour at that time being quoted at $14 a barrel, while molasses brought $1.25 a gallon.
During the period of the war between the South and the North Mr. Tiemann was a southern sympathizer and gave some small aid to the Confederate cause, but saw no active service, and this period was really of little concern in his life. He took up agricultural pursuits when the war was finished and continued to be engaged therein during the remaining active years of his life, retiring to Schulenburg several years before his death. He was a member of the Lutheran Church, and was a democrat, but never held public office nor cared for it. He passed away in 1898 and was laid to rest in the community where he died. Mr. Tiemann married Henrietta Havameister, who also came to Texas from Lippe, Detmoldt, and who died in November, 1868. Their children were as follows: L. Fred, of this review; Henrietta, who died as Mrs. Doctor Carter; Conrad, who married Miss Laura Weihel, and died in Fayette County, leaving a family; Albert, a farmer of LaGrange, Texas, who married Louisa Schott; Emma, who is the wife of Rudolph Manske; Henry, of Miami, Texas; Otto, of Austin is a locomotive engineer; and Lucy, who is the youngest and the wife of Oscar Speizelhauser, of Coupland, Texas.
Louis Fred Tiemann was born at Warrenton, Fayette County, Texas, December 5, 1858, secured his education in that locality, and as a boy was brought up as a farmer. He started life on his own account at the age of twenty-two years at his birthplace, and was a renter for nine years, following which he purchased land in the Russell league. His purchase comprised 197 acres, partly improved, and here he has continued to successfully follow farming and stock raising, his crops being the prevailing ones of the state, cotton and corn, and his improvements keeping pace with his material expansion. His farm lies on the Cottonwood and LaGrange Road, twelve miles from the county seat. In local public matters Mr. Tiemann has been a trustee of his district's schools, and his democratic tendencies lead him to support that party's policies and candidates. Fraternally he is connected with the "Woodmen of the World, and his religious faith is that of the Lutheran Church.
Mr. Tiemann was married in Fayette County, Texas, to Miss Carolina Laferre, December 6, 1881. She was a daughter of Jacob Laferre and Carolina (D'Later) Laferre, both of whom are buried at Fayetteville, Texas. Jacob Laferre came to the United States from Bavaria, Germany, although of French origin, like his wife. He was three times married, and his second wife was the mother of his children, who were: Jacob, of Burleson County, Texas; Mrs. Tiemann, born February 10, 1854; Charley, of Milan County, Texas; and Adolph, of Rosebud, Texas.
Jacob Laferre was one of the California goldseekers during the days of '49, crossing the plains with a party of men from Fayetteville, and being absent digging gold for several years. In the journey across the plains and desert, many difficulties and hardships, were encountered, the party being compelled to take their wagons to pieces in crossing streams and in climbing mountains, and to go without water for themselves or their mules for long stretches. By making friends with the hostile Indians, they passed through the hostile country, having an Indian guide, and attended the redskins' peculiar form of religious service, as well as harmonizing and fraternizing with them. Mr. Laferre brought his gold back with him and for many years kept it about him in concealment. When he returned he began the loaning of money, and continued to be thus engaged during his remaining years at Fayetteville.
The children born to Mr. and Mrs. Tiemann have been as follows: Milton, of Warrenton; Aurelius, of Pampa, Texas, who married Mrs. Hallie Busch; Jesse, of Warrenton, who married Antoinette Lenert and has two children—Vastine and Archie; Blanche; Carrie, who married H. C. Henniger; and Henrietta. All the sons and Carrie attended school beyond the grammar grades, and Milton, Jesse and Carrie became teachers.
Mr. Tiemann has aided in building up two public schools and has shown a warm side toward education. He finds it to be of more aid to a man, woman, boy or girl in starting in life and in the matter of the attainment of success. Furthermore, compulsory education strikes him as being proper for any community.—pp. 2231-2233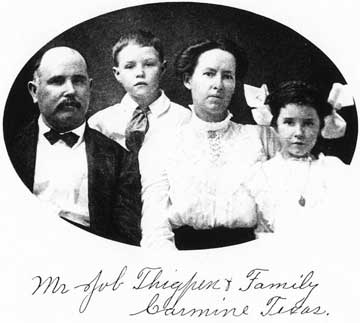 JOB THIGPEN. The varied interests with which Job Thigpen was connected at Carmine suggested not only the fact that he was one of the most energetic business men of the village, but that he was also awake to what is required to bring business to a community. He spent twenty-seven years in the employ of the Houston & Texas Central Railroad Company, at Carmine, and from 1898 was its agent; he was president of the local bank and other important enterprises, and to the traveling public he was well known as a genial and courteous host. His death occurred on the 26th of September, 1915.
Job Thigpen was born in Lee County, Texas, six miles north of Ledbetter, March 1, 1868, a son of Dr. Benjamin Jackson and Sophie (Stancill) Thigpen. His grandfather, also named Job Thigpen, was a native of Edgecombe County, North Carolina, born about 1802 and died in December, 1867, and is buried near Ledbetter, Texas in the old family graveyard, as is his wife, who bore the maiden name of Vina Cromwell. Of their children, four daughters and one son grew up to marry: Bettie, who became the wife of Henry Price and spent her life near Ledbetter; Elsie, who married Henry Taylor for her second husband and lived also near Ledbetter; Margaret, who married Richard May and did at Hempstead, Texas; Mary, who married Perry Andrews and died near Ledbetter; and Dr. Benjamin Jackson, who was about the third in order of birth.
Dr. Benjamin Jackson Thigpen passed his entire life in the medical profession, and was highly regarded for his general qualifications and professional skill. He was born in 1834, in Edgecombe County, North Carolina, and received his medical education at Memphis Hospital Medical College, following which he was engaged in practice in the mountain regions of North Carolina. He followed his father, Job Thigpen, to Texas, and settled on the Brazos River temporarily, but subsequently moved to Brenham and finally to Lee County near Ledbetter where he spent some years as an agriculturist as well as a physician. For a time thereafter Doctor Thigpen lived at Ledbetter, but in 1883 came to the present site of Carmine, where he took up his residence in a tent on December 24th, having been "tipped off" that this was to be made a station by Captain Howe. Here he purchased property, and when the railroad came through and erected a small station, Doctor Thigpen was appointed station agent, although for a time it was only a flag station and his only duty consisted in stopping the train when there was business to do. He continued to serve as agent until his death.
Doctor Thigpen platted the townsite as "Sylvan" but it was subsequently changed to Carmine, in honor of one of the old and respected settlers of the community, although a mistake was made here, as his name is spelled "Carmean." Doctor Thigpen erected the first dwelling house in the town and carried on his medical practice almost until the time of his death. Doctor Thigpen was a Confederate soldier and served with Captain Howe, above mentioned, who was perhaps captain of the Doctor's company, and subsequently became an early superintendent of the Houston & Texas Central Railroad. The Doctor was a strong democrat, a Mason in good standing, and belonged to no religious denomination. He served as a justice of the peace while a resident of Lee County, and belonged to the Knights of Honor and the Legion of Honor, being a man of the most temperate habits. His personal appearance was imposing, he being of medium height, 200 pounds in weight and the possessor of a full beard.
While living in Pitt County, North Carolina, Doctor Thigpen was married to Miss Sophie Stancill, a daughter of Henry Stancill, a farmer of the slaveholding class. Mrs. Thigpen died near Ledbetter, Texas, in 1871, the mother of Anna, the wife of W. B. Gannt, of Ledbetter, Texas; Louisa, who died near Ledbetter in 1913, as Mrs. Wint Gannt; Job, of this notice; and Claudie, who is the wife of J. C. Gillespie, of Carmine. Doctor Thigpen married for his second wife Mrs. Martha Sutton, who bore no children and passed away some ten years before the death of her husband.
Job Thigpen secured his education in the public schools in the vicinity of his home near Ledbetter, and during the years 1887 and 1888 completed his education training in a school at Greenville, North Carolina. In 1891 he prepared himself for a business career by taking a full course at Hill's Business College, at Waco, Texas, from which he secured his diploma. Prior to this he had been working for the Houston & Texas Central Railroad as operator at Carmine, and on completing his education resumed his duties, subsequently becoming agent for the express company here, and in 1898 succeeding his father as station agent for the railroad company. in matters outside of his railroad work, and in connection with the development of the affairs of Carmine, Mr. Thigpen was one of the organizers of the Carmine State Bank and was its president from its inception. It is one of the substantial institutions of this part of the state, and under Mr. Thigpen's able direction constantly secured an increase in the volume of its business. He also gave his financial support to the movement which led to the location of the creamery, of which he was a stockholder, and identified himself with the promotion of the Carmine Cotton Oil and Manufacturing Company, an important and prosperous industry, of which he was president. As a builder of the town he erected the chief residence of the place, one which would do credit to a county seat, where he entertained the traveling public in a hospitable manner. Mr. Thigpen was consul commander of the Woodmen of the World and represented his lodged in the State Camp. Like his father, he was physically a large man and showed in his appearance his love of out-door life.
On January 20, 1901, Mr. Thigpen was united in marriage at Carmine, with Miss Mary Froehner, a daughter of William Froehner, a farmer of Gonzales, Texas, and a German by birth. Mrs. Froehner was formerly Miss Johanna Giese and was also born in Germany, but reared at Round Top, Texas. Mr. and Mrs. Froehner were the following children: Walter; William; Otto; Benjamin; John, Edwin; Mrs. Thigpen; Mrs. Amanda Stulken, of Brenham; Mrs. Emma Muenchler, of Gonzales, and Mrs. Erna Lindemann, of Cost, Texas, twin sisters; and Miss Lydia Froehner, of Cost. Mr. and Mrs. Thigpen became the parents of two children: Benjamin Jackson and Ineeda.—pp. 1862–1864.


Thanks to Debbie Hanson for her help in getting these biographies online!