The articles below appeared in A History of Texas and Texans, by Frank W. Johnson (Edited and brought to date by Eugene C. Barker with the assistance of Ernest William Winkler. To which are added historical, statistical and descriptive matter pertaining to the important local divisions of the State, and biographical accounts of the leaders and representative men of the state.), Chicago and New York: The American Historical Society, 1916.


AUGUSTUS F. VERDERY, M. D. A remarkably interesting personal and family history is that of this honored and representative physician of Fayette County, Texas, where he has been engaged in the active practice of his profession since 1868 and where he holds prestige as one of the most venerable physicians and surgeons still active in practice in the Lone Star State. Though he has passed the eightieth milestone on the journey of life, he has the mental and physical vigor of a man many years his junior and has no desire to withdraw from the unselfish and humane vocation which has engrossed his attention for many years. He is one of the revered and influential citizens of the Village of Winchester, a community in which he settled upon coming to Texas, within a few years after the close of the Civil war, in which he had given valiant and effective service as a surgeon in a Georgia regiment of the Confederate forces. The doctor is a native son of Georgia, where the Verdery family was founded in 1796, and the lineage traces back to staunch French origin, though the first representatives of the name in America came to Georgia from the Island of Hayti [sic.], in the West Indies. The name has been one of special prominence and distinction in Georgia and other sections of the South, and the doctor himself became its first representative in Texas.
Near the now metropolitan City of Augusta, Georgia, which was then in Warren County, but which is now the judicial center of Richmond County, Dr. Augustus Freeman Verdery was born on the 1st of November, 1832. He was reared in a home of affluence and refinement and was afforded the advantages of the excellent schools maintained at Augusta. His father was an extensive landholder and manufacturer of lumber; he built and placed in operation near Augusta the first steam saw mill in Georgia, and he cut much timber from several thousand acres of pine land which he owned in that section, the major part of the lumber product having been shipped by him in train-loads to Augusta, for local consumption and for further distribution.
Judge Augustus N. Verdery, father of the doctor, was born at Augusta, Georgia, on the 1st of November, 1804, and was a son of Nicholas Verdery, who had been a large slaveholder on the Island of Hayti and whose slaves voluntarily accompanied him when he removed to the present State of Georgia. With his family and fully a hundred of his loyal slaves he landed in Savannah, Georgia, in 1796, and soon afterward he settled near Augusta, where he became an extensive planter, much of his old plantation being now within the corporate limits of the City of Augusta. Nicholas Verdery, who was a brigadier-general in Napoleon's army, was a scion of a patrician French family and was born at Bordeaux, France, whence he went to Hayti when comparatively a young man. He was liberally educated and was a talented violinist, in which connection it should be noted that one of his prized possessions was a fine Cremona violin, this old and valuable instrument having been taken from the home of his son, Judge Augustus N., by some Federal soldier at the time of the Civil war, when such depredations were most frequent in devastated Georgia, and the instrument was never recovered by the family. Nicholas Verdery was long one of the prominent and influential citizens of Eastern Georgia, where he left a vast estate, his death having occurred in 1839, when he was nearly ninety years of age. Concerning his children the following brief data are available: Benjamin was a resident of Columbia, Georgia, at the time of his death and left several children; Augustus N. was the father of Doctor Verdery of this review; Dr. Mandos Verdery, next of the sons, was sent by his father to Europe, where he received a liberal literary and professional education, and he became one of the eminent surgeons of Georgia, his death having occurred at Augusta, that state, when he was sixty-six years of age, and several of his children having survived him; Eugene, whose wife was a native of South Carolina and bore the family name of Paul, became a prosperous business man, and died near Augusta, Georgia, some of his descendants being numbered among the wealthy and influential men of that state at the present time; Clio, the only daughter of Nicholas Verdery, became the wife of Pleasant Stovall, a prominent merchant of Augusta, where she died without issue.
Judge Augustus N. Verdery acquired his youthful education in the schools of Georgia and his father provided him also with excellent business training of a preliminary order. He became a substantial planter, and when the Federal Government removed the Cherokee Indians from Georgia to the Indian Territory, Judge Verdery purchased the old home and land of Chief Ridge, one of the most prominent of the Cherokees, and this property, in Northwest Georgia, the judge developed into a fine agricultural and live-stock farm. When he was a young man the country about Augusta was sparsely settled, and among the neighbors of the family were the Hon. George W. Crawford, who served as secretary of state in the cabinet of President Buchanan, later held the post of United States minister to Italy, and who still later became one of the most prominent figures in the secession movement in Georgia, where he served as president of the Secession Convention which brought that commonwealth staunchly into line in the support of the cause of the Confederate States during the climacteric period of the Civil war. Judge Holt, a justice of the Supreme Court of Georgia, was another honored neighbor and friend of the Verdery family, and still another neighbor was Thomas W. Barrett, who was engaged in the wholesale drug business in Augusta. It was thus in a community pervaded by fine intellectual and social atmosphere that the sons and daughters of Judge Verdery were born and reared. The judge married Miss Susan Hampton Burton, a daughter of Rev. William B. Burton, who accompanied Burnet's colony into Texas but who soon returned to Georgia, where he remained until his death, a prominent and able clergyman of the Baptist Church. He died at Cuthbert, Georgia. He wedded Elizabeth Hughes, of Virginia, and they became the parents of five children, the two sons being Joseph and Isaac W.; Mrs. Verdery being the eldest of the three daughters; Mrs. America McLendon died in Baker County, Georgia; and Mrs. Yirginia Watson was a resident of Florida at the time of her death. Isaac W. Burton, younger of the two sons, came to Texas in 1832 and settled in the present County of Fort Bend. He was a pioneer who took part in the conflicts through which the Indians were kept in comparative subjection and otherwise aided greatly in the march of civilization and progress, both during the regime of the Republic of Texas and after the admission of the state to the Union. No representatives of his family are now to be found in Texas, and his older brother, Joseph, was a resident of Alabama at time of death. At this juncture is entered brief record concerning the children of Judge Augustus N. and Susan H. (Burton) Verdery: Rev. William M., who devoted his life to the ministry of the Baptist Church, died near Augusta, Georgia, and left a large family of children. He served the Confederacy during the Civil war in the office of chaplain of the Fifty-ninth Georgia Regiment, which was a part of Gen. G. T. Anderson's Brigade, Hood's Division of General Longstreet's Army Corps. Emily became the wife of Dr. George M. Battey, of Augusta, and was a resident of the City of Atlanta at the time of her death. Thomas J. was lieutenant-colonel of the Twenty-first Georgia Infantry, with which he served in the command of Gen. "Stonewall" Jackson, he having been killed in the first Battle of Fredericksburg. He had become a successful lawyer before the inception of the war and sacrificed his life in the cause of the Confederacy. Mary F. became the wife of Col. Warren Aiken, who was a prominent member of the bar of Cartersville, Georgia, who later served as speaker of the House of Representatives of the Confederate States Congress, and whose son later served in the United States 'Congress. Susan is the wife of Col. John S. Prather and they still reside in the City of Atlanta, Georgia. Oriana married and passed the closing years of her life in Atlanta. George T. was a lawyer by profession and died in New York City as the result of a wound received at the Battle of Gettysburg, when he was serving as adjutant of the Fourteenth Alabama Regiment in the Confederate army; he was a bachelor at the time of his death. Pleasant S., the youngest of the children, read medicine under the preceptorship of his brother, Dr. Augustus F., subject of this review, was later graduated in the medical department of the University of Georgia, and thereafter was engaged in the practice of his profession at Douglasville, that state, until his death, his wife and children surviving him.
Dr. Augustus F. Verdery supplemented the early education which he received at Augusta, Georgia, as previously noted, by higher academic study under the direction of Prof. Benjamin Moultrie, of Rome, that state, in which city he also studies medicine under the direction of Prof. H. V. M. Miller, of the medical department of the University of Georgia. In this department of the university he was graduated on the 4th of March, 1854, and he initiated the practical work of his profession at Talladega, Alabama, but a year later he returned to Georgia and engaged in practice at Louisville. From that place he finally removed to the Shoals of Ogeechee, in Warren County, where he became a planter and also continued the practice of his profession until he responded to the call of higher duty at the inception of the war between the states of the North and the South. In the spring of 1861 he entered the Confederate army as assistant surgeon and a year later he was promoted surgeon of the Fifty-ninth Georgia Regiment of Infantry, and was ordered from Richmond, Virginia, to Charleston, South Carolina. He was on duty to give first aid to the wounded at Fort Sumter, the victims being transferred at night to the hospital in Charleston. He was next ordered or detailed to Savannah, Georgia, where he served as night surgeon of Hospital No. 2 with Surgeon William R. Waring, who was on duty during the days. The doctor next went to Quitman, Georgia, to establish a hospital and after conducting the work of this institution ten months he went to Thomasville, that state, where he continued in charge of a hospital maintained in the county courthouse until the surrender of General Lee.
After the close of the war Doctor Verdery returned to his plantation and, with the aid of his former slaves, raised a crop of cotton and with the proceeds from the sale of this product and the filial sale of his plantation, of which he disposed when land in Georgia commanded a low price and industrial conditions were in chaotic state, he fortified himself measurably in a financial way for his new venture in the State of Texas. The results of the war were the industrial and commercial prostration of the South and the placing of former slaves on a plane of equality for which they were not in the least fitted, and under these depressing conditions Doctor Verdery decided to leave his native state and identify himself with the West. He came by rail to Brenham, Texas, and was led to come into the community of Winchester by reason of the fact that here the mother and stepfather of his wife, Doctor and Mrs. Jenkins, had established their home. His financial resources were meager, and here he forthwith engaged in the practice of his profession, in which he has continued during the long intervening years of a signally earnest, upright and benignant life.
With a single exception Doctor Verdery has emphasized his allegiance to the democratic party in every national election and this single exception was when he voted for Horace Greeley, the Greenback candidate for the presidency in 1872, this action having been taken principally because of his appreciation of the great editor's generous service, as bondsman, in effecting the liberation of Jefferson Davis, the former president of the Confederacy, from imprisonment by the Federal authorities. Doctor Verdery holds membership in the Methodist Episcopal Church, South, while his wife was a devoted adherent of the Baptist Church, and he has been not only affiliated with but has served as examining physician for the Knights of Honor, the Woodmen of the World, the Sons of Hermann, the Praetorians and other fraternal organizations, besides having been medical examiner locally for the New York Life Insurance Company.
At the Shoals of Ogeechee, Georgia, on the 17th of August, 1859, was solemnized the marriage of Doctor Verdery to Miss Mary Beall, daughter of Robert Beall, who was a representative agriculturist and a member of an old Georgia family. Mr. Beall met his death in a personal encounter, in the '50s, and his wife, whose maiden name was Martha Jones, survived by many years, finally becoming the wife of Doctor Jenkins, with whom she came to Texas, where she passed the remainder of her life. Of the three children of Mr. and Mrs. Beall the wife of Doctor Verdery was the eldest, the other two being Mrs. Thomas Coleman, of Dinwiddie Court House, Virginia, and Mrs. Julia J. Baker, of Colorado City, Colorado. The supreme loss and bereavement in the life of Doctor Verdery was entailed by the death of his devoted and gracious wife, who was summoned to eternal rest on the 24th of December, 1911, after their companionship had continued for more than half a century. In conclusion is given brief record concerning their children: Virginia is the wife of Charles S. Gates, of Winchester, Texas; Carrie V., who is the widow of John P. Jones, likewise resides at Winchester;. Oriana is the wife of Theodore Secretan, of San Antonio; Robert N. is a representative businessman at Shawnee, Oklahoma; Burton is the wife of Thomas Cowden, of Oklahoma City, that state; Felix Freeman, who resides in Houston, Texas; and David P. is married and resides at Achille, Oklahoma.—pp. 1384-1388.
JOHN J. VOELKEL. A resident of the hamlet of Oldenburg for a period of twenty-two years, John J. Voelkel is another member of the German element who came into Texas in boyhood. He was born at Wichenstein, Westphalia, Prussia, January 3, 1840, a son of John J. Voelkel, also a native of that same locality, who was a cabinet maker by vocation. He married Catherine Marburger, who passed away in Austin County, Texas, at the age of ninety-five years and is buried at Shelby. The family sailed from Bremen and arrived, finally, after a iourney of thirteen weeks, at Galveston, from whence they went on to Houston by boat and by ox wagon to Shelby, Austin County, where the father's death occurred in 1849.
The situation of the Voelkel family when its head passed away was fair, he having left a small tract of land with a log house, which was soon replaced by a better home, erected by the grandfather, Jacob Voelkel, who died in 1850. Mrs. Voelkel subsequently married Ferdinand Hezel and continued to live in that locality all of her life, her second husband dying there in 1865. The children born to John J. and Catherine Voelkel were as follows: John J., of this review; William, who is engaged in farming at Rutersville; Louis, who is a farmer near Haw Creek. One son was born to Mr. and Mrs. Hezel: Richard, who is a resident of Shelby.
John J. Voelkel of this notice was educated in a limited way at Shelby, after leaving his German school, and when still a boy began working around the gin at Shelby. A few years later he became a teamster, and with an ox team began freighting goods from Houston to LaGrange, Hempstead to Shelby and other points after the railroad reached Hempstead. He had ceased teaming to engage in farming at the time of the outbreak of hostilities between the North and the South, but in 1862 enlisted at Camp Wall, near Brenham, in Wall's [Wahl's] Legion, Company E, Second Battalion. Colonel Wall was himself the regimental leader, and Mr. Voelkel's captain was Alexander Ledbetter. The command was first ordered to Shreveport, Louisiana, and on to Jackson, Mississippi, a little farther north from which the Federal troops were encountered and the defense of Vicksburg commenced. Mr. Voelkel was a participant in the battles of Grenada, Yazoo City, and Fort Pemberton, and then took part in the gradual retirement toward Vicksburg. The Confederate troops were besieged in the city for a period of forty-nine days and after the surrender of the city Mr. Voelkel was paroled, July 17, 1863, while at the hospital. On that same day he started, with some of his comrades, back to Texas, and having had no transportation assigned, began to walk. They became so weak and tired, owing to the experiences they had just passed through, that they were unable to go far, but eventually succeeded in hiring a wagon, in which they rode until reaching Shreveport, Louisiana, where they secured transportation by stage to Navasota, and then traveled by rail to their homes. Before leaving the service Captain Ledbetter had been killed, Lieut. Ben Purcell, now of Ledbetter, had been advanced to that rank, and Mr. Voelkel, who up to that time had been fifth sergeant, was made orderly sergeant of the company.
Considering the experiences through which he had passed and the hardships, dangers and sufferings he had been forced to endure, Mr. Voelkel felt that he had done his duty and discharged all his responsibilities as a soldier. He felt the effects of his service in a long illness after he had reached his home, and when the Confederacy began scouting for re-enlistments and forcing men back into the army he decided to go to Mexico, where he might fully recuperate and where members of his own company had already moved. He formed one of a small squad of seven men who went to Brownsville and crossed the Rio Grande River, going thence to Monterey, Mexico, and engaging again as a teamster and freighter, hauling all manner of goods and merchandise from Matomoras to Eagle Pass. He was thus engaged until the war ended, and, leaving Mexico in July, 1865, he soon reached his home.
Peace having been restored, Mr. Voelkel resumed his activities as a freighter, the principal part of his business consisting of hauling cotton from his locality to the markets at Houston, with mule teams. In the next year, however, he took up farming near Carmine, at which time he became a resident of Fayette County. One year later he removed to Nassau, where he bought a farm and engaged in the raising of corn and Cotton, as well as the breeding and sale of cattle and other stock. In 1891 he came to Oldenburg and purchased a farm, the operation of which has since commanded his attention, although for one year he was also engaged in the general merchandise business at the village. While he maintains his interest in agricultural affairs, he is not engaged in active labor, having reached advanced years and being somewhat troubled with rheumatism, a constant reminder of the days when he fought under the flag of the South. He has contributed to the growth and development of his locality by the erection of good and substantial buildings on his property, and his numerous improvements show him to be a member of the progressive agricultural class which is doing so much to advance the interests of Austin County. Mr. Voelkel is a democrat in his political views, but has contented himself with the interests and compensations of private life, although his interest in educational affairs has caused him to act in the capacity of trustee of the schools of Nassau. He is affiliated with no religious denomination, nor is he a member of any fraternal organization.
In November, 1861, Mr. Voelkel was united in marriage with Miss Catherine Marburger, a daughter of Ludwig Marburger, and only one of their children has grown up. He is Robert Voelkel, who is a successful business man of Houston, and who married Miss Clara Afflebach [Afflerbach?], and has three sons, namely: Grover, Alfred and Elo. The members of this family are widely known and have numerous friends in their home communities.—pp. 1648-1650.
LUDWIG VOELKEL. The career of Ludwig Voelkel, whose home is located on Cummings Creek, adjacent to Warrenton, is an illustration of the possible control over early limitations and the wise utilization of ordinary opportunities. He received only limited advantages in his youth and left the parental roof at an early age, determined to make his own way in the world, and through industry and enterprise his ambitions have been realized and at this time he is the owner of a valuable property of 265 acres in the Logan League, six miles east of Warrenton. Mr. Voelkel was born January 25, 1846, at Wichenstein, Prussia, and is a son of John J. Voelkel.
The Voelkel family left Prussia in 1849, sailing from Bremen and landing at Galveston after a trip of thirteen weeks, and then went to Houston by boat and on by ox-wagon to Shelby, Austin County, Texas, where the father died in the same year. The family was left in fair circumstances, the father having purchased a small tract of land on which was located a log house, this latter being soon replaced by Jacob Voelkel, the grandfather of Ludwig Voelkel, whose death occurred in 1850. Mrs. Voelkel subsequently married Ferdinand Hezel and continued to live in that locality, dying in Austin County, Texas, at the remarkable age of ninety-six years, and being buried at Shelby. By her first marriage she was the mother of three children: John J., who is a retired farmer living at Houston; William, who is engaged in farming at Rutersville; and Ludwig, of this review. By her second marriage Mrs. Voelkel was the mother of one son: Richard, who is a resident of Shelby.
Ludwig Voelkel has lived in Fayette and Austin counties practically throughout his life. He was three years of age when brought to the United States by his parents and he grew up amid pioneer surroundings, obtaining his very limited education in the country schools. At the age of nineteen years he left home and began to learn the trade of carpenter, whifch he subsequently followed in Austin and Fayette counties, also doing some work in Washington County. Always a skilled and conscientious workman, a number of the buildings erected by him still stand as monuments to his contributions toward the building up of the community, these including several schoolhouses, among them the Haw Creek and Nassau, the Haw Creek store and a number of the business houses of Shelby.
Mr. Voelkel turned his attention to agricultural pursuits and located on his present property on Cummings Creek in 1893, buying 305 acres of the Logan League, much of it on the Creek bottom, for $10 an acre. He cleared 100 acres of the tract, and of the 265 acres he now owns, 55 acres are under the plow. Mr. Voelkel has devoted his activities to the growing of cotton and corn, the popular crops of the community. Mr. Voelkel was not called upon to serve in the army during the Civil war. In national political matters he has steadfastly voted the democratic ticket, but in local matters is inclined to be independent and to give his support to the candidate whom he deems best fitted-for the office at stake. He never has been active politically, but has led a quiet, unostentatious life, content to devote himself to his estate and to supervise its many and extensive interests. He has done much to elevate the local standard of agriculture and to strengthen the popular regard for thoroughness, thrift and integrity.
Mr. Voelkel was married in Austin County, Texas, in 1869, to Miss Catherine Schlabach, a daughter of Alexander Schlabach, who came from the part of Prussia which produced Mr. Voelkel. Mrs. Voelkel died in 1876 and left these children: Louis, of LaGrange, Texas; Hedwich, who is the wife of John Lenert, of Warrenton, Texas; Walter, who is a farmer on Cummings Creek, married Augusta Schultz; Zelma, who married Otto Menking, of Haw Creek; and Frieda, who is the wife of Fritz Bauerkemper, of Warrenton. Mr. Voelkel was married a second time to Mrs. Wilhelmina Kramer, a daughter of John Michess, of Prussia. There have been no children born to this union.—pp. 1569-1570.
WILLIAM VOLKEL [VOELKEL], who lives in the Rutersville community, his home being on Rural Route No. 2 out of LaGrange, represents that sturdy stock which was transplanted from Germany during the decade of the '40s to the wilderness of Texas. He himself was a child at the time of the emigration, and his life for more than sixty years has been identified with Texas, and his individual service includes a record as a Confederate soldier during the war between the states, and latterly, for a great many years until he retired, as a farmer and stock man.
He was born at Wichenstein, Prussia, December 13, 1841, and at this writing is nearing the seventy-fifth milestone on life's journey. His parents were John J. and Katherina (Marburger) Volkel, who were also natives of Prussia. Grandfather Jacob Volkel, after the death of his wife in the old country, came with his son and other members of the family to America in 1848. They embarked on a sailing vessel at Bremen, and after thirteen weeks landed at Galveston. From Galveston they went up Buffalo Bayou to Houston, and an ox wagon took them out to Shelby in Austin County. Grandfather Jacob Volkel died in 1851, the year after the family came to Texas, while John J. Volkel, father of William, died only a few months after landing at Galveston. At that time William Volkel was about eight years old. He and the other two children were left to the care of their widowed mother. His two brothers are: John J., a retired farmer at Oldenburg, Texas; and Ludwig, of whom further mention is made on other pages of this publication. John J. Volkel, the father of these sons was a carpenter by trade and a member of the Lutheran Church. After his death his widow married Ferdinand Hezel. She continued to live in Austin County until her death at the venerable age of ninety-six in 1908. By her second marriage she had one son, Richard, who still lives at Shelby.
So far as school training was concerned the best part of William Volkel's education was obtained before he left his native land. Public schools were not known in his section of Texas, and he attended school very little. The necessities of the household made it imperative that he use his youthful strength to some useful purpose, and he was self-supporting and independent when many boys of his age are still enjoying the advantages of leisurely home life.
With the outbreak of the war between the states he enlisted in Company G of the Fourth Texas Cavalry under Captain Marinus Vuerl and Colonel Riley. This regiment was organized at San Antonio in 1861 and joined the expedition under General Sibley into West Texas and New Mexico. The captain of the company was killed in the very first battle in which they were engaged at Welworthy, New Mexico. Mr. Volkel also participated in the battle at Fort Union, New Mexico, and after the close of that campaign was connected with some of the operations in Southern Texas, notably at the recapture of Galveston from the Federal troops on January 1, 1863. His regiment was then sent into Louisiana and Arkansas, and he saw some of the hard fighting in those districts.
After the war Mr. Volkel took up the responsibilities of farming and stock raising, and bravely faced all the discouragements and vicissitudes of such a business until he had laid the foundation of a substantial competence, and then retired. Mr. Volkel is a democrat, but has never held an office, and has been content to do his duty in the ranks as a private and by such work as every good citizen does in his community in the way of improvement and neighborly service. He and his wife are members of the Lutheran Church.
Mr. Volkel married Miss Christina Muesse, who was born in Prussia June 16, 1842. When she was a child of fourteen she came with her widowed mother in 1856 and settled in the community of Round Top, Texas. Mr. and Mrs. Volkel have long enjoyed the comforts of a worthy family of sons and daughters. Robert, their oldest child, is a resident of Rutersville. Mrs. Lena Koepke lives at Ellinger. The third child is Mrs. Wessels. Gus, now deceased, married Frances Herdler, who is also deceased, and they had three children. Amelia married Frank Hockebeil [Hackebeil] of Rutersville. Ottilie is the wife of H. 0. Hockebeil of Rutersville. R. W., Herman and Alvin all reside in the old home community. Lydia is the wife of Charles Maas. Willie A. is the youngest of the family.—pp. 1707-1708.
WILLIAM H. WALKER, M.D. The vigorous and progressive little City of Yoakum. Dewitt county, claims as one of its representative physicians and surgeons and loyal citizens, Dr. William H. Walker, who was born at La Grange, Fayette county, Texas, on the 16th of October, 1868, and who is well upholding the professional prestige of the family name, his father, the late William Wallace Walker, M.D., having been recognized and honored as one of the leading physicians of Southern Texas and having continued in the active work of his humane profession for many years, the closing period of his life having been passed at Schulenburg, one of the important towns of Fayette County.
Dr. William Wallace Walker was born in Tensas Parish, Louisiana, on the 12th of August, 1844, and was still a young man at the time when he established his residence in Texas. At the inception of the Civil was he was a student in Emory College, at Oxford, Georgia, and he promptly manifested his youthful loyalty to the Confederacy by leaving college, returning to his native state and enlisting in the Third Louisiana Cavalry, with which gallant command he served four years and nineteen days—virtually the entire period of the war. He distinguished himself for gallantry at the Battle of Shiloh and also that of Manassas, and in the second battle of the last title he was wounded. He lived up to the full tension of the great fratricidal conflict and gave of his best to defending the cause which he believed to be righteous and just, his continued interest in his old comrades having in later years been manifested through his affiliation with the United Confederate Veterans. That his patriotism and loyalty were intrinsic elements of his character was significantly shown when his native land became involved in war with Spain, in 1898. He promptly put forth vigorous efforts and raised a company for service in the Spanish-American war, this company becoming Troop G, First Texas Cavalry, and he was made captain of his company or troop, the regiment having been mobilized at Fort Sam Houston but having not been called out of the state to participate in the polemic activities in Cuba. The doctor himself, however, was assigned to duty in Cuba as a military surgeon, and at Santiago de Cuba he was placed in charge of a transport vessel on which sick and wounded soldiers were transferred to Montauk Point, New York. While voyaging to this destination he accidentally discovered among the troops on board his own soldier son, who was lieutenant in command of his regiment. After remaining for some time at Montauk Point, Doctor Walker returned to his regiment, with which he was mustered out, in the City of San Antonio.
After the close of the Civil war Dr. William W. Walker completed the prescribed curriculum in the medical department of Tulane University, in the City of New Orleans, in which institution he was graduated as a member of the class of 1871 and from which he received his well earned degree of Doctor of Medicine. He had previously established his residence in Texas, and after his graduation he engaged in active general practice at LaGrange, Fayette County, in company with Doctor Renfrow. From that place he finally removed to Cistern, in the same county, and later he continued in practice for some time at High Hill, that county, where he remained until the extension of the line of the Southern Pacific Railroad through Schulenburg, in the same county, when, with other residents of High Hill, he removed to the new railroad town, where he continued in successful practice until virtually the time of his death. He was alert in keeping abreast with the advances made in medical and surgical science, had a high sense of his professional stewardship and labored with ability and self abnegation in the alleviation of human suffering and distress, his name and memory being revered by the many families to which he ministered during the course of his long and loyal service as a physician.
Though Doctor Walker was essentially progressive and public-spirited as a citizen and was a staunch advocate of the principles of the democratic party, he considered his profession worthy of his unqualified attention and would never consent to become a candidate for public office. He was a Master Mason, and from 1869 until the time of his death held membership in the Baptist Church. He was a prominent and honored comrade of Camp Timmons, United Confederate Veterans, at Schulenburg, at the time when his life came to its close, his death having occurred on the 5th of May, 1901—just two years after the date of his departure with his troop for the Fort Sam Houston rendezvous, to make ready for active service, if demanded, in the Spanish-American war.
On the 29th of January, 1863, Doctor Walker wedded Miss Emma Alice Routh, daughter of the late Dr. Kenzie Routh, who was widely known and honored as a successful physician in the Pinoak or Tuttle Store section of Fayette County, he having been a native of the State of Tennessee and a pioneer of Texas. He married Miss Amanda M. Murrell, and both continued their residence in Fayette County until their death. Their children were Zachariah, Joseph, William and Emma Alice. Mrs. Emma Alice Walker died in the year 1874, and of her children four are now living. Dr. Edwin R., who is a representative physician at Ballinger, Runnels County, married Miss Sarah Gussman; Dr. William Hayden, of this review, was the next in order of birth; Kenzie Wallace, who served as captain in the Fifteenth Cavalry, United States Army, is now assigned to the army commissary department in the City of Washington, D. C., the maiden name of his wife having been Helen Hobart Whitman; and Mary is the wife of Dr. Arthur L. Fuller, of Colorado City, Texas.
The second marriage of Dr. William W. Walker was solemnized February 23, 1876, when Miss Eudocia Agnes Henderson became his wife. She is a daughter of Colonel Alfred Henderson, of Schulenburg, who was one of the prominent and distinguished pioneers of Southern Texas, his wife, whose maiden name was Callaway, having been a representative of the famous Kentucky pioneer family of that name. Mrs. Walker now resides in the home of her youngest surviving daughter, in the City of Texarkana, Texas. Of her three children the first born was Kittie, who was a student in the Sam Houston Normal School at the time of her death, on the 17th of November, 1894; Emma is the wife of T. G. Stark, of San Antonio; and Felton is the wife of A. L. Burford, a prominent railroad lawyer whose home is at Texarkana, while his office is in Kansas City, Missouri.
Dr. William H. Walker, to whom this sketch is dedicated, acquired his early education principally in the public schools of Schulenburg, Fayette County, and at the age of nineteen years he began the study of medicine, his preliminary reading having been pursued under the able preceptorship of his father. He finally entered the latter's alma mater, the medical department of Tulane University, in 1886, and in this institution he received his degree of Doctor of Medicine on the 3d of April, 1889. For two years thereafter he was engaged in practice at Shiner, Lavaca County, and he then removed to Ledbetter, Fayette County, where likewise he practiced two years. The following eighteen years found him engaged in the work of his profession at Oakland, Colorado County, a place originally known as Prairie point, where he built up a large and widely disseminated practice and where he continued his earnest and effective labors until November, 1910, since which time he has been engaged in successful practice as one of the leading physicians at Yoakum, Dewitt County. The doctor is identified with the American Medical Association and the Texas State Medical Society, besides which he has held membership in the local medical societies of each county in which he has practiced his profession.
With well fortified opinions concerning economic and governmental policies, Doctor Walker has maintained an independent attitude in politics and has exercised his franchise in support of men and measures meeting the approval of his judgment. He has been affiliated with the knights of Pythias since 1889 and was a charter member of the lodge at Shiner, his present membership being in the lodge at Yoakum. As a member of the Masonic fraternity he is past master of Oakland Lodge, No. 258, Ancient Free and Accepted Masons, at Oakland, Colorado County.
At Ledbetter, Fayette County on the 20th of December 1892, was solemnized the marriage of Doctor Walker to Miss Julia Gillespie, who was born in the State of Arkansas and who was a child at the time of her parents' removal to Texas, where she was reared and educated in Fayette County. Doctor and Mrs. Walker have two children, Laurie Douglas and Frances Katherine, both of whom remain at the parental home and the latter of whom was graduated in the Yoakum high school as a member of the class of 1915, and is now attending the College of Industrial Art at Denton, Texas.
That Doctor Walker is a scion of one of the staunch old families of the fair Southland is indicated when it is stated that his grandfather, William Wallace Walker, was born in Fauquier County, Virginia, on the 6th of June, 1814, his ancestors having immigrated to America from England and having settled in the Old Dominion commonwealth prior to the war of the Revolution. The grandfather of the doctor passed the closing years of his life at Schulenburg, Texas, where his death occurred in January, 1884.—pp. 1253-1255.
GERHARD D. WESSELS. One of the men of whom the Town of Rutersville owes its present business prosperity, Gerhard D. Wessels has been the architect of his own fortunes, and from a boyhood and youth filled with hard work and numerous discouraging experiences has steadily advanced to a position of importance and influence to his community. He was born at Oldenburg on the Jade, Germany, January 11, 1867, and is a son of George and Sophie (Lange) Wessels.
Mr. Wessels father died when Gerhard D. was still a youth, and shortly thereafter, in 1872, the widowed mother brought her little family to the United States, sailing from the City of Bremen on one of the vessels of the North German Lloyd line, the Frankfort, bound for Galveston, Texas, at which place the family duly arrived. From Galveston Mrs. Wessels took her children to Fayette County, where she had relatives, and during her first year in this country she was engaged in a small way in farming. She was married during the next year to William Hancord, a farmer and sheepman of Fayette County, and who later identified himself exclusively with farming operations near Rutersville, where Mr. Hancord resided until his death. Mrs. Hancord still survives and resides on the old homestead farm. The Wessels children were as follows: J. H. Wessels, a leading farmer and merchant of Halsted, Fayette County; George D., of Rutersville; Fred, who died at La Grange and left a family; and Gerhard D., of this notice. Mr. and Mrs. Hancord had one son, Willie, who died in childhood.
Gerhard D. Wessels was a lad of four years when he came to the United States with his mother and brothers, and grew up in the vicinity of Rutersville, where he received his education in the public schools. He was a farmer for a few years and an aid to the Hancord household after leaving school, later spent a short time in selling fruit trees, and then became a clerk in the store of Herman Amberg, whose employ he left to accept a similar position with August Heinze & Company, of La Grange. He was careful of his wages and finally accumulated a small capital with which he entered the retail liquor business at Rutersville, and also for several years was clerk for his stepfather, whom he succeeded in business, continuing in that line until July 11, 1914, when he sold out. At this time Mr. Wessels is engaged in buying and selling real estate, in loaning money and in conducting the saloon and dance hall property at Rutersville. He is well and favorably known in business circles of this locality, and his means have been accumulated solely by himself and through the exercise of stalwart business ability, good judgment and clear foresight. Mr. Wessels is one of the substantial improvers of Rutersville, having erected one of the best residences of the village.
In local politics Mr. Wessels has not been engaged actively, having aimed to vote for the best business interests of his community. However, he is primarily a democrat, having cast his first presidential vote for Grover Cleveland in 1888.
Mr. Wessels was married at Rutersville, May 28, 1891, to Miss Emma Voelkel, a daughter of William and Christina (Weyand) Voelkel. Mr. Voelkel, who was born December 13, 1841, came to America from Germany and was brought to Austin County, Texas, in 1848. During the Civil war he served for some time as a Confederate soldier, following which he took up farming in Fayette County. Mrs. Voelkel was a member of the well known Weyand family of Round Top, Fayette County, in which vicinity she was reared, and they were the parents of the following children: Robert, a resident of Rutersville; Mrs. Lena Koepke, of Ellinger, Texas; Mrs. Wessels; Gus, deceased, who married Frances Hardier, also deceased, and had three children; Amelia, who married Frank Hackebeil, of the Ruterville [sic.] community; Otillie, who is the wife of H. 0. Hackebeil, of this locality; E. W.; Herman; Alvin; Lydia, who is the wife of Charles Maas; and Willie A. Voelkel. To Mr. and Mrs. Wessels there have been born five children: Alma, Alfred, Welma, Gilbert and Milton, of whom Alfred is one of the salesmen for Herman Amberg, of Rutersville, one of the leading merchants of Fayette County.—pp. 1579-1580.
JOHN HENRY WESSELS. Of the men whose,participation in business activities and agricultural operations has lent encouragement to the growth of various industries in Fayette County, few are held in higher esteem than is John Henry Wessels, of Halsted, leading farmer, merchant and public-spirited citizen. He has been a resident of this county since 1872, coming to America as a lad of eight years from Oldenburg, Germany, where he was born April 8, 1864, and where his father, George Wessels, had died shortly before. The mother, then Sophie Wessels, brought her family to the United States, sailing from Bremen on one of the vessels of the North German Lloyd line, Frankfort, bound for Galveston, at which place she arrived in due course of time. From Galveston she took her children to. Fayette County, where she had relatives, and during her first year in this country she accomplished something in the way of farming. In the meantime she became acquainted with William Hancord, a farmer and sheepman of Fayette County, whom she married during her second year in America. He finally identified himself, with the Wessels children, with farming exclusively, near Rutersville, in Fayette County, and in this line continued to be engaged until the time of his death. Mrs. Hancord still survives in advanced years and makes her home near Rutersville on the old homestead place. The Wessels children were as follows: John H., of this review; George D., of Rutersville; Fred, who died at LaGrange, Texas, and left a family. One child was born to Mr. and Mrs. Hancord, Willie, who died young. Before Mrs. Hancord's first marriage she was Sophie Lange, and she has one sister, Mrs. Dietrich Niemeyer, of Moulton, Texas. Mrs. von Lienen, the wife of Bernard von Lienan, of Moulton, is a sister of George Wessels; Mrs. Annie Lucke, who died at Rutersville, was a half-sister.
In the vicinity of Rutersville and Halsted, Texas, John Henry Wessels grew to manhood, his education being obtained in the country schools which he attended in a limited way. From early youth he worked out from home as a farm hand, as a well digger and section hand, and in whatever direction honorable employment was offered. His industry was rewarded by the securing of a thirteen-dollar pony, which comprised the equipment owned by him at the time he decided to enter upon an agricultural career of his own, but he finally managed to borrow $600 for equipment, with which he began operations on his stepfather's farm on the Colorado River, near Halsted. He worked faithfully and industriously and directed his movements in such an able manner that he made a success of this venture, worked himself out of debt, and became the possessor of some small capital. Just before his marriage he purchased a tract of thirty acres of bottom land, located on the Ellinger Road, and this forms a part of his large land holdings, and was, indeed, the nucleus from which they have grown to their present proportions. As soon as he was able to gather together the means he purchased a thirty-five-acre tract adjoining the original purchase, and of this he is also still the owner. Mr. Wessels began buying at Halsted with a small tract of twenty-three acres, and became something of a buyer of farm lands and city properties, and his holdings lie principally along the Colorado River and north of lialsted, making an aggregate of 901 acres. His farming expanded beyond the limits of his own domain and for several years he has been a lessor of agricultural land nearby, his combined areas of land cultivated totalling 1,000 acres.
Another important enterprise which Mr. Wessels has built up at Halsted is the gravel industry. He began this work with the opening of a pit near Halsted Station, in 1906, known as. Pit No. 1, and opened Pit No. 2 in 1912. This has led to the employment of much labor, from twenty to thirty men, as well as twenty teams, and his product has gone to concrete work, railroad macadam and public road and street contracts. Mr. Wessels is one of the shrewdest business men in the county, active, alert and progressive, his hand being always at the throttle of his business enterprises, and all of these being kept in steady and constant motion. "Without a doubt he is the "father" of Halsted, in that his industries have built up the town, as well as at Wessel's Switch, where Gravel Pit No. 2 is located. He has shipped 16,000 cars of gravel and has skinned the surface of the country by the acre to secure this product.
Mr. Wessels engaged in merchandising at Halsted in 1894, when he established himself in a general line. The place at that time was nothing but a field, but Mr. Wessels realized that it was a good point for trade and commerce, and he accordingly erected a gin, store building, saloon and lumber shed, ami put in stocks for all of them. He operates all these businesses at this time with the aid of his sons. For a few years there was a postoffice established at this point, but with the expansion of the rural free delivery from La Grange the office here was discontinued. Mr. Wessels was the postmaster here. Here he also erected a handsome residence and planted shade and ornamental trees which are now in splendid shape, and has a dance and lodge hall where the Herman Sons and Sisters hold their regular meetings. Mr. Wessels also built a schoolhouse, and while it is a public school, issued stock to the patrons of the district for its construction.
In politics Mr. Wessels is a democrat, and is one of the school trustees, has attended numerous conventions as a delegate, and has aided in the nomination of many candidates for governor. He has served- on the committees of various state conventions, and was elected county commissioner for Precinct No. 1 in 1896, and served four years. During his term the matter of grading roads by contract was promoted, beginning on road work, and this, together with the erection of numerous new bridges, constituted the chief feature of his administration. Mr. Wessels is a Pythian knight and a member of the Sons of Hermann. He was reared in the faith of the Lutheran Church, while Mrs. Wessels was reared as a Catholic.
Mr. Wessels was married in the Halsted community, February 14, 1888, to Miss Mary Heller, a daughter of Platza F. Heller, one of the German farmers of Fayette County, and a native of Weimar, Texas, now residing at Columbus, this state. Mr. and Mrs. Wessels have the following children: Garland P., who married Matilda Harnisch, has two children, Nelda and an infant, and is associated in business with his father; Eddie, who is also his father's partner in the gravel industry; Miss Sophie, who resides at home; Leon, who is a clerk in his father's store at Halsted; Johnnie, who met an accidental death in childhood; and Lloyd and Irene, who are attending the public schools.—pp. 1595-1596.
THE WOLTERS FAMILY. The historic record of a family which has been identified with the civilizing influences of a vast border domain from the beginning can not fail to prove of enduring and vital interest, but when that record concerns a family which has given to that one-time frontier wilderness men of renown in business affairs, in the professions and in other honorable walks of life, a perusal of the story of incidents which affected the lives of its pioneer representatives and a reference to the causes which led to their abandonment of domestic ties and the advantages of civilization for exile among the very enemies of civilization, claim the rapt attention of all students of history in the making. To the Wolters family of Fayette County, Texas, belongs this distinction, and this history of the state exercises an important function when it enters even the brief review that is incorporated at this point.
To the Wolters family of Southern Texas belongs primarily the distinction of having lived under the flags of three republics. Its original representatives came to the Republic of Texas in the morning of its birth and when the cause of the new government seemed just and righteous, those of the Wolters name lent aid, without ostentation, toward the maintenance of the new republic under a banner which proclaimed inviolability to favored and ancient institutions of the South, and when that movement failed, the members of this sterling pioneer family submitted to the results of the military contest which ensued, thereby returning to the protection of the stars and stripes and contributing further, with sincerity and industry, to the rebuilding of the mother republic of the world.
To Jacob Wolters it was given to found in the United States a home that should give to American civilization a new germ which added an element of strength to our continuous process of assimilation and amalgamation. To this sturdy old Prussian the fates decreed a part in the subjugation of nature and the introduction of the arts of progress and peace where the denizens of forest and plain were wont to hold dominion. He came from his native Elberfield, in Rhenish Prussia, to America in 1834, in company with his wife, three sons and one daughter. This action was prompted by his desire to find freedom from the monarchial restraint under the influences of which he was born and reared and under which the lives of men of independent thought and action were made a burden. His coming to the United States was several years in advance of the rebellion or revolution in his Fatherland, a rebellion resulting from the absolutism and oppression of the reigning house and the failure of which gave to America Carl Schurz, Kunkel and a score of other enlightened German minds and patriotic souls. It is possible that the old Texas pioneer foresaw this catastrophe in his native land and decided to avoid its consequences to himself by quietly removing himself beyond the influence of his sovereign.
Finding on a sailing vessel of the type common to the period the means of transporting his family and small amount of personal effects to the land of promise, Jacob Wolters severed the ties that bound him to his native land and set forth to establish a home in America. Upon arrival in the year 1834, he established his residence in the City of Philadelphia. His trade, that of a baker, proved to be somewhat in advance of American demands in that early day, as the average housewife yet felt an independence which prompted her to supervise the work of her kitchen and do her own baking,—a situation that implied disaster for the old craftsman when thinking to establish himself in the work of his trade. Every month of delay brought a diminution in his limited financial resources, and under these conditions Jacob Wolters decided to put even further to the test his strength and versatility in the land of his adoption. Fortitude and courage thus led him to bring his family into the wilderness of Texas, where the white men were then contending against the forces of barbarism, and in the spring of 1835 Mr. Wolters and his family embarked on a coasting vessel that transferred them to the City of New Orleans, Louisiana. Here transference was made to another boat, which finally landed the family at Velasco, Texas, from which point a primitive steamboat transported them up the Brazos River to Brazoria. Mr. Wolters was bent upon joining the little German colony that had been established in Colorado County, and with wagon and ox team he and his family were transported to the site of the present Town of Frelsburg, Colorado County, where, in May, 1835, he settled on a tract of land in the Piper League. His temporary home was a camp under a spreading tree, and before he could prepare his pioneer cabin his devoted wife sickened and died, her mortal remains being laid to rest in July, 1835, in a necessarily unmarked grave, so far as enduring designation was concerned. Sorely desolated and grieved, surrounded by conditions that must have been strange and bewildering, with no possibility of applying himself to the vocation in which he had been trained, Jacob Wolters may well have faltered in courage and purpose. He was not, however, a man of such caliber, and he set himself to mastering rather than yielding to the conditions of circumstance and place. He was compelled to invent a means of livelihood that would appeal to the few settlers throughout the wide area of country surrounding his home. He hit upon the manufacturing of rawhide chairs, and the popularity of his products established him in a good business, as gauged by the standards of the locality and period. As a matter of course, he made his way by primitive conveyances over the wide stretches of country, and as a pioneer manufacturer and commercial salesman he journeyed about with his wagon and ox team, hauling his products through a country infested with hostile Indians and over roads that were such in name only. He encountered his full share of dangers and hardships as he went about selling his chairs, and on one occasion it has been related that he and one of his sons met a situation in which only good fortune and circumspection saved their lives. On this particular occasion they discovered a band of Indians encamped between them and their home,—a menacing situation and one fraught with dire results if their presence were discovered. To determine the right move was a veritable problem, but the father and son finally determined to make an effort to pass around the Indian camp at night. Equipped with a bacon rind with which to grease the spingles of the ox cart and prevent their squeaking, the son Robert had ample demands upon his attention, and the father piloted the lumbering ox team on the perilous journey at dead of night, good fortune having attended the venture, as they arrived safely at their home without having attracted the attention of the Indians.
The home of Jacob Wolters continued to be maintained on the Piper League until 1838, when he contracted a second marriage, Louise Maybrink becoming his wife. He then removed to the Mill Creek community, near Industry, Austin County, where he passed the residue of his life and where his death occurred in 1865, his second wife having passed away three years previously. The following data concerning the children of the first marriage are properly entered at this juncture: Robert, who achieved business success at Schulenburg, died at that place when venerable in years; Mrs. Wilhelmina Herder died in Fayette County, and left children; August was a resident of Fayette County at the time of his death; and Ferdinand likewise was a resident and influential citizen of Austin County at the time of his demise, his posterity having made an enduring impress in various Texas communities. The children of the second marriage were: Edward, who died at Brenham, Washington County; Theodore, who is a resident of Schulenburg, Fayette County; Hermann, who died when a youth; and Frank, whose posterity are found at Flatonia, Fayette County. In an article which follows the one here presented further reference is made to the life of Robert Wolters, the eldest of the children.
Ferdinand Wolters, the youngest of the children of his father's first marriage, was born at Elberfield, Prussia, in 1827, and thus was about seven years old at the time of the family immigration to America. He was reared to manhood under the conditions and influences of frontier life in Texas, and his death occurred at New Ulm, Austin County, in 1866. His education was acquired largely through self-discipline and he was a man of strong character and well balanced mentality, his vocation during the greater part of his active career having been that of saddler. During the Civil war he was made exempt from military service in order that he might ply his trade in the manufacturing of saddles for the use of the Confederate soldiers. He had no desire for the-honors or emoluments of political office, and was not active in religious affairs. He took life earnestly and hopefully, was genial, kindly and considerate in his association with others and commanded the high regard of those who came within the sphere of his influence. He married Miss Elizabeth Goeth, a daughter of Ernest Goeth, who came from Prussia to Texas in an early day. Mrs. Wolters was a child at the time of the family immigration to Texas and here she passed the remainder of her gentle and noble life. After the death of her first husband she became the wife of Charles Ernst, and she died in 1879, at New Ulm. Concerning the children of Ferdinand and Elizabeth (Goeth) Wolters the following data are available: Ernst, a saddler and harnessmaker by vocation, married Miss Annie Norhausen, who survives him, as do also a number of their children, he having died at Schulenburg, in 1914. Robert A. is a representative citizen and business man at Schulenburg and to him the publishers are indebted for the interesting data which form the basis of this article. Julius A. who married Emilie Koenig, was a prominent merchant at Shiner, Lavaca County, at the time of his death and is survived by several children, he having been a prominent merchant at Shiner. A special tribute to him is given in this work. Ferdinand, Jr., who died at Schulenburg, was a successful business man and public-spirited citizen. He married Norma Miller and they became the parents of several. children. Max E. is a resident of Shiner and is individually mentioned in an appending article. The children of Charles and Elizabeth (Goeth Wolters) Ernst were two in number,—Mrs. E. Moeckel, of Shiner; and Charles, who died at Hallettsville, Lavaca County, leaving .a family.—pp 1345-1347.
EDMUND F. WOLTERS. He whose name initiates this paragraph is an influential and honored citizen of Shiner, Lavaca County, and is a scion of the fine old pioneer family whose history is outlined in the article immediately preceding the one here presented, he being a son of Robert Wolters, the eldest of the children of that sterling pioneer, Jacob Wolters.
The late Robert Wolters was a lad of fifteen years at the time when he accompanied his parents to Texas, and from that time forward his youthful education of specific order was necessarily limited, owing to the conditions and exigencies of time and place. An alert and receptive mind enabled him, however, effectually to overcome this handicap of earlier years and he became a man of broad information and mature judgment. He assisted his father in the reclaiming of the pioneer farm and initiated his independent career as a farmer in Austin County. A number of years later he removed thence to Blanco County, where he was engaged in stock-growing for two years. He then returned to Fayette County, the original .home of the family, and for many years he was one of the prosperous and representative agriculturists and stock-raisers near High Hill, that county. When the Civil war was precipitated he subordinated all personal considerations to tender his aid in defense of the cause of the Confederacy, by joining Captain Upton's Company of the Texas militia, in which connection he was in service in the local field when called upon, the command having not been regularly enlisted in the Confederate ranks.
Upon the restoration of peace and his resumption of the activities of civil life Mr. Wolters engaged in the general merchandise business at High Hill, where he continued his residence until the railroad line was extended through Schulenburg, when, in 1872, he removed to the latter place, where he continued in the mercantile business with marked success. He retired from this line of enterprise when past sixty years of age and thenceforward he gave his attention to his private affairs and varied capitalistic and real-estate interests. He was one of the foremost in effecting the material upbuilding and civic and business development of Schulenburg, where he erected a number of brick and stone business buildings which remain as enduring monuments to his memory and civic liberality. While he aided in the promotion and establishment of the first banking institution at Schulenburg he did not long maintain his active association with its affairs, it being evident that he preferred to associate himself with such enterprises as he could personally direct and control. He was loyal and progressive as a citizen, was a staunch supporter of the democratic party in state and national affairs, but never desired or held public office. Mr. Wolters had due appreciation of the spiritual verities but his convictions were such that he did not subscribe to any ecclesiastical dogma or creed and did not ally himself with any church organization. His vigorous mind was a veritable storehouse of most interesting reminiscences concerning the pioneer days in Texas and his facility in narrating tales of his personal experience and observance as well as those of which he learned through extraneous sources made him a most interesting reconteur, so that the younger generation who knew him felt a deep sense of loss and deprivation when his earnest and noble life came to a close.
At Cat Spring, Austin County, on the 26th of December, 1849, Robert Wolters wedded Miss Adolphine Welhausen, the marriage ceremony having been performed by Ernst Kleburg, who was the incumbent of the magisterial office of justice of the peace and who was the father of Congressman Kleburg, now representing Texas in the National Legislature. Mrs. Wolters was a daughter of Charles Welhausen, who came with his. family from Germany and established his home in Texas in 1847. Mrs. Wolters was summoned to eternal rest, at Schulenburg, on the 20th of May, 1906, and thus was broken the devoted marital companionship that had continued for fifty-seven years, the venerable couple having celebrated their golden wedding anniversary in 1899, the occasion having been made memorable by the assembling of a large concourse of their friends and by their reception of messages and telegrams of congratulation from many representative Texas citizens, besides which tangible tokens of esteem were presented by old friends and neighbors. Mr. Wolters survived his wife by about six years and continued his residence at Schulenburg until his death, which occurred February 23, 1912, he having attained to the patriarchal age of more than ninety years.
Concerning the children of this revered pioneer couple the following data are given: Augusta is the widow of Oscar Roos and she now resides in the City of San Antonio. Edmund F. is the immediate subject of this review. Louisa is the widow of Emanuel Roos and resides at Victoria, judicial center of the county of the same name. Ottellie became the wife of Hugo Horner and her death occurred at Schulenburg. Mary is the wife of Edmund B. Kessler, of Schulenburg, and in the same city resides Ella, who is the wife of Hon. I. E. Clark, M. D., who is representative of the Schulenburg district in the Texas Senate at the time of this writing, in 1915.
Edmund Ferdinand Wolters was born in Austin County, Texas, on the 29th of September, 1852, and his early educational advantages were those afforded in the pioneer schools, but, like many another man of affairs, he has had the ability to widen his mental ken by reading and observation and to round out his education through the lessons gained under the direction of that wisest of all headmasters, experience. At the age of eighteen years he became associated with the mercantile business conducted by his father, and he eventually succeeded to the ownership of the store at Schulenburg, where he continued operations until 1887, when he disposed of his interests at that place and removed to Shiner, a newly founded town through which the first train on the Aransas Pass Railroad had been run in the preceding month. Here he purchased the lumber and hardware business of Mr. Woodley, and after conducting the enterprise about two years he sold the business to William Green and turned his attention to the ginning of cotton, in which line of industrial enterprise he is still actively engaged at Shiner, in association with the Trautweins. He has acquired also interests in high-grade cotton gins at other points, at each of which he is associated with partners who are his valued coadjutors, each of these enterprises having been developed and brought to prosperous status. A number of years ago Mr. Wolters became identified with the banking business, and he is at the present time president of the Yoakum State Bank, at Yoakum, Dewitt County, and vice president of the First National Bank of Shiner. Aside from the interests already noted Mr. Wolters. has become a prominent and successful dealer in real estate, and he is president of the Shiner Oilmill & Manufacturing Company, of which he was one of the promoters and organizers. At Shiner the firm of Trautwein & Wolters operate not only a thoroughly modern cotton gin but also a creamery and an ice manufactory.
In connection with the physical upbuilding of Shiner Mr. Wolters has played as effective a part as did his honored father at Schulenburg. He has erected two brick business buildings and has otherwise shown his civic enterprise and loyalty. He has served as a member of the board of aldermen of Shiner and was the incumbent of this office at the time when the waterworks plant of the town was installed. His political allegiance is given to the republican party in national affairs, and in the Masonic fraternity he is affiliated with the blue lodge at Shiner and also with the Order of the Eastern Star.
At Meyersville, Dewitt County, on the 18th of June, 1890, was solemnized the marriage of Mr. Wolters to Miss Sophie Trautwein, a daughter of William Trautwein, who was a representative farmer of that locality and who came to Texas soon after his immigration from his German Fatherland., Mr. and Mrs. Wolters have two children,—Lillie A., who is the wife of William Wendtland, Jr., of Shiner, and Miss Stella, who is a member of the class of 1914 in Baylor University, in the City of Waco.—pp 1347-1349.
HENRY AUGUST WUNDERLICH, who is now living a partially retired life on Fayetteville R. F. D. No. 3, has passed his entire career within the community of Shelby, having come hither as a child of three years with his father, John Wunderlich. The family came from Westphalia, Arnsberg, Germany, where Henry August Wunderlich was born December 1, 1844. John Wunderlich, his father, was born at the same place, and the forefathers had lived there for generations, and as far as is known all followed the pursuits of agriculture. John Wunderlich married Mary Wiet, of whose family little is now known. With his family, Mr. Wunderlich sailed from Bremen and landed from a sailing vessel at Galveston, the little party going at once to Austin County, where a few German emigrants and friends of the family had preceded them, among them being the Marburgers, the Wagners and the Roeders, the two latter families having since become in a manner extinct in the locality. There were also the Vogelsangs, Ploegers, Genskes, Bernshausens and Wittes, as well as the Hebels and Voelkels, who belonged to families that preceded the Wunderlichs and have posterity to preserve the names here.
The career of John Wunderlich was one which was characteristic in many ways of the early German settlers. Like many others he had not been satisfied with the progress he was making in his native land and accordingly determined to try his fortunes in the United States, and also, like numerous of his countrymen, he did not allow the lack of funds to keep him from coming here to face the hardships of an unknown land. He was possessed of but $24 in money when he arrived, but soon secured employment at the Roeder mill and gin, at a wage of $5 per month, with two bushels of meal thrown in, and continued to work there for a period of two years, in the meantime renting a house close to Shelby. Following this, he made the first payment on a small farm nearby, and there passed the remaining years of his life at agricultural work, succeeding because of his industry and close application. Considering the scant education he had received, he was a good business man, and when he died at the age of sixty-three years left a good estate.
Mr. Wunderlich had come to the United States to locate a home, but he had also come to be a citizen, and took that step not long after his arrival. He was too old for military service during the war between the North and the South, and was opposed to secession, yet when the issue came to a head he saw two of his sons give active service to the Confederate cause. He voted the republican ticket, but was not known in politics, and his religious faith was that of the Lutheran Church, of which he was a lifelong member. Mr. Wunderlich passed away in 1872, while Mrs. Wunderlich survived him until 1899, and was eighty-eight years of age at the time of her death. Their children were as follows : Frederick, who reared a family in this section and spent his life as a farmer; Henry Augustus, of this notice; William, who died as a boy during the war; and Elizabeth. The last named was the only child of Mrs. Wunderlich by her first husband, Mr. Witt; Frederick was a child by his father's first wife, and Henry and William were born to John and Mary Wunderlich.
Henry August Wunderlich secured the foundation for his education in the rural schools, and was purely a farm lad as a boy. He was seventeen years of age when he enlisted, in 1862, in the Confederate service, as a wagon man, and in the fall of the same year took up service as a conscript in the cavalry division, Colonel Lykens' regiment, with which, he continued along the coast during the four months that he was out. In. the spring of 1863 he returned to the freighting service, hauling cotton from this section of the state to Brownsville and Eagle Pass and returning with flour and bacon for the Confederate army. He left the service during that year and again identified himself with the farm at home.
After several years under the parental roof, Mr. Wunderlich was married, February 17, 1866, to Miss Frederica Treybig, a daughter of Nicholas Treybig, who came to Texas from Saxe-Weimar, Germany, and was a farmer by vocation. He died here, as did also his wife Mary, they having been the parents of five children, namely: Frederick; Benjamin; Carolina, who married George Wasserman; Eliza, who died young; and Frederica, who married Mr. Wunderlich. After their marriage, Mr. and Mrs. Wunderlich went to housekeeping at Shelby, and there maintained their first home. Mr. Wunderlich purchased his first tract of land in 1870 in the Southerland League, a tract of 150 acres, which was only fenced. There he made all the substantial improvements, including the erection of a good residence, commodious barns and other buildings, and made that property his home until 1911. In that year he felt that he had contributed his share of hard work to the development and improvement of the community, and therefore was indisposed to continue in active participation in agriculture. Accordingly he retired and moved to his present home on the Jones League, where he has sixty-four acres and has improved it to suit his family needs. To his original purchase in Southerland League, Mr. Wunderlich had added sixty-eight acres, which he devoted to farm .and pasture. As a farmer and stock raiser he was known to favor the most progressive methods, and at all times was ready to give innovations a trial, thus helping to elevate agricultural standards in his section.
Mrs. Wunderlich died in 1897, leaving the following children: Henry, of Brenham, Texas, who married Emily Warnasch, and has four children, Harry, Winfield, Zuleme and Robert; Ernst, who married Louisa Schulze, and left three children, Willie, Ella and Anita; Emma, who married Adolph Schroeder, of Dewitt County, Texas, and has eight children, Otto, Erna, Arnold, Addie, Leona, Hulda, Edwin and Emma Anita; Ernily, who married Emil Petrich, of Lavaca County, Texas, and has six children, Emma, Agnes, Hilda, Meta, Willie and Mildred; Emil, a farmer of this locality, who married Anna Holocher, and has five children, Edward, Lena, Olga, Laura and Hugo; Mina, who married Ernst Warnasch, of Washington County, Texas, and has five children, Clinton, Margaret, Alice, Louisa and Carrie; Hetwig, who is the wife of Henry Warnasch, of Washington County, and has three children, Clinton, Elizabeth and Gilbert; Lena, who married Paul Hetgel, of Shelby, and has one son, Lynn H.; Edwin, of Shelby, who married Hulda Hermsdoerfer, and has three children, Delwin, Hilbert and Roy; William, who married Emily Dochel, a farmer of Fayette County, and has four children, Perry, Willie, Lillie and Ruby; and Miss Eda, who resides at home with her father. Mr. Wunderlich was married the second time to Mrs. Johanna Vetter, but there have been no children to this union. Mr. Wunderlich has lived a private life. He served his community as a trustee of the public schools for many years while his children were growing up, and uses his own judgment in the matter of voting. He opposed Mr. Bryan in his three campaigns for the Presidency, voting for both Roosevelt and Taft, and in 1912 supported Mr. Wilson. In the famous political battle for the governorship in 1892, he voted for Clark, and opposed the aspirations of Senator Joseph W. Bailey. He is a firm believer in the value of a public school education, and sent his eldest son to commercial college. Mr. Wunderlich is a member of the Sons of Hermann, of which he was president for a time, and of the Woodmen of the World, of which he was consul commander. He is a stockholder of the First Guaranty State Bank of Industry.—pp. 1443-1445.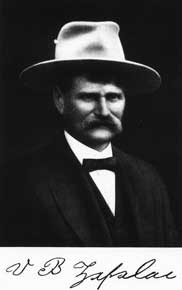 VINC B. ZAPALAC. The youth obliged to make his way in agriculture without financial aid or influence will find something very encouraging in the career of Vine B. Zapalac, now one of the extensive farmers on the Colorado River, in the vicinity of the postoffice at Ellinger. He was but eleven years of age when he took his place among the men in the field, at that time leaving school, and when he started out in life his sole capital consisted of $200 with which to establish himself as a farmer. That he has succeeded in raising himself to a position among the substantial men of the community is evidenced by the possession of 614 acres of land in the Judy League, and 999 acres along the Colorado River adjacent, and a reputation as a man of integrity and probity among his fellow-citizens.
Mr. Zapalac is a native of Colorado County, Texas, born at Frelsburg, April 14, 1856. His father was John Zapalac, who came to Texas in the '40s as a young married man and an emigrant of the indigent class, having barely enough money to bring his family to America. He came hither from Moravia, where many of the industrious Bohemians of Texas originated, and was compelled to go to work as a farm hand to support his family. Pulling fodder, picking cotton and other labor of the farm was resorted to, and splitting rails and cutting logs were also a part of his work. John Zapalac located at Frelsburg, where after five years or so of hard and incessant labor he was able to purchase a tract of twenty-three acres of land, this forming the beginning of his independent life in Texas. The Civil war soon came on, and he was forced to enter the Confederate service, and while he was away in the army his wife and children supported themselves, the mother following the plow, tilling the fields, gathering the crops and managing the home affairs. When Mr. Zapalac returned to his home at the close of his military service, he resumed farming and later on in life bought a farm at Ross Prairie, which was one of fair average at the time of his death, in 1900, when he was seventy-three years of age. While he never learned much English, being "barely able to get along in it," he took out his citizenship papers, discharged his duties faithfully, and voted with the democratic party.
John Zapalac married Miss Anna Orsak, who survives him and lives at Ellinger at the age of eighty-three years, and they became the parents of the following children: Paul, who died in 1914 leaving a family in West Texas; Apolena, who is the wife of John Horak, residing near Ellinger; Vinc B., of this notice; Mary, who married Jo Krenek and resides at Ellinger; John, a farmer of the Ellinger locality, who married Mary Wiesner; Joseph, of Kyle, Texas, who married Agnes Haidusek; William, a resident of Corpus Christi, Texas; Frances, who is the wife of Charles Bechek, of the Ellinger community; and Annie, who married Rudolph Sladek, of [Fayetteville].
Vinc B. Zapalac grew up at Frelsburg, Texas, and on Ross Prairie, and received his education at Liveoak Hill, but this was decidedly limited, as he was never in school after he was eleven years of age, and prior to this time had been in the field much of the time. He learned Farming in all its branches, and was early able to accomplish a grown man's work. At the age of twenty-four years he began life on his own account, his capital at that time, as before stated, being $200, with which he built a little home and provided himself with the simplest of farming implements. He also owned a mule, and his wife had a horse, and with this ill matched team he started operations on a tract of land near Ellinger, on the Colorado River, which he rented from a Mr. Pollard. Five years of the hardest kind of work and closest economy followed, and at the end of that period he had accumulated sufficient capital with which to purchase land of his own. His first purchase was a farm of sixty acres, located on Ross Prairie, which he put under a good state of cultivation, and on which he erected a good house and substantial barn, and made numerous other improvements. Three years later he was able to sell this land to advantage and at that time purchased a larger farm, which formed the nucleus for his present property. In 1891 he located in the Judy League, where he purchased 614 acres, all in the timber, and later he bought 999 acres along the Colorado River, adjacent, and of this he has cleared from the heavy timber 160 acres, the balance being devoted to pasture land. Mr. Zapalac has erected a splendid residence and barns, has fenced his land, and has become one of the progressive and successful men of his county. His farm provides homes for two of his son's families and is a large producer of corn and cotton. Mr. Zapalac's stock business embraces cattle, which he breeds and sells and ships as the occasion seems to warrant. He has made a close and careful study of his life work, and is conceded to be an expert in every department of farming. As a business man he enjoys the confidence of those with whom he has been associated, and his general popularity in his community is evidenced by a wide circle of friends.
In October, 1882, in Fayette County, Texas, Mr. Zapalac was united in marriage with Miss Annie Andreas, a daughter of Andrew Andreas, who came from Moravia and is a Bohemian, and is now engaged in farming on Round Prairie. He and his wife were the parents of five children, namely: Joseph; Annie, who became Mrs. Zapalac; Ludwig; Rosa, who became the wife of John Mikelas; and Mary, who died as Mrs. Henry Bambach. Mr. and Mrs. Zapalac are the parents of the following children: Millie, who married John Novosad, of Ellinger; Henry, a farmer here, who married Minnie Laue; Johnnie, who is a farmer here and married Bettie Houbnak; Martha, who became the wife of John Gartner, of this locality; and George, Fritz, Elo and Adella, who reside with their parents. Mr. Zapalac educated his children in the country and one of them has enjoyed the advantages of the La Grange school.
In politics Mr. Zapalac is a democrat, but has held no office save that of school trustee. He and his family are members of the Catholic Church.—pp. 1892-1893.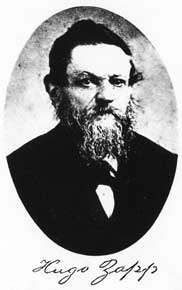 HUGO ZAPP who spent his life largely in Fayette County, and who died at Fayetteville January 8, 1903, in his eighty-first year, was a man universally beloved. Few of the great throng trust their fellows as he did. He lent a hand where help was needed to friend or foe. Those who knew his life and influence remember him as one absolutely unselfish.
He was born at Elberfeld, Germany, September 6, 1822, came from a family of business people and had a splendid (education. Coming to the United States in 1847, sailing from his native city and landing at Galveston, he came direct to Fayette County and engaged in farming near Fayetteville. After the war he moved to the Village of Fayetteville and started a small store. On one occasion he was called to his gate on the farm ostensibly to give information to a body of men who were enquiring the way. A rope was thrown over his head and he was taken into the woods to be hanged. He was not only a Union man but was believed to have much money about him, and as he would not disclose its hiding place the robbers decided to dispose of him. From this predicament he managed to escape by slipping the noose over his head. While running away he was shot at but not hit, so he pretended to be shot and fell behind a log, finally crawling out into the darkness and to freedom. Afterwards his store was robbed a few times. When peace was declared he established his business with much success and continued a merchant until some years before his death. In fact he was the leading merchant as well as the leading citizen of the place, and erected the only important brick business house in the town. He invested wisely in land, and the fortune which he left to his estate came largely through his handling of realty. Mr. Zapp was the owner of properties that made him one of the large land owners in Harris and Fayette counties.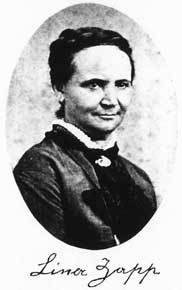 He took no active interest in political affairs, though always voting with the republican party and supported civic movements for the public welfare. In religious belief he was a Lutheran, fraternally was a strong Mason, and was one of the organizers of Fayetteville Lodge No. 240, serving as its secretary many years until blindness caused his retirement. During these years his sole comfort and company was his devoted wife who died March 18, 1902, after which he was taken care of by his children until his death.
Hugo Zapp was married in Fayette County to Miss Caroline Bode, a young lady who came from Prussia and who died one year before her husband. They became the parents of the following children: Mary, who married Herman J. Meitzen of Fayetteville; Herman, who died at Fayetteville leaving a family; Lena, wife of Adolph Zoll of Fayetteville; Charles T., whose home is at Houston; Matilda, who married Ernst Pagel of Fayetteville; Julia, who became the wife of Rudolph Francke, of Houston; Louise, who died at the age of twenty-one unmarried; Hugo, Jr., of Temple, Texas; and Ida, who died at Fayetteville as Mrs. Henry Goedke.—pp 1918-1919.
HERMAN ZILSS. A resident of Fayette County for more than thirty years, Mr. Zilss has been a citizen of the Village of Winchester, active and influential in both business and civic affairs and through his well ordered efforts has achieved large and worthy success. He has been concerned with mercantile enterprise, and has large farming interests and business connections at the present time, his success having been the direct result of his own ability and earnest endeavors. Prior to establishing his residence in Fayette County Mr. Zilss had passed a year in the City of Galveston, where, through his service as a laborer and in the driving of a street car, he. was enabled to save about $250. With this money and a certain surplus which he had brought with him from his native land, he established himself in the general merchandise business at Winchester. Fair and honorable dealings and effective service to patrons conduced to the development of a large and prosperous business, and after a successful career of fifteen years as a merchant at Winchester he sold his stock and business to his younger brother, Emil, since which time he has given his attention principally to the supervision and management of his extensive landed estate and other capitalistic interests. He has done successful work in the buying and selling of real estate, principally farm property, and also controls a prosperous enterprise in the extending of loans upon approved real-estate securities.
Hermann Zilss was born in the Town of Buetow, in the Prussian Province of Pommern, or Pomerania, Germany, on the 8th of September, 1847, and his early educational advantages were of excellent order, as he completed a thorough course in the gymnasium, which is similar to the high school of the United States. He became an expert bookkeeper and accountant and his final service in this connection was given in the City of Berlin.
From the City of Hamburg Mr. Zilss sailed for Baltimore, Maryland, in 1881, on the steamship Braunschweig, and after his arrival on American soil he forthwith made his way to Giddings, Texas. Soon afterward he went to Smithville, where one of his first experiences in connection with his spirited welcome to his adopted country was that of being a member of a little party of men who were surrounded by robbers, were held up at the point of pistols and compelled to deliver their valuables, Mr. Zilss's pockets having been made to disgorge an appreciable amount of cash. Soon after this unseemly adventure he went to Galveston, where he began work as a common laborer, this being the only honest employment then offered. It was a proud moment in his career when he discovered at the end of a year that through such honorable toil and endeavor he had saved $250. He has had many "ups and downs" during the long intervening years but has persevered, has shown indomitable spirit in the surmounting of obstacles, has met emergencies and adversities with courage and has reached a certain amount of independence and prosperity, the while he has so ordered his course as to gain and retain the confidence and good will of those with whom he has come in contact in the various relations of an earnest and useful life. He has shown marked consideration for those who have been less fortunate than he in connection with business affairs. While he lends money to those who borrow for various purposes, there has been naught of the grasping, Shylock attitude on his part, and he has never charged more than 6 per cent interest on his financial favors to others, though there have been occasions when he could readily have exacted a much higher rate. In politics Mr. Zilss has been a supporter of the cause of the democratic party and thus has been in accord with the general sentiment of his friends and neighbors, the while he has given earnest and loyal support to measures and enterprises that have conserved civic and material progress and prosperity in his home community.
Christian Zilss, father of him whose name initiates this article, was a man of substantial means in Buctow, Pomerania, in which locality he owned and operated an excellent farm, his means and paternal fidelity being such that he gave to each of his children excellent educational advantages. He wedded Henrietta Grubert, and both continued their residence in Buctow until the close of their lives. Of their children Hermann, of this review, is the eldest; Julius is the executive head of a surveying bureau in the City of Berlin, Germany; Willhelm holds a similar administrative position with an important railroad bureau in the Fatherland; Emil, who came to the United States in 1884, is one of the leading merchants and representative citizens of Winchester, Texas, where he succeeded his brother Hermann in the mercantile trade; and Miss Emma still remains at the old home in Buctow.
In the period of his residence in Texas it has been the privilege and pleasure of Hermann Zilss to visit his old home in Germany on six different occasions.—pp 1395-1396.


Thanks to Debbie Hanson for her help in getting these biographies online!