Darden Cemetery
Willow Springs
FAYETTE COUNTY, TEXAS


A Historic Texas Cemetery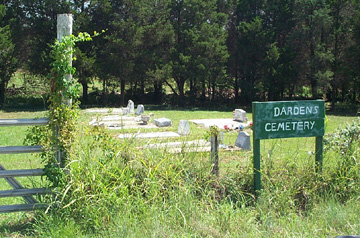 The Darden cemetery was established with the burial of Joe Johnson on September 1, 1963 on land owned by Willie Darden, Jr. The 100 X 120 foot plot was fenced off and designated as a burial ground. All persons buried here are African-Americans.
The Darden Cemetery is located on the James Miles Survey, 1.6 miles southwest of Willow Springs on Highway 159. It is situated at a corner east of Highway 159 and Darden Loop.
Norman C. Krischke inventoried the cemetery on October 26, 1972 in company with Willie Darden, Jr. who provided some of the notes below. More recently, Dirk Bailey photographed the grave stones in February 2010. Additional information comes from death certificates.
Please contact Rox Ann if you have additions or corrections.

| | | | |
| --- | --- | --- | --- |
| Name | Birth | Death | Notes |
| Darden, (unknown) | | | Funeral home marker with surname only |
| Darden, Eddie | 25 Apr 1907 | 23 Aug 1994 | Marker |
| Darden, Emma Lucille | 26 Aug 1921 | 7 Jul 1976 | marker |
| Darden, Faite | 2 Feb 1892 | 20 Feb 1966 | Son of Lewis Darden and Mary Robinson, died of a heart ailment(2). Death certificate says he is buried in Fayetteville cemetery which is incorrect.; marker |
| Darden, Fred | 1915 | 2005 | Marker |
| Darden, George | 1 Oct 1889 | 19 Feb 1966 | There is a death certificate for George Darden, 1 Jan 1890-24 Jan 1964, son of Louis Darden and Mary Robertson, buried in Darden Mamorial [sic.] Cemetery. Is this the same person? No death certificate found for George Darden with dates found on marker; Marker |
| Darden, George | 6 Mar 1903 | 12 May 1986 | Marker |
| Darden, Jane | 1883 | 1977 | Marker |
| Darden, Lela A. | 23 Sep 1909 | 9 Mar 1986 | Marker, footstone |
| Darden, Myrtle L. | 6 Sep 1903 | 6 Dec 1997 | Marker |
| Darden, Quilla | 6 Dec 1924 | 23 Apr 1985 | Marker |
| Darden, Ruby Mae | 19 Aug 1919 | 15 Sep 1989 | Marker |
| Darden, William | 1883 | 1959 | (Memorial only), 22 Nov 1883 - 24 Oct 1959. William Darden, Sr. is buried in Colorado County at Pisek Community along a railroad at Mount Pilgrim Cemetery (1). Stone memorial inside concrete curb.; Marker |
| Darden, William Jr. | 31 Nov 1904 | 12 Aug 1990 | Marker, military marker |
| Holmes, Earnest | 25 Aug 1926 | 8 Nov 1969 | 25, 1926 - 8 Nov 1969, Pfc. U.S. Army, World War II; marker |
| Holmes, James Sr | 22 Sep 1899 | 3 May 1998 | Marker |
| Holmes, Leon | 1941 | 29 Dec 1984 | Marker |
| Johnson, Almond Jr. | 2 Jun 1957 | 20 Mar 1970 | Son of Almond Johnson, Sr. and Lillie V. Stevenson, died of burns (2). He was sleeping near a stove at his grandfather's when coal oil was thown in the wood heater to bring the fire to life. The act resulted in an explosion throwing kerosene and fire onto Almond as he lay on his cot and burned him badly because he got up and ran(1); unmarked? |
| Johnson, James | 29 Mar 1892 | 18 Dec 1966 | Texas, Pvt. U.S. Army, WWI; marker |
| Johnson, Joe | 22 Oct 1893 | 26 Aug 1963 | Railroad laborer, died of heart attack, son of Henry Johnson and Annie Calvin (2), brother to James Johnson, first grave in the cemetery (1); unmarked? |
| Johnson, Mary Floyd | 15 Nov 1889 | 26 Sep 1969 | 18 Nov 1896 - 26 Oct 1969, daughter of Lev Floyd and Milay Winn (2); marker |
| Johnson, Virginia | 1887 | 1982 | Marker |
| Marchell, Helen | 7 Dec 1878 | 1986 | Marker |
| Nickerson, Louis | 8 Aug 1927 | 1974 | Marker |
| Orise, Edward | 9 Oct 1885 | 29 Feb 1984 | Marker, footstone |
| Pointer, Corine Warner | 15 Jun 1891 | 19 Jan 1976 | Marker |
| Terry, Alfred | 14 Feb 1893 | 24 Aug 1967 | Farmer, died of heart attack, son of Martin Terry (2); marker |
| Terry, Sealy | 1881 | 1974 | Marker |
| Watson, Melvina D. | 7 Sep 1901 | 16 Mar 1984 | Marker |
| White, Johnnie | | | Unmarked? |
1. Info from Willie Darden, Jr. , 1972
2. Info from Death Certificate