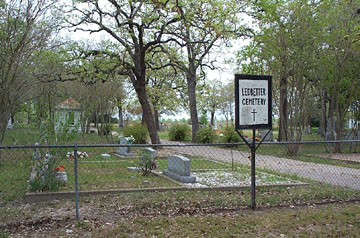 Ledbetter Cemetery
FAYETTE COUNTY, TEXAS


The Ledbetter Cemetery is located north of US Hwy 290 in Ledbetter, Texas off Prospect Road.
The following photographs of grave markers were contributed by Sidney Schuhmann Levesque. They are just a few of the many markers in the Ledbetter Cemetery.
Please contact Fayette TXGenWeb coordinator, Rox Ann Johnson, if you would like to contribute photographs or other information.


Kermit Blume
22 Jan 1915 - 10 Sep 2005

married 18 Jul 1940

Aileen Blume

Rebecca C. Dinwiddie
Wife of Wm. A. Dinwiddie
13 Jan 1828 - 18 Apr 1901
Died at Ledbetter

Nolan V. Lehmann
6 Jul 1911 - 21 Apr 1977

Elsie A. Lehmann
22 Jun 1917 - 24 Dec 1999

C. A. Morgan
12 Feb 1833 - 11 May 1888

H. C. Pearcy
1824 - 26 Jan 1893
Born in Bedford Co., VA
Age 68 years

Annie H. Read
2 Apr 1893 - 31 Mar 1984

Louis R. Read
1 Jan 1897 - 3 Nov 1972

Minnie Sanders
28 Jun 1902

Goebel Sanders
9 Feb 1900 - 28 Nov 1960
Related Link