Also known as Brown's Chapel and Corinth Baptist Cemetery
SCHULENBURG, FAYETTE COUNTY, TEXAS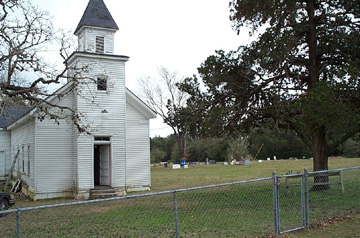 Norman Krischke states in his booklet,
Corinth Baptist Cemetery
, c1999: Information handed down by word of mouth relates that the Corinth Baptist Church building was erected near the East Navidad River on land owned by Ansberry Bass, later by Billie Bass. At that time the church was called "Brown's Chapel" inasmuch as there is reference to this church by that name. The formal name was: Navidad Corinthian Baptist Church as shown on a deed record.
The original structure was moved about a half mile west to the present site so it would be near the center of the Black population in the area. The church is now located on Vacek Loop or County Road 401.
Corinth Baptist Cemetery dates back to 1893 according to tombstone inscriptions. Lucinda Rogers died April 10, 1893 and is the earliest marked grave. There are probably several graves without markers in the same area near this early grave. The area is directly behind or east of the church and it is said the area is full; there is no more space for graves.
There are 9 known slaves buried here inasmuch as their date of birth predates the Emancipation Proclamation. There are six World War I veterans, and nine veterans of World War 2, Korea, & Vietnam.
The cemetery is well kept and still in use today. Church services are held every second Sunday.




The following survey was taken by Norman Krischke in 1999. In some instances, notes from Fayette or Colorado County Death Records is included. Lillie Mae Brightwell provided information from Tommy Taylor Funeral Home for burials since 1993. Additional unmarked burials have been found from death certificates. Most of this recent data is located at the bottom of Krischke's list of burials.
Updated August 30, 2011:
ABBREVIATIONS

G
M
BK

Granite
Marble
Brick

DR
FHM
CON

Devining Rods
Funeral Home Marker
Concrete

BR
FL
MIL

Brass
Flowers
Military Marker
| | | | | | |
| --- | --- | --- | --- | --- | --- |
| SITE | NAME | BIRTH DATE | DEATH DATE | TYPE MARKER | NOTES |
| 1 | YOLANDA GRANGER | 1982 | 1982 | FHM | |
| 2 | GUSSIE D. HOUSTON | 14 Jul 1938 | 18 Sep 1992 | CON | |
| 3 | WILL HAMMONDS | 26 Dec 1913 | 04 Jan 1982 | CON | |
| 4 | MARY LEE HAMMONDS | 18 Sep 1913 | 1 Oct 1996 | FHM, CON | Wife of Will Hammonds; years only on funeral home marker; full dates from Tommy Taylor Funeral Home |
| 5 | BEATRICE GRANGER | 14 Oct 1921 | 06 Jul 1995 | CON | |
| 6 | UNKNOWN | | | | No name or datas. Divining Rods show a female is buried here. |
| 7 | ____ VISER | Unreadable | 01 Sep 1967 | CON | |
| 8 | MARY VISER SKULL | | | CON | No dates |
| 9 | SALLIE ANDERSON | 17 Jul 1895 | 22 Oct 1985 | G | Nee Fitzgerald. Daughter of Ed and Ellen (Jones) Fitzgerald. Died of heart failure. Fayette County Death Record (FCDR), Volume 15, page 725. |
| 10 | F. WILLON JOHNSON | 28 Jan ---- | Unreadable | CON | |
| 11 | DONNIE JOHNSON | 2 Jun 1954 | 28 Nov 1970 | CON | |
| 12 | BUNNY FAYE BERRY | 02 Jul 1945 | 02 Jan 1986 | CON | |
| 13 | DOUGLAS E. DAVIS | 30 Jul 1923 | 12 Jun 1981 | BR | MIL: US NAVY, WORLD WAR II. |
| 14 | MABEL HANSFORD | 20 Sep 1911 | 8 Jul 1980 | CON | |
| 15 | DEACON S. L. DAVIS | 14 Dec 1884 | 03 Jul 1976 | CON | |
| 16 | MAGGIE W. DAVIS | 7 Nov 1887 | 24 Jan 1983 | CON | Wife of Deacon S.L. Davis. |
| 17 | GARFIELD COFFEY | 20 Jul 1881 | 01 Mar 1950 | CON | FCDR, 9/486: Son of George and Rosie (Jefferson) Coffey. Died of Cerebral hemorrhage. |
| 18 | MARY COFFEY | 6 Oct 1884 | 10 Aug 1966 | CON | Wife of Garfield Coffey. |
| 19 | BLANCH VISER | 17 Aug 1898 | 29 Mar 1974 | G | Picture |
| 20 | HENRY VISER | 7 Sep 1892 | 17 May 1965 | M | MIL: TEXAS, CPL, CO. B, 135 LABOR BN, QMC, WORLD WAR I. |
| 21 | PRINCE WARREN | | | CON | No dates. |
| 22 | LEONARD DAVID | 1913 | 1980 | FHM, CON | |
| 23 | TENA DAVIS | 27 Apr 1890 | 20 Jun 1953 | CON | FCDR, 10/228: Daughter of Luke Viser. Died of Appoplexy. |
| 24 | DOAK DAVIS | 1 Mar 1888 | 12 May 1953 | CON | FCDR, 10/218: Son of John and Cora Davis. Died of heart failure. |
| 25 | UNKNOWN | | | FHM | No dates. DR: Male. |
| 26 | GEORGE TOWNSEND | 27 May 1887 | 23 Mar 1922 | G | From death certificate: Son of Henry Townsend and Mary Bacon |
| 27 | BEATRICE WOODS | — | 28 Jan 1960 | G | "Daughter" |
| 28 | IDA M. DAVIS | 4 Jul 1909 | 13 Mar 1950 | G | Wife of James E. Davis. FCDR, 9/497: Daughter of Alfred & Lucinda White. Died of influenza. |
| 29 | JAMES E. DAVIS | — | 20 Oct 1955 | G | |
| 30 | JIM DAVIS | 1823 | 1 Feb 1920 | G | "Father". Aged 97 years. Former slave. |
| 31 | UNKNOWN | | | FHM | Stake of FHM only. |
| 32 | ROBERT TOWNSEND | 27 May 1901 | 25 May 1982 | FHM | |
| 33 | CHARITY TOWNSEND | 26 Jan 1903 | 19 FEE 1969 | | "Although she sleeps, her memory lives on." |
| 34 | MALESSIS TOWNSEND | 1880 | 1948 | CON | Wife of William Townsend. |
| 35 | WILLIAM TOWNSEND | 1870 | 1947 | CON | |
| 36 | PEARL SYDNEY | 1 Feb 1899 | 26 Nov 1980 | G | Wife of Otto C. Sydney. |
| 37 | OTTO C. SYDNEY | 13 Jul 1894 | 28 Mar 1971 | G | |
| 38 | JOHNNIE LEON PERRY | 19 Jul 1917 | 03 Jan 1999 | NONE | CCDR, 04-08-99: Nee Clark. |
| 39 | VICTOR WHITE | 17 Apr 1905 | 11 Feb 1993 | G | |
| 40 | MARY WHITE | 1 Feb 1915 | — | G | Wife of Victor White. |
| 41 | DELORIS WHITE | 29 Nov 1927 | 13 Jan 1929 | FL | Daughter of Alfred and Olivia (Shepard) White. |
| 42 | WILLIAM CABRON | — | 12 Dec 1983 | FHM, CON | |
| 43 | AUGUST H. ADAMS | 23 Aug 1918 | 15 Sep 1992 | M | MIL: PFC, US ARMY, WORLD WAR II. |
| 44 | LUCILLE ADAMS | — | 1985 | CON | Ordinary picture glued to headstone; deteriorated. |
| 45 | LEE UNA SMITH | 1 Feb 1895 | 05 Feb 1975 | CON | |
| 46 | LEROY ADAMS | 25 Aug 1921 | 6 Aug 1965 | M | MIL: TEXAS, SSGT, CO. C, 514 QM REGT, WORLD WAR II. |
| 47 | MILLIGE ADAMS | 1894 | 10 Nov 1958 | CON | |
| 48 | MILLIGE ADAMS | 13 Apr 1897 | 02 Apr 1984 | M | MIL: SP5, US ARMY, WORLD WAR II, KOREA. |
| 49 | DAVID ADAMS | 16 Oct 1915 | 09 Jul 1972 | M | MIL: NEW JERSEY, SGT, WORLD WAR -I. |
| 50 | UNKNOWN | | | FHM | No name or dates. DR: Male. |
| 51 | WILLIAM J. PHILLIPS | 2 Jun 1972 | 15 Feb 1993 | FHM | Years only on funeral home marker; full dates from Tommy Taylor Funeral Home |
| 52 | UNKNOWN. | | | FHM | Funeral Home Marker reads: "Arthur Green". Apparently, when his government stone was erected over his grave at Site 58, his Funeral Home Marker was used to mark this grave. |
| 53 | UNKNOWN | | | | No name or dates. DR: Male. |
| 54 | JESSIE GREEN | 04 Jun 1934 | 1942 | FHM | Age 8 years, 9 mos. |
| 55 | GEORLENE GREEN | 27 Sep 1900 | 24 Aug 1997 | FHM | |
| 56 | NATHAN GREEN | 1896 | 1978 | M | MIL: PVT, US ARMY, WORLD WAR I. |
| 57 | UNKNOWN | | | CON | No name or dates. DR: Female. |
| 58 | ARTHUR GREEN | 26 Jun 1928 | 24 Nov 1957 | M | MIL: TEXAS, PFC, WORLD WAR II, |
| 59 | UNKNOWN | | | FHM | No name or dates. DR: Male. |
| 60 | CLARENCE W. LEE | 30 Nov 1916 | 8 Jun 1934 | CON | |
| 61 | UNKNOWN | | | FHM | No name or dates. DR: Male. |
| 62 | UNKNOWN | | | FHM | No name or dates. DR: Male. |
| 63 | UNKNOWN | | | FHM | No name or dates. DR: Male. |
| 64 | IRA RICHARDSON | 26 May 1891 | 21 Oct 1940 | M | MIL: TEXAS, PVT 1CL, 434 RES LABOR BN, WORLD WAR I. |
| 65 | ROBERT VISER, JR. | 25 Apr 1942 | 20 Jan 1991 | G | "Buck" |
| 66 | MARTIN VISER | 6 Jan 1897 | 11 Sep 1949 | G | FOUR INSCRIPTIONS ON SAME STONE; FCDR, 9/435: 19 Jan 1886 9 Jul 1949. Son of Luke Viser. Farmer. Died of Cerebral hemorrhage. |
| 67 | ROSIE VISER | 07 Aug 1920 | 20 Oct 1960 | G | FOUR INSCRIPTIONS ON SAME STONE |
| 68 | ROBERT JAMES VISER | 9 Nov 1909 | 23 Mar 1968 | G | FOUR INSCRIPTIONS ON SAME STONE; FCDR, 13/157: Son of Martin & Fannie (Warren) Viser. Burned to death, house fire. |
| 69 | FANNIE VISER | 8 Nov 1895 | 9 May 1979 | G | FOUR INSCRIPTIONS ON SAME STONE |
| 70 | LUKE VISER | 14 Feb 1845 | 21 May 1931 | FHM | FCDR, 5/197: Gives dates. Born a slave. |
| 71 | UNKNOWN | | | FHM | No name or dates. DR: Female. |
| 72 | LITTIE JONES | 19 Sep 1894 | 10 Jun 1936 | CON | FCDR, 6/416: Daughter of Luke & Mollie (York) Viser. Died of a heart attack. |
| 73 | UNKNOWN | | | FHM | No name or dates. DR: Male. |
| 74 | UNKNOWN | | | FHM | No name or dates. DR: Male. |
| 75 | EDWARD WARREN | 16 Mar 1891 | 01 Jul 1953 | M | MIL: TEXAS, PVT, CO. B, 509 SVC BN, ENGR CORPS, WORLD WAR I. |
| 76 | UNKNOWN | | | CON | No name or dates. DR: Male. Concrete grave frame. |
| 77 | DAVE POLK | 13 Dec 1860 | 16 Feb 1927 | CON | Concrete grave frame. FCDR,13/605: Son of Fill and Marge (Davis) Polk. Aged 66 yrs, 2 mos, 3 days. Former slave. |
| 78 | GRACIE MAE GARRISON | 20 Feb 1929 | 9 Dec 1995 | G | Nee Flowers, wife of Eddie Lee Garrison. |
| 79 | EDDIE LEE GARRISON, SR. | 2 May 1928 | 09 Apr 1987 | G | |
| 80 | UNKNOWN | | | BK | No name or dates. Mound and brick. |
| 81 | LESTER GEORGE GARRISON | 26 Jan 1886 | 1 Dec 1976 | G | DUAL STONE; "Loving Grandfather". |
| 82 | WILLIE D. GARRISON | 27 Apr 1918 | 7 Nov 1969 | G | DUAL STONE; MIL: TEXAS, SGT, US ARMY, WORLD WAR II, KOREA, VIETNAM. |
| 83 | ALFREDO GARRISON | | | FHM | No dates. |
| 84 | CHARLIE G. GARRISON | 26 Nov 1908 | 29 Nov 1974 | BR | MIL: SGT, US ARMY, WORLD WAR II. |
| 85 | IRENE CLAY WILSON | 1910 | 8 Nov 1947 | FHM | |
| 86 | UNKNOWN | | Female. | FHM | No name or dates. DR: Female. |
| 87 | ALCIA GARRISON | 10 Mar 1881 | 25 Apr 1923 | G | |
| 88 | FANNIE CUNNINGHAM | 4 Jul 1983 | 23 Oct 1992 | FHM | Aged 9 years. |
| 89 | UNKNOWN | | | FHM | No name or dates. DR: Male. |
| 90 | UNKNOWN | | | FHM | No name or dates. DR: Male. |
| 91 | JOSEPH BROWN | 28 Oct 1896 | 29 Oct 1951 | M | MIL: TEXAS, PVT, 19 REGT FARD, WORLD WAR I. |
| 92 | UNKNOWN | | | FL | No name or dates. Flowers only. DR: Female. |
| 93 | UNKNOWN | | | FHM | No name or dates. DR: Female. |
| 94 | UNKNOWN | | | FHM | No name or dates. DR: Female. |
| 95 | MARION FITZGERALD | — | 1980 | FHM | |
| 96 | UNKNOWN | | | FHM | No name or dates. DR: Male. Three bricks |
| 97 | UNKNOWN | | | FHM | No name or dates. DR: Male. One brick |
| 98 | UNKNOWN | | | BK | No name or dates. DR: Male. One brick |
| 99 | UNKNOWN | | | FHM | No name or dates. DR: Female. |
| 100 | UNKNOWN | | | FHM | No name or dates. DR: Male |
| 101 | UNKNOWN | | | FHM | No name or dates. DR: Male. |
| 102 | ROSA DENNIS | | | FHM | No dates. |
| 103 | BELLE FLEWELLYN | 5 Feb 1872 | 26 Nov 1947 | M | FCRD, 9/194: Daughter of Dave & Alice (Lee} Dennis. Died of a heart attack. |
| 104 | CHARLES LEE SULLIVAN | 10 Oct 1964 | 06 Oct 1990 | G | |
| 105 | DORIS MAE SULLIVAN | — | — | G | Nee Adams, daughter of Louis & Myrtle Adams. Wife of Charles Lee Sullivan. |
| 106 | MYRTLE ADAMS | 16 May 1900 | 30 Oct 1984 | FHM | Nee Wilkins, wife of Louis Adams. FCDR, 15/638: Daughter of Isom & Mary (Hamilton) Wilkins. Died of a tumor. |
| 107 | UNKNOWN | | | FHM | No name or dates. DR: Female. |
| 108 | LOUIS ADAMS | 5 Jun 1895 | 7 Feb 1979 | CON | |
| 109 | UNKNOWN | | | FHM | No name or dates. DR: Male. |
| 110 | LEZZIE ADAMS | 24 Nov 1864 | 24 Nov 1943 | CON | FCDR, 8/255: Born 21 Nov 1873, died 24 Nov 1943. Daughter of Dan & Francis Adams. Aged 70 yrs, 1 mo, 3 dys. Died of heart failure. |
| 111 | ROMANIA POLK | 1897 | 1981 | CON | Nee Warren, wife of Willie Polk. |
| 112 | WILLIE POLK | 1891 | 1979 | M | MIL: PVT, US ARMY, WORLD WAR I. |
| 113 | HORACE LEE POLK | 27 Nov 1931 | 3 Apr 1949 | CON | FCDR, 9/402: Son of Willie & Romania (Warren) Polk. Cut with knife in Weimar Cafe. |
| 114 | UNKNOWN | | | FHM | No name or dates. |
| 115 | EMMA D. KING | 1922 | 1960 | CON | |
| 116 | PHYLIS WHITE | 29 Nov 1850 | 1 Dec 1929 | CON | FCDR, 5/57: Daughter of Alfred White. Died of cancer. |
| 117 | UNKNOWN | | | FHM | No name or dates. DR: Male. |
| 118 | UNKNOWN | | | FHM | No name or dates. DR: Male. |
| 119 | UNKNOWN | | | FHM | No name or dates. DR: Female. |
| 120 | UNKNOWN | | | FHM | No name or dates. DR: Rertiale. |
| 121 | UNKNOWN | | | FHM | No name or dates. DR: Male. Brick lined. |
| 122 | UNKNOWN | | | FHM | No name or dates. DR: Male. |
| 123 | UNKNOWN | | | FHM | No name or dates. DR: Male. |
| 124 | UNKNOWN | | | FHM | No name or dates. DR: Male. |
| 125 | UNKNOWN | | | FHM | No name or dates. DR: Female. |
| 126 | JONAH ADAMS. | 22 Feb 1877 | 13 Jun 1941 | G | |
| 127 | JENNIE ADAMS | 14 May 1878 | 13 Aug 1968 | G | Wife of Jonah Adams. |
| 128 | DICY MAE ADAMS | 14 Jul 1914 | 21 Jun 1976 | G | |
| 129 | ALEXANDER ADAMS | 4 Jul 1908 | 18 Jul 1908 | G | |
| 130 | CEATRICE ADAMS | 31 Jul 1904 | 19 Feb 1925 | G | |
| 131 | JONAH ADAMS, Jr. | 16 Dec 1910 | 29 Dec 1972 | G | MIL: TEXAS, PVT, ARMY AIR FORCE, WWII |
| 132 | LEOLA WARD | 5 May 1896 | 24 Jul 1964 | FHM | FCDR, 12/353: Daughter of Jim & Ella David. Died of pneumonia, aged 68 yrs, 2 mos, 19 dys. |
| 133 | ISAAC WARD | | 1962 | FHM | |
| 134 | May WARREN | | 1955 | FHM | |
| 135 | UNKNOWN | | | FHM | |
| 136 | LUCINDA RODGERS | — | 10 Apr 1893 | G | First grave according to tombstone inscriptions. |
| 137 | UNKNOWN | | | FHM | No name or dates. |
| 138 | ISABELLE LEE | 5 Apr 1826 | 12 Nov 1922 | M | Probably wife of Elias Lee. Born a slave. |
| 139 | ELIAS LEE | 8 Jan 1827 | 10 Jun 1897 | G | Born a slave. |
| 140 | ALICE LEE | — | 1902 | G | |
| 141 | ANDREW LEE | 5 Apr 1853 | 23 Apr 1935 | G | FCDR, 6/233: Son of E. & Elizabeth Lee, Farmer. Born a slave. |
| 142 | LUCINDA LEE | — | 1907 | G | Wife of Andrew Lee. Born a slave. |
| 143 | UNKNOWN | | | BR | No name or dates. Brick frame. |
| 144 | UNKNOWN | | | FHM | No name or dates. |
| 145 | UNKNOWN | | | FHM | No name or dates. |
| 146 | UNKNOWN | | | FHM | No name or dates. |
| 147 | UNKNOWN | | | FHM | No name or dates. Flowers on grave. |
| 148 | UNKNOWN | | | FHM | No name or dates. |
| 149 | UNKNOWN | | | FHM | No name or dates. |
| 150 | UNKNOWN | | | FHM | No name or dates. |
| 151 | UNKNOWN | | | FHM | No name or dates. |
| 152 | DAISEY JONES | 1898 | 07 May 1961 | FHM | "Mrs." Aged 63 years. |
| 153 | T. ASHER | — | 1955 | FHM | "Mrs." |
| 154 | HARRIETTE WILEOT R. HORTON | 1829 | 7 Jul 1899 | G | Aged 70 years. Born a slave. Brick plot. |
| 155 | UNKNOWN | | | FHM | No name or dates. Brick frame. |
| 156 | UNKNOWN | | | FHM | No name or dates. |
| 157 | UNKNOWN | | | FHM | No name or dates. |
| 158 | UNKNOWN | | | CON | No name or dates. |
| 159 | WILLIE WARREN JONES | | | CON | Dates unreadable |
| | HOWARD BROWN | 31 MAY 1918 | 3 APR 1969 | | Son of Green Brown and Henrietta Oliver; unmarked, info from death certificate |
| | ALBERTA DAVIS | 29 SEP 1928 | 7 OCT 1928 | | Daughter of Oliver Davis and Mary Polk; unmarked, info from death certificate |
| | HAZEL MAXSEN DAVIS | 12 Apr 1929 | 5 May 1929 | | Daughter of Dock Davis and Tener Viser; unmarked, info from death certificate |
| | EDDIE GARRISON | 4 Apr 1951 | 29 Feb 2004 | | Info from Tommy Taylor Funeral Home |
| | FRANCES HOUSTON | 9 Apr 1922 | 10 Dec 2001 | | Info from Tommy Taylor Funeral Home |
| | OLLIE HOUSTON, JR. | 5 May 1940 | 25 Feb 2004 | | Info from Tommy Taylor Funeral Home |
| | OLLIE HOUSTON, SR. | 5 Nov 1915 | 4 Aug 1999 | | Info from Tommy Taylor Funeral Home |
| | MAXINE JACKSON | 19 Mar 1935 | 12 Nov 2005 | | Info from Tommy Taylor Funeral Home |
| | CHARLES LEE PHILLIPS | 19 Jan 1955 | 1 Jan 2007 | | Info from Tommy Taylor Funeral Home |
| | ELTON SIDNEY | 21 Nov 1927 | 24 Jul 2008 | | Info from Tommy Taylor Funeral Home |
| | ROBERT CHESTER SIDNEY | 7 Jan 1922 | 20 Oct 2003 | | Info from Tommy Taylor Funeral Home |
| | ALLIE B. THOMAS | 15 Aug 1886 | 31 Jul 1929 | | Daughter of Henry Townsend and Mary Ann Bacon; unmarked, info from death certificate |
| | REGINAL GENE THOMAS | 7 Jan 1922 | 17 Jun 2001 | | Info from Tommy Taylor Funeral Home |
| | WILLIAM WARD | 27 Jan 1893 | 28 Jan 1927 | | Son of A. B. Ward and Menerva Adams; unmarked, info from death certificate |
| | ROOSEVELT WHITE, JR. | 17 Dec 1941 | 18 Jan 2005 | | Info from Tommy Taylor Funeral Home |