Willow Springs
FAYETTE COUNTY, TEXAS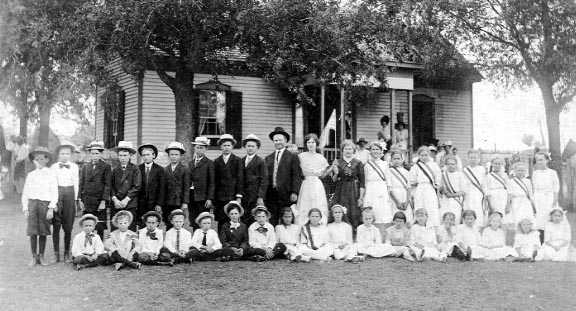 Willow Springs School
ca 1912
On Porch: Mrs. Behrens, Lillie Albrecht

Back Row: Ernst Muenzler, John Konvicka, Rudolph Minarcik, Robert Albrecht, Monroe Henniger, Herbert Lincke, Ellis Garlin, Fred Zenkner, Kenny B. Krebs, Prof. Charlie Behrens (teacher), Julia Minarcik, Millie Marek, Lillie Krebs, Hertha Garlin, Albina Marek, Lillie Henniger, Bernita Koerner, Hilda Krebs, Nora Krebs, Mary Pechacek

Front Row: Erwin Lincke, Wilbur Heinsohn, Herman Lincke, Bruno Krebs, Alvin Galle, Ludwig Janicek, Robert Marek, Mary Muenzler, Angelina Motl, Tillie Coufal, Nellie Heinsohn, Lena Prihoda, Rosie Marek, Viola Henniger, Agnes Pagel, Annie Konvicka, Celestine Motl, Rowena Lincke

Students were photographed in front of the "teacherage", the teacher's home, which still stands at Willow Springs. The school was about one-half mile east of the C. T. Zapp Store.
Students identified by Nellie Heinsohn Obermueller, Jesse Heinsohn, and Rowena Lincke Zenkner, all now deceased.
See More Willow Springs School Photos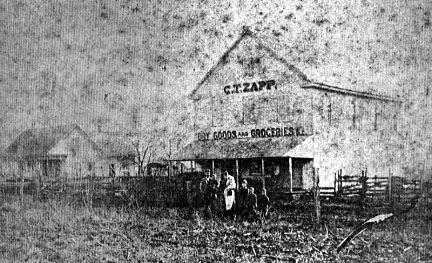 C. T. Zapp Home & Store
ca 1891
Left to Right: Charles Theodore Zapp holding Werner, Mary Heinsohn Zapp holding Bernetta, Ottilie, Charles "Walter", and Theodore

While dry goods and groceries were sold downstarirs, the upstairs of the building was used as a dance hall. The Zapps bought the store in 1880 from Frank and Rosina Stanislow. The store was sold to C. F. and Fanny Garlin on December 30, 1891, but the Garlins sold it back to the Zapps in 1903. Both C. T. Zapp and H. C. Garlin acted as postmaster of the Zapp Post Office. The store changed hands several more times and the upper level was removed by F. H. Meinen in the early 1920's. E. C. Minsssen bought the store in 1925. The buildling was destroyed by fire in 1962 and a dance hall just outside Willow Springs was moved in to replace it. The new building had originally been used at Camp Swift. Today, the E. C. Minssen Store is still owned by Mr. Minssen's family.




C. T. Zapp's Account of the infamous May 31, 1907 hail storm at Willow Springs:

Weimar Mercury
June 15, 1907

Hail in Fayette County.

The following letter was received here yesterday by Mr. Robert Zapp from his cousin:

Zapp, Fayette Co., Tex., June 2.
We are nearly over our big fright of Friday evening. I have heard of hailstorms, but nothing like this one – hail from the size of hen eggs up to the size of your fist. It broke 123 window panes and window sash for us; cracked and broke the blinds and split all the shingles on the north and west side of the houses, unroofing some; knocked some off their foundation, and holes in some roofs as big as a hat, and water just poured into the broken windows in torrents. Biggest rain we ever heard of, afterward doing much damage (you know our store is two-story).

Storm twisted off our new windmill, destroyed fences, uprooted trees; not one leaf left on many large trees, nor on corn and cotton, vegetation, etc. Even weeds were all killed by hail in fields and pastures, and not thirty days' feed left of neither hay nor corn of 1906 crop, and price raised at once at Fayetteville to $1 per bushel for corn. Two of our horses and many others rain into the barbed wire fences though fright and were butchered up considerably. I expect one of our nice blacks will die. Hundred of chickens, rabbits, snakes and thousands of birds were killed by the hail, which was found (the hail) after the storm was over in piles from two feet up to five feet high against the houses and in the low places, and there is plenty of the hail to be found yet this evening at 7 o'clock, in spite of the hot sun and clear skies for two days past – something unheard of and which probably can not be believed by a living soul not here to see for himself.

The bark was literally peeled off from many large trees, especially fruit trees. All orchards are ruined – not fruit, nor even a leaf, left on them. Hail and rainstorm lasted thirty to forty minutes. Everything will have to be planted over when dry enough. After six or eight week's continual rains here (think of it!), say middle of June, what will we get? I expect to lose nearly all I sold on a credit, as this is the Mexican weevil district, and it is also much too late. As far as I know, the hail started near Warrenton and extended east to Sealy (about forty miles), in Austin county. Fayetteville was not touched.

C. T. Zapp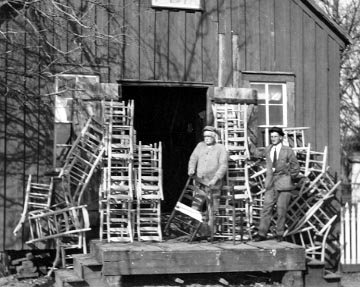 Albrecht Chair Factory
ca 1912
Ernst Albrecht built this chair factory next to his home. His chairs featured bent backs, rawhide seats, and tapered legs. After the back pieces were bent under pressure in damp sand, the chairs were put together in an assembly line process. Family tradition says he ran the factory, in addition to farming and other enterprises, to earn college money for his sons. Shown in photo are Ernst Albrecht and his son, Ed.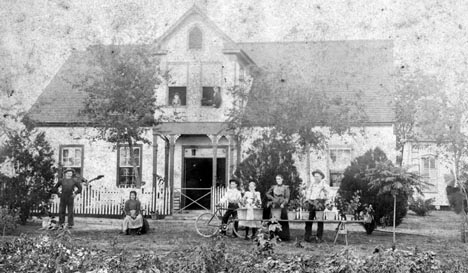 The Albrecht Family and the Rock House
ca 1900
Upstairs: Oscar and Ed Albrecht

Below: ?, Johanna Zorn Fritsche Pagel, Willie, Lillie, Emma and Ernst Albrecht

This was just a one-story rock home built over a root cellar when Emma's father, Friedrich "Wilhelm" Pagel, became the community's first postmaster in 1871. The post office was called "Rockhouse" after the home. The community was referred to variously as Willow Springs or Rockhouse. Wilhelm Pagel died in 1873 and his wife relinquished the post office. Across the road from this house was the C. T. Zapp Store.
See An Earlier Photo of the Rock House at the Pagel Family Web Site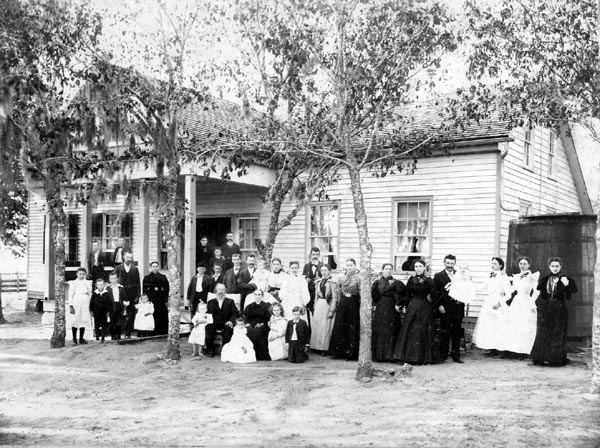 Gerhard Heinsohn Family
ca 1899
On Porch: Kenny Schweke, Fenton Schweke, Adele Scharnberg Heinsohn, Emil Heinsohn, August Heinsohn

Standing:Hildegard Schweke, Arthur Schweke, Robert Schweke, Willie Schweke, Emilie Schweke, Wilhelmine Heinsohn Schweke, Theo Zapp, Walter Zapp, Willie Schweke, Jr., Gerhard W. Heinsohn, Arnold Heinsohn, Emma Lincke Heinsohn, Ottilie Zapp, Louis Heinsohn, Emily Heinsohn, Emma Heinsohn Wagner, Mathilda Wagner, Mary Heinsohn Zapp, Charles T. Zapp, Letitia Zapp, Ella Heinsohn, Ida Heinsohn, Mathilda Heinsohn

Seated: Wilma Heinsohn, Gerhard Heinsohn, Werner Zapp, Sophie Fehrenkamp Heinsohn, Bernetta Zapp, Lee Heinsohn

Gerhard W. Heinsohn Family Picking Cotton
ca 1903

Walter Zenkner, Arno, Wilma, Stella, G.W., Bennie and Emma Lincke Heinsohn

Willie Heinsohn Home
ca 1895

Upper Porch: Alvin & Ernst Heinsohn
Ground Level: ?, Theodore on black horse, Josephine, Emma (Frerichs), Willie Heinsohn

The house was recently sold by Heinsohn descendants and moved near Shelby.

Willie Heinsohn Barn

Besides farming and ranching, Willie Heinsohn acted as the butcher of the local beef club.